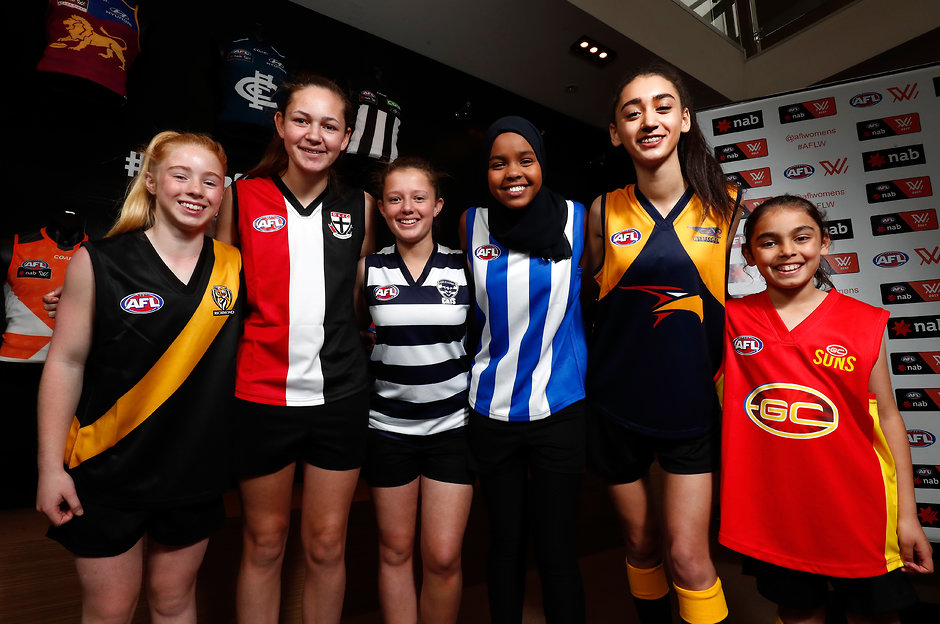 GEELONG and North Melbourne will join the NAB AFL Women's competition in 2019, with Richmond, West Coast, St Kilda and Gold Coast to follow in 2020.
Essendon and Hawthorn will have to reapply in the hope of getting a licence for 2021.
Why Geelong?
Geelong has invested heavily in its women's program for the past few years. The Cats entered a side into the VFL Women's competition this year for the first time, meaning they already have the structures in place to support an AFLW side. They boast the advantage of Simonds Stadium, which is big enough to hold crowds while still maintaining the community feel that was so successful at Ikon Park in 2017. Geelong is also able to capitalise on the western Victoria region, which has a rapidly growing talent base.
Why North Melbourne?
North Melbourne's biggest selling point was its connection to Tasmania, with the club keen to play some of its home matches in the state (as its AFL team does). In fact, they have been running talent clinics in Tasmania over the past few years. North established a connection to VFLW club Melbourne University in 2010, and its football operations manager, Laura Kane, is also the president of Melbourne University.
Why has there been a staggered expansion?
The AFL has been open about its cautious approach to expansion, hence the addition of just two teams in 2019. While participation numbers have exploded around the country, it will take time for the talent to filter through to the elite level. It remains to be seen if adding another four teams in 2020 is pushing the talent pool too far.
What was the rationale behind the number of licences?
"There's risk in all of this. We are trying to marry up expanding and fulfilling the needs of clubs and players and supporters [and] we're running sustainable league and expanding at the right speed. I know many of our clubs wish we'd gone wider than two in 2019, but we are optimistic with the talent coming through in Gold Coast and Western Australia, as well as Victoria and others, that there'll be enough talent to go to an extra four in 2020. It gives those clubs time to build commercial partnerships and build sustainable financial model by 2020. I believe it also helps those clubs because there's an extra amount of time to get organised and get their structures right within the clubs, they can absorb the work that's required with an extra team." - AFL CEO Gill McLachlan
What separated the successful 2019 bids from the rest?
McLachlan said both Geelong and North Melbourne had "outstanding" submissions, with very clear plans and many details "bolted down". The fact both sides already had links to the VFLW was in their favour, and both have strong presence in their respective regions.
Why was the announcement of 2019 licences delayed?
The announcement was planned for late August, but the AFL Commission wanted more information about the AFL's plans for the future of the competition before making a decision.
What comes next for the successful clubs?
North Melbourne and Geelong can effectively hit the ground running ahead of their 2019 debuts. Geelong will once field a VFLW side in 2018, while North Melbourne is planning to enter a stand-alone VFLW side next year.
Adelaide won the inaugural AFLW premiership this season. Picture: AFL Photos

What about the clubs that missed out?
McLachlan has said the AFL would work with Essendon and Hawthorn, giving them the opportunity to apply for a licence as early as 2021. He said the delay would give them time to develop talent through the VFLW and build sustainable commercial models. The Hawks fielded a team in the VFLW this season, while the Bombers have flagged their intention to enter the competition.
Are there any list-building rules in place yet?
Details regarding list-building and any possible draft concessions are likely be announced before the NAB AFLW Draft on October 18. The AFL is eager to get these rules in place before the draft so existing clubs have an idea of how their future lists may be affected.
Will the length of the 2019 season increase to accommodate for the new sides?
There was no indication on Wednesday about fixturing options for 2019, with this and other logistical issues to be confirmed later. The 2017 season saw each side face each other once, before the top two sides, Adelaide and Brisbane Lions, played in the Grand Final.
Have the new clubs nominated a home ground?
Geelong is keen to play at Simonds Stadium, as its VFLW side did on occasion this year. North Melbourne is expected to announce further details about its connection with Tasmania this week, but playing its Melbourne games at Arden Street is unlikely, given the capacity is around 3000. Richmond, West Coast, St Kilda and Gold Coast do not take to the field until 2020, but Gold Coast's Metricon Stadium base has already hosted the AFLW Grand Final.
What does the competition look like beyond 2019?
By 2020, the AFLW will be a 14-team strong competition. Two teams will be based in both of Western Australia and Queensland, New South Wales will be represented by Greater Western Sydney, while Adelaide will still be the sole South Australian side. There will be a whopping eight teams based in Victoria (including North Melbourne). Port Adelaide, Sydney, Essendon and Hawthorn are free to apply for 2021 licences, but there has been no guarantee of further expansion in that year.