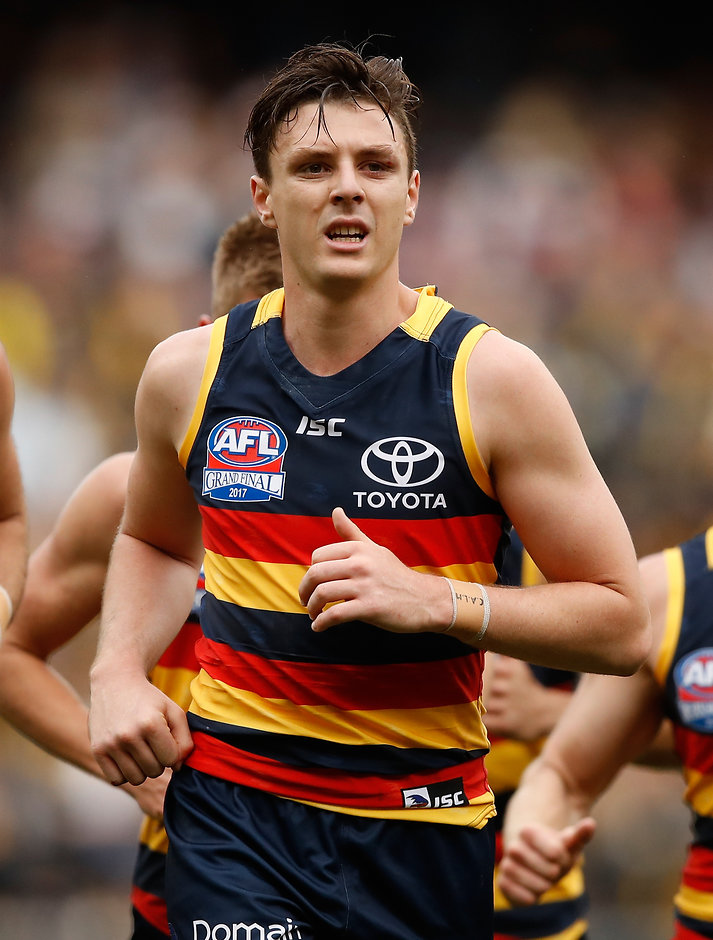 ADELAIDE star Jake Lever has asked to be traded to Melbourne after receiving a four-year offer that would have seen him become the highest-paid Crow, had the club matched it.
Lever informed Adelaide on Tuesday of his intention to return home to Victoria after months of speculation about his future.
Crows football boss Brett Burton told NAB AFL Trade Radio paying Lever the amount he will leave for would have been irresponsible.
"Our offer was a very lucrative offer, and one that would place him very high in our footy club. If we were to match what Melbourne are offering, it would have made him the highest-paid player at our footy club," Burton said.
"We've got a responsibility to the rest of our playing group, and also our fans, to make sure that we not only be fair to our players, but also maintain a list that's capable of creating success."
Lever's departure has been long on the cards after he knocked back the Crows' requests to sign a contract extension earlier this year.
He told Channel Seven the Dees' deal was for four seasons and being near family was a strong lure.
"Probably just myself and my partner, Jess, being around our family. In the near future, I think that I'd like to start a family," Lever said.
He won't be going back to Adelaide and will put himself up for selection by any club if a deal can't be made between the Dees and Crows.
"If there's not, I'll probably go into the draft," Lever said.
His decision finally became public after the Crows' season ended with a 48-point Grand Final loss to Richmond on Saturday.
Adelaide's list management team had known for some time Lever wanted out.
"In recent weeks, we were aware that he indicated that he'd love to go to Victoria, and obviously his preferred football club being Melbourne only just recently," Burton said.
"Now we're about doing what's getting what's best for the Adelaide footy club. There's 10 teams in Victoria so we're open for business."
Adelaide is expected to demand two first-round picks from Melbourne for Lever.
The Demons currently hold pick No.10 in this year's NAB AFL Draft.
Lever had a breakout season in his third year at West Lakes, averaging a career-high 16 disposals and 6.3 marks per contest from 20 games this season.
Lever also showed himself to be one of the pre-eminent intercept players in the game alongside Richmond's Alex Rance and Essendon's Michael Hurley, and formed a key part of Adelaide's backline.
Lever played 56 games in three seasons for the Crows after being selected with pick No.14 in the 2014 NAB AFL Draft.
Lever deal at Melbourne said to be worth at least $800,000 a season. Some adamant it's for $850,000 a season

— Nick Bowen (@Nick_Bowen) October 3, 2017
Despite not naming the Demons in their statement, Crows have been told that's where Lever wants to go

— Nick Bowen (@Nick_Bowen) October 3, 2017
Meanwhile, young gun Charlie Cameron hasn't informed Adelaide of any intention to move. He is expected to ask for a trade to the Brisbane Lions.
"We're not aware of any personal reasons. Charlie's a contracted player with us for 2018 and he hasn't intimated to us at all that he seeks to go anywhere else," Burton said.
Burton also hasn't received word from Carton onballer Bryce Gibbs. The Crows made a play for Gibbs last year but couldn't come to an agreement with the Blues.
Gibbs is signed up until the end of 2019.
"Unless his position changes with Carlton, he'll be a playing at Carlton footy club in 2018," Burton said.
Burton denied the Crows were being hypocritical in being adamant Cameron couldn't leave, after the Crows' brazen pursuit of the contracted Gibbs last year.
"They're apples and oranges. They're different circumstances, as different players at different clubs, so I think it's unfair to make comparisons," Burton said.