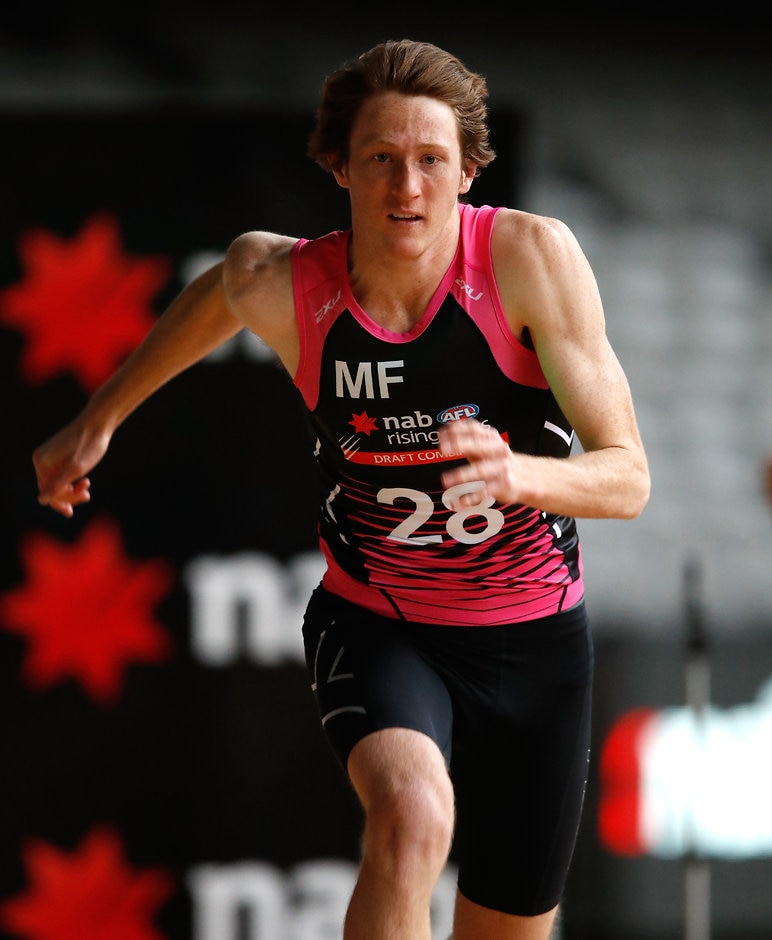 I'm 17 and I can say I've played cricket and footy at the 'G
Nathan Murphy
NATHAN Murphy always had an inkling he loved football more than cricket, it was just about putting himself in the right mindset to make such a life-defining decision.
Murphy decided in July to put all his energies into a career in football, forgoing a promising cricket career that saw the wicket-keeper/batsman represent Victoria in Under-15s, Under-17s and Under 19s and the Australian Under-17 side.
"Basically the motto for me was to keep doing both of them for as long as I could until it got ridiculous with my studies," Murphy told AFL.com.au at last week's NAB AFL Draft Combine.
Combine wrap: Who boosted their stocks
"At the end of the day, you don't want to be doing something that you don't love as much.
"I knew the passion was always with footy. People say it's a hard decision but you always have one sport in mind that you see your future in.
"It was always going to be footy but I just had to get myself in good enough form first, as well as the right mentality to make a call on it."
Murphy sought advice from manager Liam Pickering and Brighton Grammar football coach Robert Shaw, both talented junior cricketers before having successful AFL playing careers.
Murphy, who turns 18 in December, also spoke with close friend Will Sutherland who recently chose to pursue cricket and gave up the chance to be a top five pick in this year's NAB AFL Draft.
Irish pair driven for Combine success
Sutherland was the captain of the Australian under-19 cricket team and his father James is cricket's top administrator.
"'Sutho's' decision was a bit more forced, I was pretty lucky that I went under the radar a bit more," Murphy said.
"It was awesome to have him to talk to about what was going on and what I was thinking about when I was making my decision."
Now that he's made the call, Murphy isn't looking back.
He played in the Under-18 All Stars match a week ago that served as the Grand Final curtain raiser, although the forward copped a knock early in the game and he did not return to the field after being monitored for concussion.
Despite that health concern, Murphy tested fully at this week's Combine and ranked eighth in the 2km time trial, running a very respectable time of 6:21 minutes.
"I'm 17 and I can say I've played cricket and footy at the 'G so I've got a pretty good thing going at the moment," Murphy said.
The rangy 188cm forward, who possesses an excellent leap, shot to prominence after booting seven goals for Brighton Grammar in a game against Geelong Grammar earlier in the season, where he was opposed to possible top 10 draft pick Jarrod Brander.
Murphy, who has also spent time down back and in the midfield, averaged 16.1 disposals for Sandringham in eight games for the TAC Cup club, after being added to the Dragons' list once his football talent became more apparent.
A bunch of AFL clubs met with Murphy earlier in the season before he had made his decision and he sat down with a few more during the interview section of last week's Combine.
Recruiters view the versatile Murphy as a possible top-30 selection in the upcoming draft.
"Getting in these programs has helped fast-track my development in a sense," Murphy said.
"I'm just trying to ask questions a lot (of his coaches) and recruiters have been awesome as well, they're willing to chat and hopefully that knowledge I've gained this year sets me up for the future."
Murphy knows he could always turn his attention back to cricket once he's exhausted all of his football options.
However, he stresses that he's not even contemplating that and can't wait for the upcoming draft to see where the next chapter of his football journey takes him.
"Cricket's a long process and they say you don't play your best football until you're 26 or 27," Murphy said.
"I know if I do ever want to go back to cricket, not that that's on my mind now, there's all that time in the world to pick it back up and make a few runs."