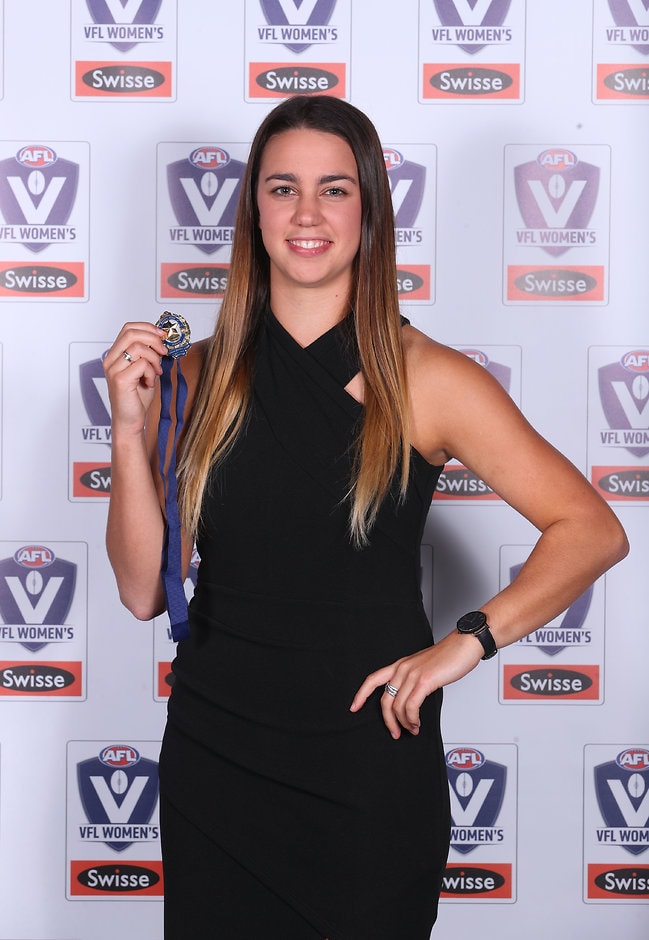 THEY'RE the three big Victorian names continually raised in NAB AFL Women's Draft discussions: Chloe Molloy, Isabel Huntington and Monique Conti.
All three have elite talent, and are tipped to go very early in Wednesday's draft.
The short nature of the AFLW season means a state-based draft is in place. Players nominate which state they wish to be drafted to; the vast majority choose their home state.
It means the most intrigue surrounds the Victorian pool, as it's the only one to have multiple clubs drawing from it.
Western Bulldogs hold picks No.1 and No.4, while Collingwood (pick No.3) and Melbourne (No.6) also have selections in the first round.
Molloy and Conti have had fairly untraditional pathways to football, with both having been on the Melbourne Boomers' playing list in the WNBL.
Molloy is 19, and only qualified for the TAC Cup earlier this year (playing for Calder Cannons) as she had not played football since she was 13 and was crossing from basketball.
Conti missed the bulk of the NAB AFLW Under-18s Championships as she was in Italy, representing Australia in the world under-19 basketball championships.
Huntington dominated the under-18 champs last year as a 17-year-old, kicking five goals for Vic Metro in the Grand Final.
She ruptured her ACL in her left knee a few months later, in a curtain-raiser to the Western Bulldogs-Melbourne women's exhibition match, and while she has now completed her rehab, is yet to play a game.
AFL.com.au talked to the star trio at the NAB AFLW Draft Combine.
Chloe Molloy
Molloy comes from a football family. Her grandfather, Shane Molloy, played 61 matches as a defender for Fitzroy, and her uncle Jarrod Molloy played for Fitzroy, the Brisbane Lions and Collingwood during the 1990s and early 2000s.
The forward played junior footy at Whittlesea, in Melbourne's northern outskirts, but switched to basketball after under-12s as she was unaware of any local youth girls' sides.
She represented Victoria in an under-20 side in basketball, and was a development signing with the Melbourne Boomers, before making the decision at the end of last year to come back to football.
"My love of footy never left but it really shone through again around the women's draft last year," Molloy said
"I contacted Pauline Leslie, who was my team manager back at Whittlesea, and said I was keen to get back into footy. She said to come down to Calder Cannons … I loved it, I had missed it so much."
Molloy has started her football career with a bang, named equal TAC Cup best and fairest with Dandenong Falcons' defender Bridie Kennedy in April, and was the competition's leading goalkicker with 20 from five matches.
She then made her VFL Women's debut with Diamond Creek, where she won the Rising Star award and was equal-leading goalkicker alongside Darebin's Katie Brennan, with 35 goals from 16 matches.
"I like the freedom of footy. The basketball court is almost secluded, it's compact, it's a small court. With footy, you've got this massive oval.
"There are rules and regulations, but really, there are no rules. When I have that footy in my hands, I can run, I don't have to continually bounce it – well, after 15 steps I do – and it really allows you to express the true athlete that you are."
The most exciting part of Molloy's game is how raw she is as a footballer. She has excellent instincts around goal despite her inexperience.
Currently recovering from a strained sterno-clavicular joint suffered in a collision in the VFLW Grand Final, Molloy did not take part in any of the physical tests at the Combine, but will be fully fit in time for pre-season.
Isabel Huntington
Huntington is as impressive off the field as she is on it.
The 18-year-old is school co-captain at St Michael's Grammar in St Kilda, and is planning on studying medicine at university next year.
Huntington says despite a minor calf complaint that kept her from completing the physical testing at the Combine, her reconstructed left knee will not hold her back at the start of AFLW pre-season.
"As weird as it sounds, if there was a year to do my ACL it was probably a good one to do in year 12," Huntington said.
"It meant I've was able to be a lot more flexible in terms of my training schedule and my rehab, because it was a lot more one on one, rather than team-based.
"It has meant I've been able to focus a lot more on school which has been fantastic. I've really enjoyed the year as a whole in terms of both footy and school, but it was definitely good to be able to devote more time to my school and make sure I get through that."
She said her rehabilitation has been relatively smooth.
"I'd spent a year out of footy in 2015 when I broke my right leg, so I'd sort of acclimatised to it in that sense, but it was pretty tough sitting on the sidelines.
"Rehab in the early stages can be pretty repetitive, so it was good to start training again and get into the fun stuff."
The centre half-forward was born into a footballing family. Her grandfather Ian Huntington was a VFL umpire, and she followed her older brothers into Auskick.
She played her junior footy alongside the boys, firstly at East Sandringham JFC then at South Melbourne Districts JFC, before moving to Melbourne Uni in 2012 to play youth girls.
Despite her year out of the game, she remains one of the most dynamic prospects in the draft.
One of the taller key forwards at the Combine at 180cm, she also has a big leap and is a strong overhead mark. Quick and agile at ground level, she's composed with ball in hand.
Monique Conti
Conti has a very full sporting schedule.
The 17-year-old is a point guard for the Melbourne Boomers in the WNBL and a midfielder for Melbourne Uni in the VFL Women's competition.
"I would love to do both for as long as I can," Conti said.
"It can get challenging at times but I've always found a way through it with support from both football and basketball.
"I guess I've just been doing it for a really long time, and it's got me to where I am now, being able to do AFLW and WNBL. I just want to continue to do that and see what happens."
On top of that, Conti is a year 12 student at Maribyrnong Sports Academy, with a very tentative eye on studying law next year.
"I'm not 100 per cent sure what I want to study yet, I'm still deciding. Once I finish year 12 I'll have a better understanding in what I want to do.
"I'm interested in law, but I don't want to be a lawyer. I'm just interested in the law side of things and would like to do something that ties in with that."
Conti started playing her football at the age of 10 for Essendon Doutta Stars in Melbourne's inner west.
"I started playing because my brother did, and I wanted to copy everything he does, as every sibling does.
"I was there until I was top-age in under 14s, then couldn't play with the boys any longer, so I moved to Melbourne Uni under-18 youth girls' team."
Conti has played for Vic Metro under-18 side since 2015, and made her VFLW debut earlier this year.
While she missed most of the season due to basketball commitments, she played five games for Melbourne Uni and was named the team's best in two of those matches, including in a losing elimination final.
The midfielder is quick, agile and can hit the scoreboard. Only 161cm tall, she is good overhead and deceptively strong in one-on-one contests.
"I love footy because I love the game in general.
"Football's just a different environment to basketball, in a good way of course. I just love the competitive nature of footy, the running and physicality."