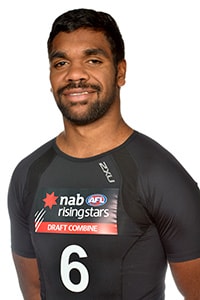 Everyone's waiting to see if he can take that next step and I'm a firm believer he can
Subiaco coach Jarrad Schofield
WHEN Subiaco excitement machine Liam Ryan was overlooked in last year's drafts, many people were left scratching their heads.
A phenomenal talent who boasted a spectacular highlights reel, there was little doubt Ryan was blessed with the pure ability to make the AFL grade.
He had just exploded onto the WAFL scene out of nowhere, a raw country footballer who booted 40 goals in 16 games in a stellar debut season after moving from Geraldton at the urging of his grandfather to chase his football dreams.
Clearly recruiters had noticed his stunning potential. Ryan was invited to test at the WA draft combine – which requires nominations from at least two AFL clubs.
However, the drafts came and went without his name being called.
Questions lingered about the reasons why but – 12 months later – the 21-year-old admits he probably wouldn't have been ready for the step up.
"Last year really I didn't take things serious," Ryan told AFL.com.au.
"I used to drink alcohol a lot last year, but now I've got a baby on the way and got a girlfriend to settle me right down.
"So I don't drink no more.
"I used to love partying, but I don't love partying no more – it's like I'm 40 or something.
"I just chill at home with my girlfriend. Watch movies and chill."
After seeing Ryan's change in attitude first-hand, it came as no surprise to Subiaco coach Jarrad Schofield that his star spearhead won the WAFL's goalkicking this year and finished eighth in the Sandover Medal.
"It's mainly based on his attitude and commitment to training, understanding the requirements to succeed," Schofield said.
"It's only his second season of WAFL, he's had close attention and kicked 73 goals.
"He's put himself in such a better position to take the next step to AFL.
"He settled down with a girl and he made it a focus of his not to touch alcohol, which is a credit to him.
"It just shows that when he puts his mind to something he can stay on the path of it."
While Ryan has been a headline act for the Lions, helping them to back-to-back WAFL Grand Finals, he pays plenty of credit to Schofield and football manager Daniel Vidovich for helping him harness his potential.
Softly-spoken but fiercely-determined, Ryan always knew what he could do if he put his mind to football, but a strong club like Subiaco has brought out the best in him.
"Everyone used to talk to me about it (playing elite football), but mainly my Pop was always onto me," he said.
"He's seen the talent in me when I was about 14. He knew I could get where I want to be today."
Despite it being blindingly obvious what Ryan can do, Schofield has heard all the queries about potential weaknesses.
Some critics have pointed to his struggles against an AFL stopper in Ryan Nyhuis – who held Ryan goalless in this year's low-scoring Grand Final.
But Schofield is quick to point out that Subiaco's ball movement was stifled by a well-drilled Peel line-up featuring 15 Dockers-listed players, and to the opportunities Ryan's threat opened up for his teammates.
Other doubters have wondered if a high-flyer like Ryan can adapt to play as a crumbing small forward, which makes Schofield laugh.
"When he's jumping on people's heads or leading up as a marking player – and he became a main focal point for us – he didn't have to be that crumbing player," he said.
"But he can definitely do it.
"He can work up in traffic and win his own ball at ground level, that's for sure.
"He's an excitement machine. Not only can he take marks, he's got good leg speed, he's got good evasiveness, and he's hard at the footy for a guy who is pretty lean."
There are things Ryan knows he needs to get better at. He can get fitter and stronger, and he's working hard on the defensive side of his game.
But what he does do is make opponents nervous, and he's given WAFL fans a reason to come through the gates each weekend to see if he will add to a highlights reel Cyril Rioli would be proud of.
"It's alright, hey?" Ryan says with a grin.
"I grew up doing that stuff. My dad can jump, my uncle could play football.
"I grew up around footballers."
Can he do it at AFL level?
"If I get a gig first, then I'll try it."
West Coast, which is in desperate need of small forwards roving at Josh Kennedy's feet, Port Adelaide and Melbourne are rumoured to be among the clubs most interested in Ryan this year.
Schofield is cautiously optimistic that Ryan will get his shot, and is adamant that he deserves it.
"If he's ever going to go it's going to be this draft," Schofield said.
"I was confident last year when about 10 clubs spoke to him. He's gone to another level.
"Everyone's waiting to see if he can take that next step and I'm a firm believer he can."
As for Ryan, he "100 per cent" believes an AFL club will pick him up.
"If not, I don't know what's going on."