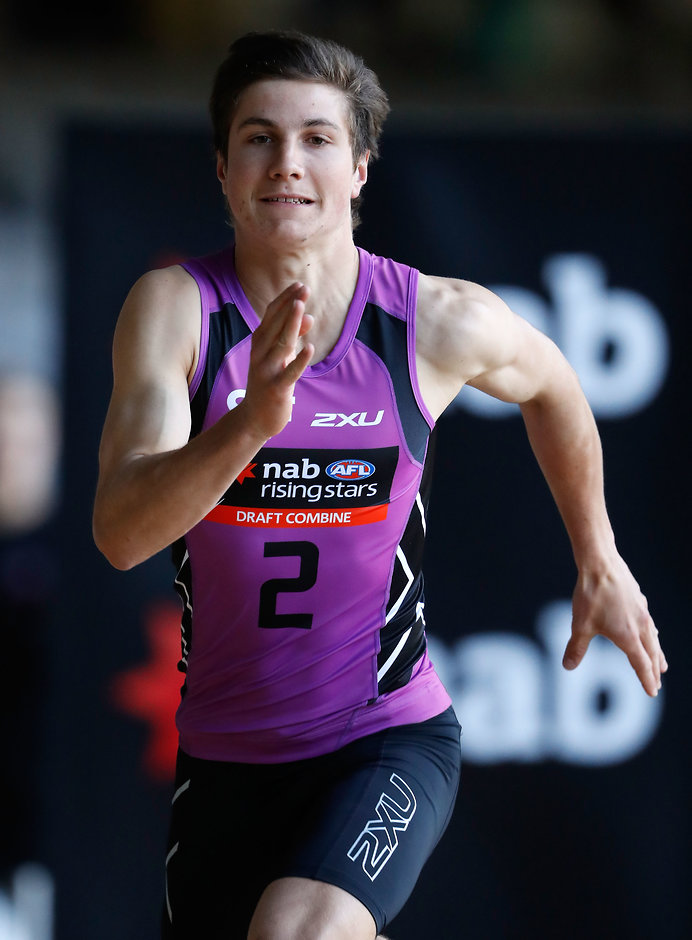 He's one of the better players below his knees I've seen in my time coaching
Jarrad Schofield on Liam Baker
AS SHATTERED as Liam Baker was to miss out in last year's drafts, he quickly realised feeling sorry for himself wouldn't help.
Instead, the highly-touted WA product sought feedback from recruiters, was brutally honest in assessing his own shortcomings and took it upon himself to improve.
After being invited to the NAB AFL Combine, the 174cm pocket dynamo knew he let himself down in the sprints.
He needed to become more explosive - "like the (Patrick) Dangerfield type" - so that's what he worked on, and he recorded a personal best 3.03-second effort over 20m at the recent state combine.
High-flying WAFL star ready for his AFL leap
Baker also freely admits that his kicking could get "sloppy", so he put in hour upon hour at training focusing on his ball drop.
"My kicking let me down a bit. That's something in the past two years that had gone downhill, which I'm pretty disappointed about," Baker told AFL.com.au.
"The main feedback was getting better at every little part of your game to keep putting your name forward."
And this year, under the tough love regime of Subiaco coach Jarrad Schofield, the 19-year-old feels he has become a more rounded footballer.
"Schoey's been awesome," Baker said.
"He's pretty tough and a scary bloke, but it works and works for me personally, I think."
Baker switched clubs at the end of last season due to the demanding commute to West Perth's home base in Joondalup, with the extra time saved allowing him to get to the gym and work on his strength.
A midfielder for the Falcons, the ex-WA under-18s star had to change his game to break into Subiaco's powerhouse line-up, but also to satisfy recruiters, who wanted to see him play multiple roles.
He evolved into a pressure small forward, broke into the League side, played 13 games – including the Grand Final loss – and booted 19 goals while averaging 16 disposals and three tackles.
"We thought he was good enough to play League footy at our club," Schofield said of the Lake Grace product.
"He's super-driven to want to improve his game.
"Liam's tenacious, he's hard-at-it and he's a competitive little man. For a bloke of his stature, he's not afraid to mix it with the bigger boys."
Despite the crushing feeling of missing out in last year's drafts, Baker has taken heart from watching under-18s teammates Griffin Logue, Sam Petrevski-Seton and Zac Fisher make the step into AFL football.
"It drove me this year, that's for sure," he said. "It's something I feel that I'm good enough to do."
It "means everything" to him to get an opportunity, and he wouldn't use his diminutive stature as an excuse.
After all, he is only one centimetre shorter than Fisher and tips the scales at the same featherweight 68kg as the creative new Blue, who managed 17 games in his debut season at Carlton.
Schofield, who carved out a 206-game career as a 178cm midfielder, is another source of inspiration and with hard-working small forwards' stocks going through the roof, the Lions coach implored AFL clubs to take another look at Baker.
"He's one-touch. He's one of the better players below his knees I've seen in my time coaching and knows how to find the goals," Schofield said.
"Draft him; he's good enough."