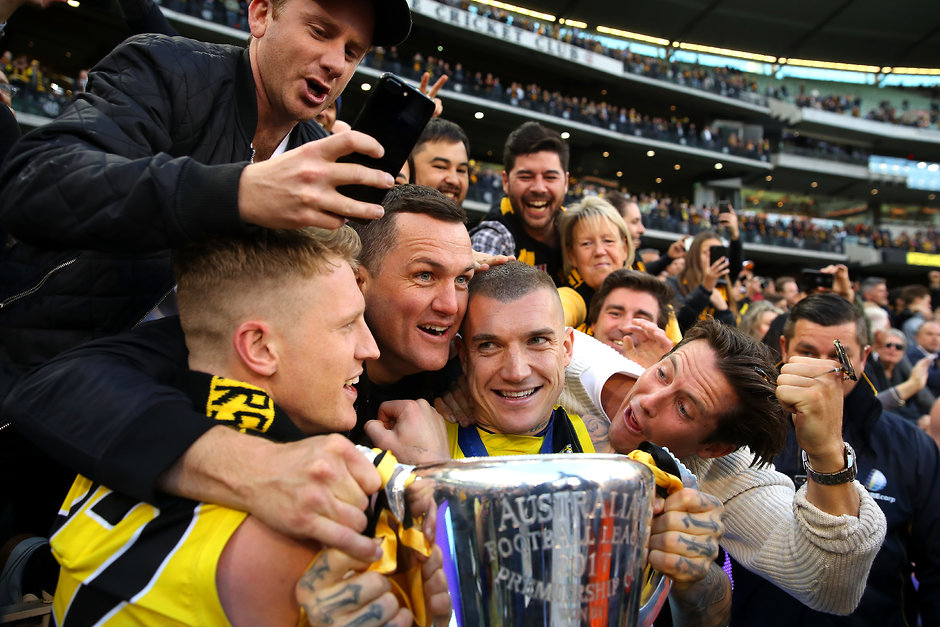 DUSTIN Martin's perfect year has been tarnished somewhat when the horse in which he has a stake, Main Stage, finished down the track in the Victoria Derby at Flemington on Saturday.
The Dusty Boys group of Richmond midfielders thought buying a stake in a racehorse for fun would lead to a day out at a country race meeting.
Instead, their team-bonding exercise was given a real chance of winning his own Grand Final in the $1.5 million Derby.
Main Stage has become known as Brownlow and Norm Smith medallist Dustin Martin's horse, even though the Dusty Boys together only own a 5 per cent share.
The syndicate's name started off as a bit of a joke, at Martin's expense.
"(Assistant coach) Andrew McQualter just did that more so because it would annoy Dusty," premiership player Josh Caddy said.
"As you know he doesn't really like much attention being on him. He likes to keep a low profile, just play footy and that's about it.
"We sort of did it as a joke at the start and it's gained a bit of traction obviously with the year we've had and the year he's had individually as well."
The group hoped their luck would rub off for Main Stage after their 37-year drought-breaking premiership win and Martin's historic Brownlow Medal, premiership medallion and Norm Smith Medal treble, but it wasn't to be.
Main Stage's large group of owners includes the Dusty Boys of Martin, Caddy, McQualter, Reece Conca, Dion Prestia, Anthony Miles and Toby Nankervis, while Richmond runner Richie Horrocks also has a stake.
The midfield group thought it would be a bit of fun to have an interest together outside football.
"We thought maybe we'd be able to have a day out in the country somewhere together and go and watch our horse run," Caddy said.
"It turns out it's running in the Derby at Flemington."