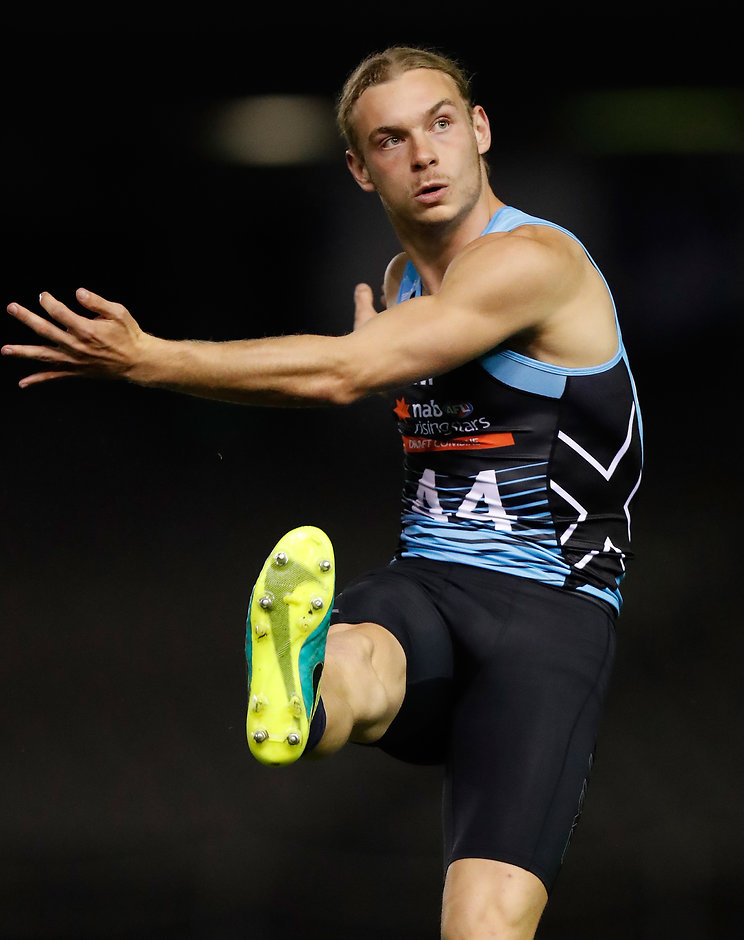 I was the youngest and got beat up a little bit, so that's why I like getting a hard ball
James Worpel
JAMES Worpel can't avoid statistics as he climbs the football pecking order, almost certainly all the way onto an AFL list by Friday week's draft.
The Geelong Falcons premiership captain, Vic Country MVP and dual under-age All Australian knows all about contested possessions, hardball gets and one-percenters.
But no amount of numbers could ever overwhelm this 18-year-old.
Worpel, a strong-bodied 185cm inside midfielder, grew up in a two-storey, six-bedroom home in Bannockburn near Geelong with his parents, Mick and Bev, and eight siblings.
There's Christine, 30, Matt, 29, Kate, 27, Aaron, 26, Thomas, 24, Sarah, 22, Emily, 20, and Jacque, 16.
They have since moved out and the old family home, located on the rural town's main street, is now a physiotherapy clinic and gym.
"I reckon it's pretty good – I liked it. I had five sisters and three brothers. I'd like more brothers, but what can you do?" Worpel told AFL.com.au with a laugh.
"I guess you have to mature a bit earlier, because there are so many of you and your mum gets sick of you.
"But we had a big house, a big backyard and you always had stuff to do. Things like dinners and when all your family comes around is a bit more special than having two or three come over."
Worpel burst onto the AFL radar last year with a starring role for Vic Country at the NAB AFL Under-18 Championships, although he was also All Australian centre half-back in the under-15s.
Former Adelaide coach Brenton Sanderson, who worked with Worpel in the AFL Academy, told the Geelong Advertiser in October last year that he was "ready to play AFL" and tipped him to be an early 2017 draft pick.
Much water has gone under the bridge since.
Worpel boosted his football resume further this year, but has become one of the most scrutinised players in the draft pool.
He averaged 21.2 disposals (10.6 contested), 6.8 tackles and 4.6 clearances per game in the TAC Cup – all of which placed him 'elite' or 'above average' in his position, other than his total disposals.
Only star onballers Clayton Oliver, Brad Crouch, Matt Priddis, Rory Sloane, Brad Ebert and Jack Viney managed at least those numbers in all those categories in the AFL this year.
Worpel's one score assist each week also ranked him 'above average' among midfielders.
"Mum and dad aren't really footy heads, but my brothers were, so I was always in the backyard playing with them," he said.
"Luckily, I was the youngest and got beat up a little bit, so that's why I like getting a hard ball."
James Worpel celebrates the Falcons' TAC Cup win with teammates and fans. Picture: AFL Photos

The knock on Worpel is his decision-making, something he is acutely aware of. His 43.6 per cent kicking efficiency provides an immediate talking point among AFL recruiters.
"It's not technique-based, so it's probably more of a decision-making thing; realising whether to handball or kick it," he said.
"There were patches in the (under-18) carnival that I kicked pretty well, then there were TAC Cup games where I absolutely butchered it.
"It is very frustrating, because if you fix a few little things, you can be a heaps better player."
Priddis (50 per cent) had the lowest kicking efficiency this year among the players above, from Ebert (54.3), Viney (55), Crouch (57), Sloane (62.7) and Oliver (69.5).
Oliver, Crouch, Priddis and Viney overwhelmingly handball more than they kick, whereas almost 70 per cent of Worpel's possessions in 2017 were by foot, so a recalibration may be in order.
That is possible, given he is likened to Kangaroo Ben Cunnington and Collingwood's Taylor Adams and models his game on Swan Josh Kennedy – three of the AFL's most prolific handballers.
"If you look back on last year, people were saying I was nearly a top-10 draft pick, then this year there's talk I've slowed up a bit," Worpel said.
"But at the start of the year, if you said to me I'd be a premiership captain, Vic Country co-captain, MVP and an All Australian, I would've been laughing and thinking, 'How good is this?'."
Worpel has gone to sleep most nights in the past week pondering his AFL fate, with his nerves rising by the day.
The "unknown" is getting the better of the lifelong Geelong fan's usually relaxed, unflappable demeanour.
The Worpels have a barbecue planned for draft night, with the guest list predictably going beyond 20 once family, partners and close friends were invited.
"You just never know what will happen. I can imagine sitting there with 40 picks gone and your name not read out, so you'd get pretty nervous," he said.
"My family is in it with me, so there are heaps of things that go through your mind, but I just can't wait to get started."
Fire up the Draft Machine
• View profiles of this year's prospects and predict the top 10 for a chance to win $10k