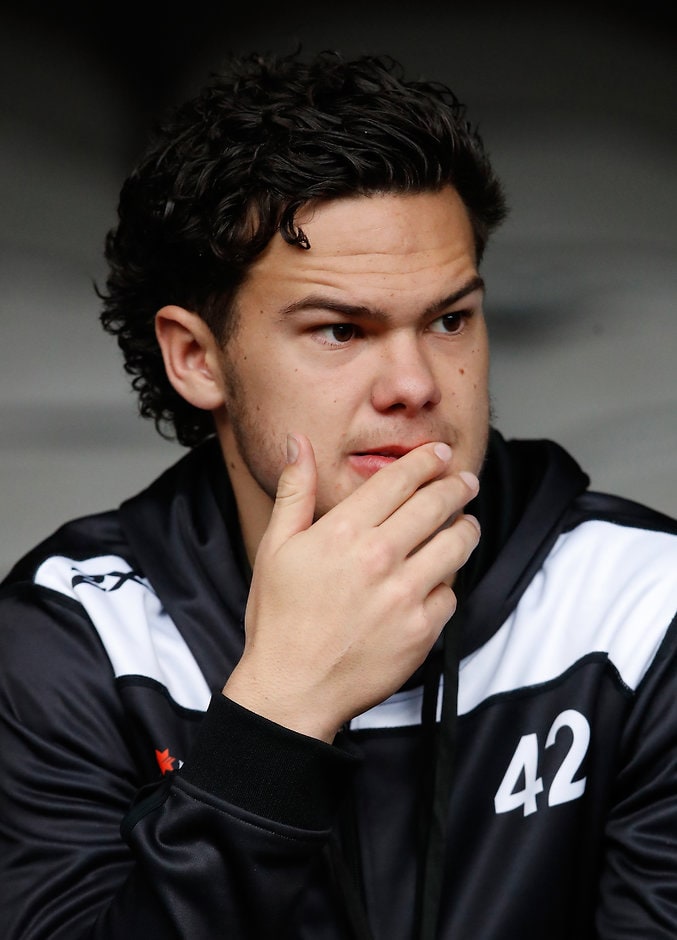 Four of the boys ran together and none of them really put on any pace, it was a pretty mild affair
Stephen Conole
THE BRISBANE Lions say they're yet to arrive at a "final decision" on who they'll spend their No.1 draft pick on, with potential top draftee Cameron Rayner returning a "sluggish" 2km time trial result on Friday.
Rayner, 18, has been linked to the coveted No.1 selection for months, along with Paddy Dow, Andrew Brayshaw and Luke Davies-Uniacke.
Lions recruiter Stephen Conole confirmed on Saturday there were still discussions to be had on which young gun would be the best fit for the rebuilding club.
"We haven't come to a final decision as yet, we're certainly getting pretty close," Conole told SEN.
"It's been reported there's probably four or so lads and I think that's pretty accurate.
"Those four are certainly still in the discussion, and there's probably a couple of those boys who are a little bit ahead.
"We had a couple of little activities during the week, there was a medical and a second fitness assessment for some of the boys who missed out.
"We'll get together early next week in Brisbane and spend a little bit of time … I'd imagine by then we'll have a final decision and we'll head to Sydney from there."
The knock on Rayner, an explosive midfielder from the Western Jets, has always been his endurance.
He ran a relatively slow 7:57 minute time trial on Friday along with fellow prospects Darcy Fogarty, Callum Coleman-Jones and Charlie Constable at a scheduled meet in Melbourne after all were unable to test during the October national Combine.
"He looked a bit sluggish," Conole conceded of Rayner.
"He had an exam the day before and he has another one on Monday.
"He's come off a reasonable knee injury that's kept him out of training for a little while.
"Four of the boys ran together and none of them really put on any pace, it was a pretty mild affair.
"I think the four of them were a little bit underdone and their results showed that.
"We'll have a chat to Cam after his exam and work out where he sits in terms of his medical stuff, I know they did a screening following that and the medical guys will get that information."
Conole said the Lions hadn't spoken to a number of the draftees since last month's Combine, as they were deep in their year 12 exams.
He said Rayner's endurance issue was well known, but the decision on whether to draft him would come down to his ability to improve in a professional environment.
"He covers a lot of areas that are really critical to the game," he said.
"You would imagine that's going to make or break him at that top level, his ability to cover the ground and work on his endurance.
"He's had a fairly busy year … whether he's really had an opportunity to work on that to the level he would have liked, it will be interesting to see once he's in a full-time environment.
"I'm sure it's going to improve - to what sort of level, they're the sort of questions everyone is asking."
Conole said the Lions had invested significant time in meeting with the families and support networks of potential draftees to gauge how they'd adapt to living away from home.
A spate of young players have sought a return to their home state during or after serving their initial two-year contract.
The Lions in particular have struggled with player retention, having most recently lost 2016 No.2 draftee and Victorian Josh Schache to the Western Bulldogs after one season.
"It's an important decision," Conole said.
"We really think our club is on the rise, we've got a great bunch of young kids there, the coaching staff is terrific.
"We think we've spent a lot of time and resources on welfare and development coaches, so we think it's a really good environment for a young boy to come to.
"We've lost Josh and we would have loved to have kept him, but we think most of the other boys are really keen to see out the journey.
"We're really confident that whoever we put up there will thrive."
Fire up the Draft Machine
• View profiles of this year's prospects and predict the top 10 for a chance to win $10k