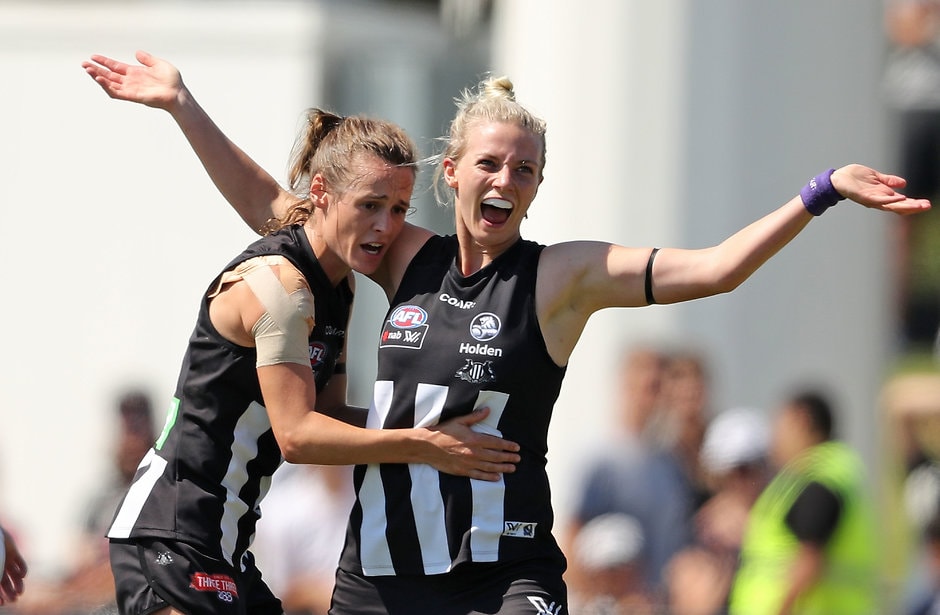 IT MAY have been 6.30pm in Melbourne, but the mercury was still hovering above 30 degrees as Collingwood's AFLW side took to the training track on Monday night to officially start pre-season training.
Sharing the oval with the club's VFL squad, the players lined up for a team photo with a few diehard fans who had waited more than an hour in the heat to see their favourite players.
The Magpies eschewed the popular first-day-back time trial for two 800m sprints, won by midfielders Brittany Bonnici and Amelia Barden.
Four players – defender Cecilia McIntosh and midfielders Bree White, Lauren Tesoriero and Christina Bernardi – did not take part in the sprints, but rejoined the main group for skill work.
Speaking before training, Bernardi said she was looking forward to her second AFLW season, admitting her first was filled with self-doubt.
Selected with pick 132 in the 2016 NAB AFLW Draft (Collingwood's 17th selection), the 27-year-old played six of a possible seven games but struggled to feel like she truly belonged at AFLW level.
"I didn't really know what to expect, because I've never been part of a state team or anything like that," Bernardi said.
"The draft was held during the day, and I walked in the door [at Collingwood] that night and went, 'Oh my god, why am I here?' I thought the people in the room were absolutely amazing. I spent a lot of time doubting myself last season.
"It was a big learning curve, particularly when it comes to the importance of self-belief. You have to believe you deserve to be here and you can actually do what people expect you to do."
Bernardi was introduced to women's footy by Collingwood teammate Steph Chiocci, after the pair met at Melbourne's RMIT University where they studied teaching.
She joined then-VFL Women's club Diamond Creek halfway through 2012, and relished the freedom football offered in comparison to the close confines of a basketball court.
Diamond Creek – no longer part of the state competition – qualified for the VFLW Grand Final this year, but the fixture ahead of the finals was pushed out by a week to accommodate the NAB AFLW State of Origin match.
Bernardi had already committed to a volunteering trip to South Africa with her work (she's a physical education teacher at Ivanhoe Grammar, in Melbourne's inner north-east), and she was overseas while her teammates played in the Grand Final against Darebin.
"We went to a school, did painting, read to the kids and taught and played with them, just to get them away from their day-to-day activities," she said.
"One day in Cape Town, we were painting on the ground, outside in the rain – which we'd never do here – and across the dirt patch of a paddock, these three little street kids came over to us. They didn't have shoes on, their clothes were oversized, they were missing their front teeth but they just wanted to paint with us.
"Hopefully, I get to play in a Grand Final, and hopefully with the Pies. But South Africa was an experience I just can't replace."