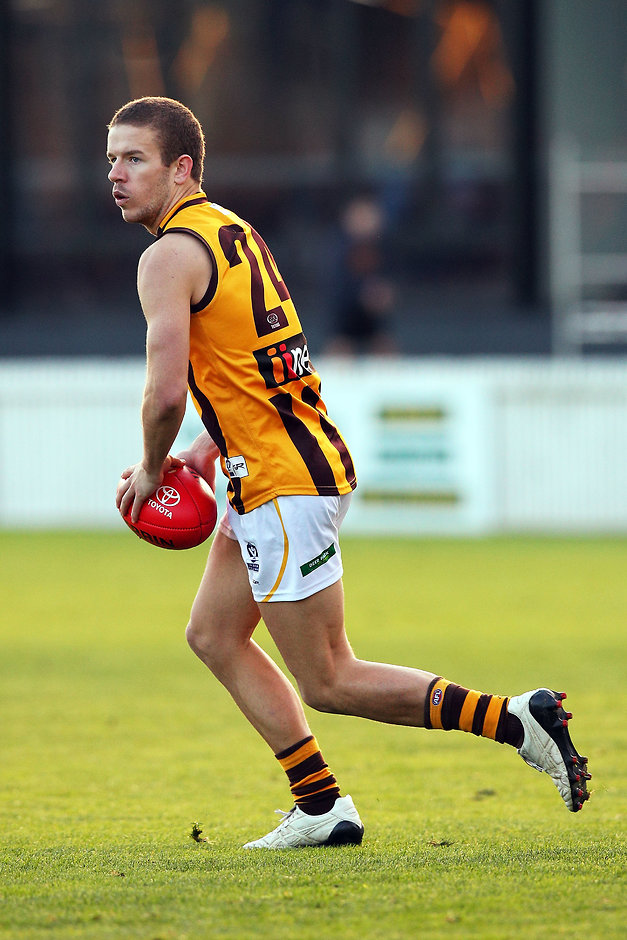 By pick No.73 there were only a few of us left and we were just about ready to pack up and go
Sam Switkowski
AFTER being overlooked in the last three national drafts, Sam Switkowski has learned never to make assumptions.
The former Northern Knights best and fairest winner spent 2014 preparing for life as an AFL footballer, following an outstanding season at TAC Cup level.
But despite interest from several clubs, Switkowski's name wasn't called out.
"It was probably a bit of a wake-up call," he told AFL.com.au.
"I had spoken to a few clubs and sort of felt like there was a good chance that I was going to get picked up. I probably prepared for it a bit too much and then when it didn't happen, I thought, well what do I do now?
"I thought it might not ever happen, but I certainly learned a lot from it. Ever since then, every year that's gone by, I'm hungrier to get there and it was good this year to finally get the reward."
The 21-year-old finally had his moment last month when, after an agonisingly long wait, he was selected by Fremantle at pick No.73 in the 2017 NAB AFL Draft in Sydney.
Switkowski had been training at Box Hill on the day with his VFL teammates and a group of them headed upstairs to the club rooms after the session to watch the draft.
As the night wore on, so did his teammates' patience, and one by one, they began to leave.
"By pick No.73 there were only a few of us left and we were just about ready to pack up and go," Switkowski said.
"I didn't really go into it with much expectation. I guess having missed out over the last few years, if you go in thinking you're going to get picked up, it's more disappointing.
"I was pretty calm and watching it without any expectation. By the end of it I knew with just a few picks to go things were looking unlikely, and then it happened.
"The boys that were there were very excited, they were up and about. I was just sitting there in a bit of shock not really knowing what to say. It was a good moment."
Given his struggles in 2017, being finally selected by the Dockers was actually a bit of surprise.
Switkowski had a challenging season in the VFL, playing just 12 games.
Glandular fever and a recurring hamstring injury kept him on the sidelines, but what he did in his 12 games was enough to catch the eye of Fremantle's recruiting team.
The way in which Switkowski has handled the past three years has also been impressive.
Sam Switkowski fires off a handball in the mud for the Box Hill Hawks. Picture: AFL Photos

Standing 179cm tall, the small forward was aware his size may have led to him being overlooked in his under 18s year.
But after joining the Box Hill Hawks in 2015 as a midfielder, he worked closely with the coaches to reinvent himself as a pressure forward.
His new role breather life into his football, as he became one of the best small forwards in the VFL.
Playing against bigger bodies, and being able to train with Hawthorn-listed players at Box Hill was invaluable for Switkowski.
The Fremantle recruit is now reaping the rewards as he tries to transition to the big league.
"I remember in one of those sessions I did with Hawthorn, we did a bit of match simulation and I ran around with Cyril Rioli for a little bit," he said.
"It was good to see to see how he works, his intensity and running patterns. I try to take little pieces from all that, even the VFL itself playing against bigger bodies I think helped me. That whole environment helped me grow as a player a lot more.
"I'm a lot more settled than some of the younger boys [at Fremantle], which is understandable for them, because they're just coming out of school.
"So I think I'm a little bit ahead in that sort of area and I feel pretty comfortable out training with the bigger guys. Certainly, it's a bit of an advantage."
The mature-aged recruit was three years into a four-year environmental engineering degree at RMIT University when his name was called out by the Dockers.
While he wants to continue his studies, Switkowski now has a new focus, as he tries to forge a career as an AFL player.
"I'm really excited to start training, working hard and build up my body and give myself every chance to build a career.
"It's a very exciting feeling but at the same time, I just want to get down to business."