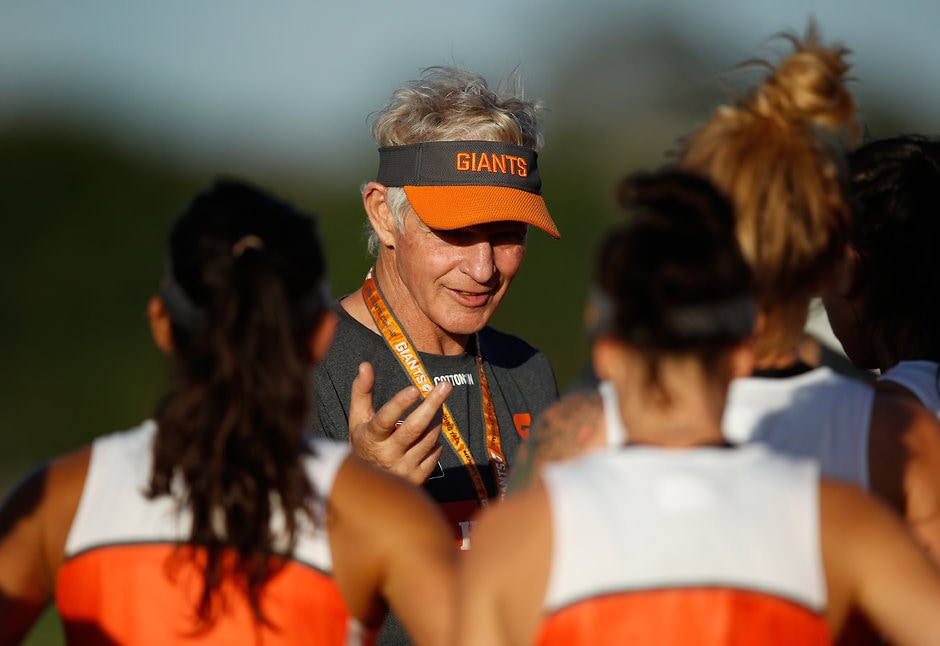 They're giving up a lot and the reality is, for most of them, it's costing them money to be here
Alan McConnell
ALAN McConnell has done plenty during his time in footy, but his latest challenge could be his biggest yet.
That probably seems strange given McConnell was the last man to coach Fitzroy before it folded, but in taking over Greater Western Sydney's NAB AFL Women's side, in combination with his role as Leon Cameron's director of coaching, one of the game's most respected men has a lot on his mind.
McConnell spends most of his days at Giants headquarters working with both the club's AFL and AFLW programs, and will no doubt earn his Christmas break this year.
He told AFL.com.au he's enjoying being back in control of his own squad, but is learning about time management with the Giants' AFLW players, who as semi-professionals must squeeze training, weights and meetings into a very limited time frame.
"Their energy and enthusiasm is infectious, there's no doubt about that, and I do feel a great sense of responsibility to make sure our program gives them the best chance to be as good as they can be," he said.
"They're giving up a lot and the reality is, for most of them, it's costing them money to be here.
"They're putting study, businesses and relationships on hold to chase their dreams, so we have an obligation to get it right and that motivates me.
"Because it's a part-time gig, people think it takes less time. But the reality is it takes more time because I've got to be more organised.
"When the players are here it's got to run like clockwork so we can maximise the time we have with the girls."
McConnell has decades of experience in the coaching game working with players of all ages and levels, but very little of that has been spent with female players, another aspect of the job he's learning to deal with on the go.
"They want to be good, they're driven, and they're into what they do in a huge way," he said.
"Every time we train I see a change, which is really encouraging. But that's another challenge because it's very difficult to know what the standard is.
"If you look at a session with the men's program for example, I have a sense of what good is, but those benchmarks are unknown with the women.
"So we just need to do everything better each time we train."
The Giants finished the inaugural AFLW season last on the ladder after winning just one of their seven games, and McConnell has already identified where his team needs the most improvement.
They kicked just 23 goals, with a highest score of 7.1 in a draw with Fremantle in round three.
"We want to play attacking footy and kick a lot of goals next year," McConnell said.
"We struggled to kick a score last season and that makes the game hard work.
"We want to have fun and reward ourselves for the effort and sacrifices we're making."