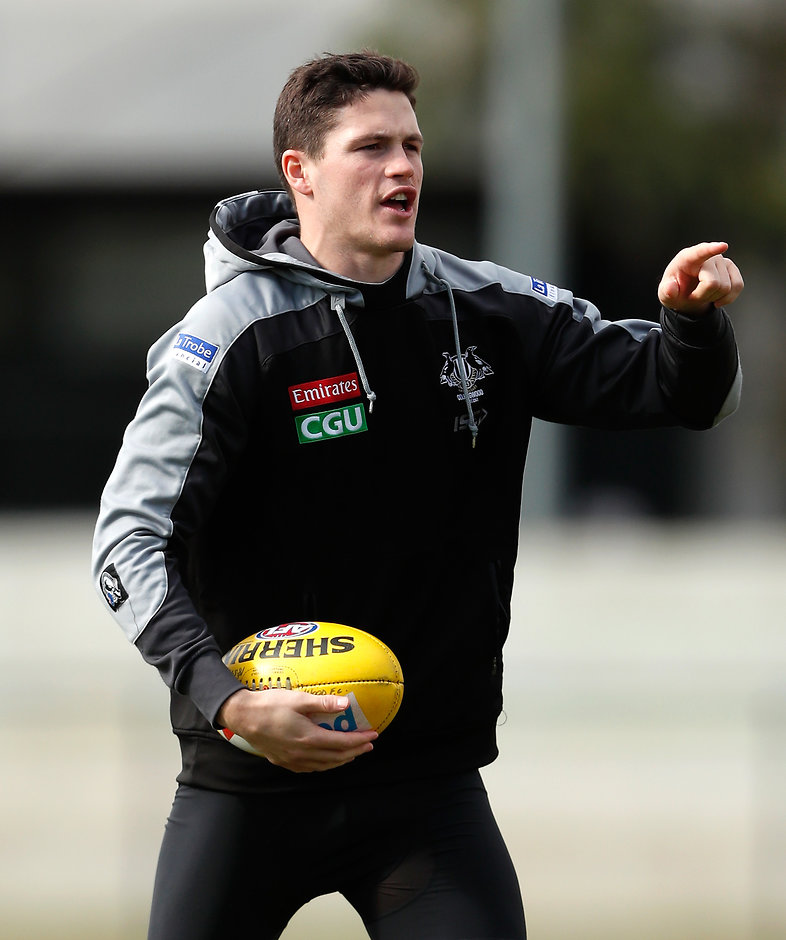 Sometimes in one-on-ones and with contested footy I've been pushed off a little bit too easily
Jack Crisp
A BULKED-up Jack Crisp is ready to make a more permanent switch to defence in 2018.
The 24-year-old has been training with the backline group this pre-season after the coaches spoke to him in his end-of-season exit meeting about playing in defence on a regular basis next year.
Crisp was moved from the midfield to the backline in the middle of last season and instantly injected some run and carry and brought a steelier mindset to a group that needed to improve its ability to contain opposition teams.
"I've enjoyed every bit of the transition to be honest," Crisp told AFL.com.au.
"It's just adding another string to the bow because you can't just play one position these days.
"You've got to be able to play nearly every position except for ruck these days."
Crisp has worked closely with defensive coach Justin Longmuir on improving his positioning and he's had to quickly learn, like many of his teammates, the changes to the gameplan.
"You're closer to goal to defend so you don't want to let your man off too easily. There's a bit more pressure," Crisp said about his changing role.
"But I don't mind it. You can still attack the game as a high half back, they're very attacking these days so you've got to be able to run pretty hard both ways."
He has also had to slightly change his body – adding more weight to his frame and improving his strength – to cope with the demands of the position.
"I've always found myself dropping weight through a season and becoming a bit too light," Crisp said.
"Yeah I can keep running, but sometimes in one-on-ones and with contested footy I've been pushed off a little bit too easily.
"With the new gym program and the running we're doing out here with Kev (new strength and conditioning manager Kevin White) it's more explosive stuff and that's been the focus. So if I can hold my weight a bit heavier and maintain that towards games I'll be laughing."
Crisp admits he has not had much experience playing down back before last season.
"When I was in the under 16s I played once or twice down back and then maybe once or twice in the NEAFL but that's about it," he said.
"It was all new pretty early on but I'm starting to feel pretty comfortable down there with all the blokes in the backline."
Crisp finished in the top five at the Pies for possessions, tackles, uncontested possessions and defensive-50 rebounds and has averaged more than 20 disposals per match in all three seasons he has been at Collingwood.
The hard-running defender was part of a deal that saw Dayne Beams wind up at Brisbane at the end of 2014.
Meanwhile, his life has also undergone a change off the field as well with wife Mikayla giving birth to their first child, Lilah Rose, in November.
"It's new and exciting. It's another good opportunity to switch the mind off from football and then get back to the club and switch back on again," Crisp said.
"Being a parent has been amazing."