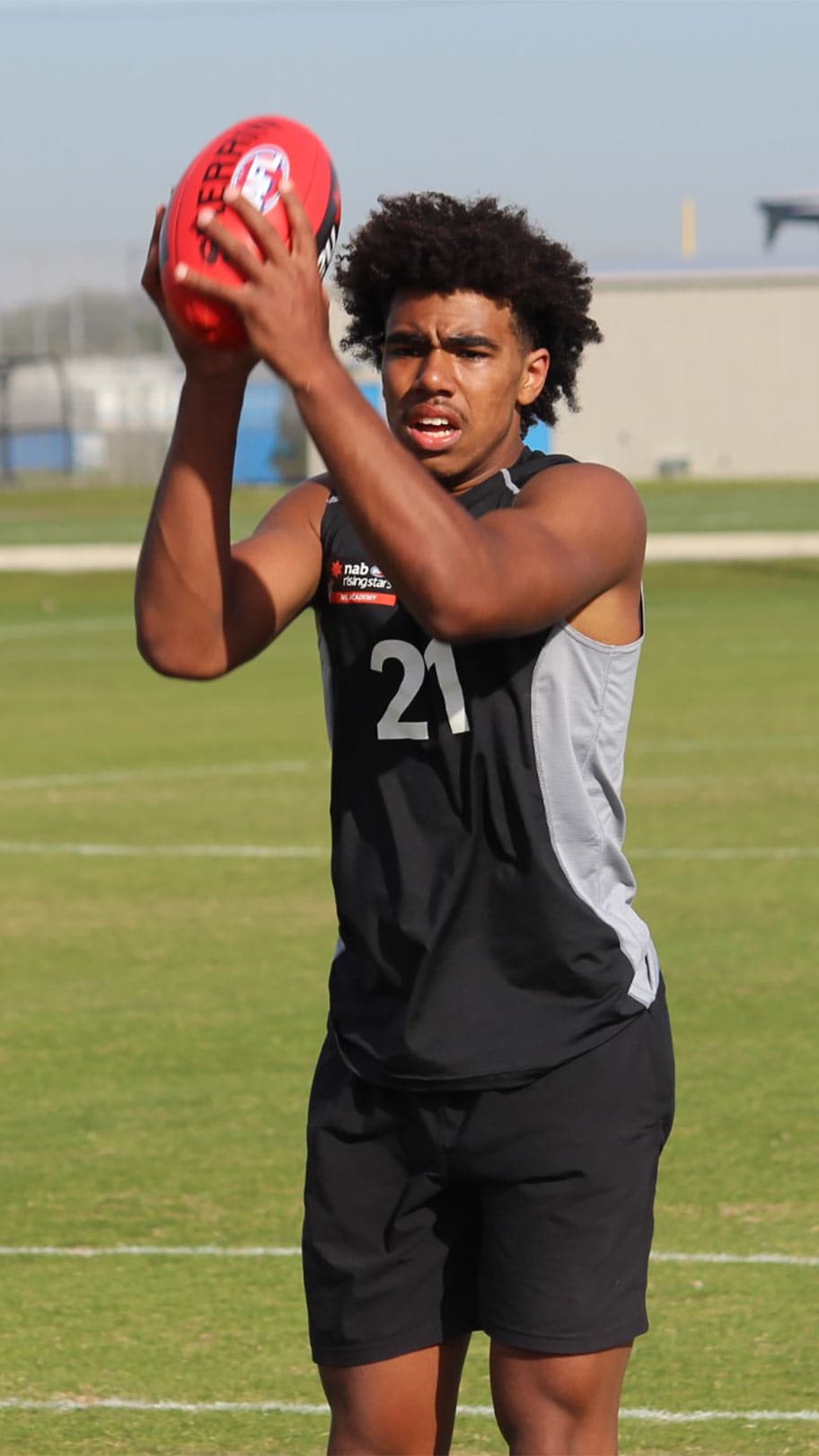 I put all my eggs into the footy basket and saw some pretty big improvements
Isaac Quaynor
ISAAC Quaynor has grown up a Collingwood supporter, idolised Magpies stars for years and as a member of its Next Generation Academy program is eligible to join the club at the end of this year.
But when the enthusiastic teenager trained with the Magpies in December last year for two weeks he had to tone down his love for the black and white, if only a little.
On his first day at the Holden Centre as part of a two-week training block through his NAB AFL Academy program placement, Quaynor arrived at the club at 7am and two hours later was out on the track training with his heroes.
But after training, he realised a photo of Pies' skipper Scott Pendlebury was still there locked as his phone's wallpaper. "I had to change it," Quaynor told AFL.com.au from the national Academy's training camp in Florida this week.

"He's genuinely an idol of mine and it was surreal to be training with him. But I had to change the background for that couple of weeks."
Quaynor might have to make a permanent change if he joins Pendlebury as a Magpie via the NAB AFL Draft later this year, which would cap what has been a swift rise for the Oakleigh Chargers prospect, who is in the multicultural academy because his father is from Ghana in West Africa.
The sharp kicking and smart half-back had been jumping between football and basketball for several years before settling on the Sherrin at the start of last season. He made the Chargers' TAC Cup squad, debuted in round four and quickly made the role his own, offering rebound and run.
He ended the year with defensive roles on No.1 pick Cameron Rayner and talented tall Noah Balta (now at Richmond), and with it showed he could play on a number of forwards while impacting the game in his own way.
Quaynor, who turned 18 earlier this week on the Academy's high performance camp at the IMG Academy in America, said it still surprised him he had so quickly been able to make it among the highly touted group of 2018 draft hopefuls.
"It's been a bit of a weird situation for me, because I've always been a basketball and footy player. I've always had a bit of a mix between both and I preferred basketball until about 24 months ago. I made the switch over to footy about 12 months ago when I stopped basketball," he said.
"I put all my eggs into the footy basket and saw some pretty big improvements and started hitting up the gym a fair bit as well. I put on some size and leaned down a bit, and it helped me get to where I am now. Some luck in a couple of big games helped me as well. It's been a bit of a quick rise for me but it's been good."
The 180cm right-footer first became involved with the Pies' Next Generation Academy (which runs under the same bidding process on draft night as father-son and northern Academy players) as a 16-year-old, when he spent a day at the club over six weeks.
He spent more time there last year and expects it to ramp up again after his two-week block last month.
"The two weeks there was one of the best experiences of my life, and it was a dream come true to be training alongside those guys. I was a bit overawed on the first day, but after that I thought 'I'm here and I may as well make the most of it'," he said.
"(The NGA opportunity with the Pies) is awesome, I'm super lucky to be in that position for sure. I just have to make the most out of it and get as much as I can out of this year."