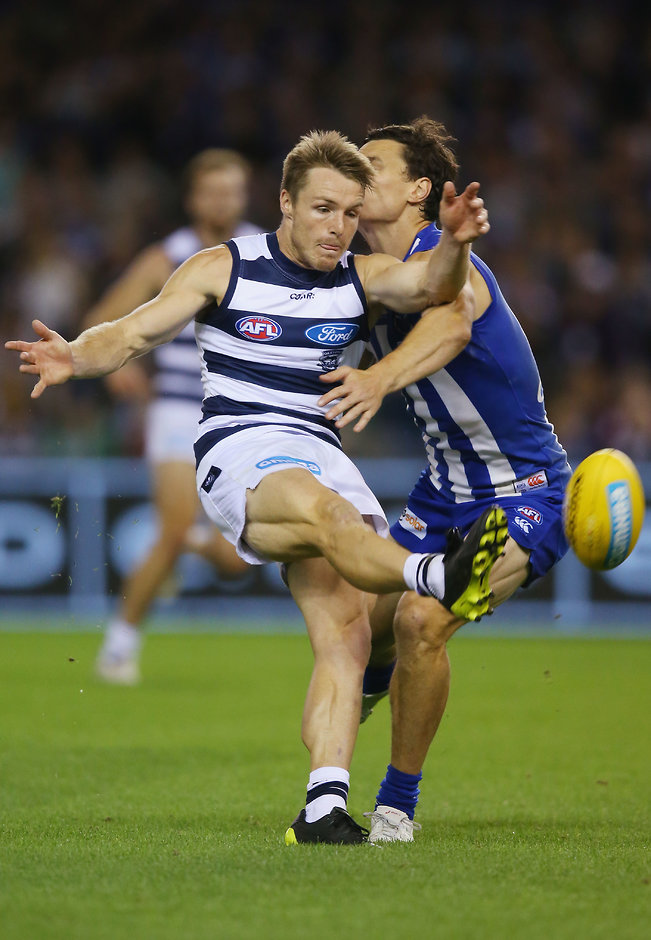 Last year we were really battling for numbers out on the turf
Matthew Scarlett
HAVING a fit Cory Gregson and Lincoln McCarthy in the Geelong line-up will be a major boost for a team that has narrowly missed out on a Grand Final berth the last two seasons, assistant coach Matthew Scarlett says.
McCarthy managed just three games last year, and Gregson none in a season where the Cats' small forward stocks were decimated.
Brandan Parfitt was also sidelined for 10 weeks after suffering a serious hamstring injury, while Nakia Cockatoo pinged his hamstring on three separate occasions and played just 11 games in an injury-interrupted year.
Scarlett said the returns of Gregson and McCarthy from long-term injuries would allow the Cats to tweak their game style in 2018.
"That's where the modern game is heading. You need to get the ball in your front half and keep it there and small, mobile, quick guys help you do that," the legendary Geelong defender said.
"We missed Gregson last year, hopefully Cockatoo comes on and improves as a player.
"And then McCarthy is really important to us.
"Hopefully we've got some quick, mobile guys down there who are really good attackers and are able to lock the ball in and give our midfield and defence a bit of a spell as well."
Fellow forward Daniel Menzel was productive in front of goal in 2017, booting 40 goals from 19 games, but his lack of forward pressure counted against him when it came to team selection in the finals.
Menzel was surprisingly dropped from the Cats' qualifying final team that played Richmond, but earned a recall for the semi-final victory over Sydney and preliminary final loss to Adelaide.
Gregson was first struck down by a navicular stress fracture injury, which required surgery in his foot in July 2016.
He had further surgery last January, forcing him to miss the start of the home and away season, then went back under the knife in July after scans showed the stress fracture in his foot was failing to heal.
However, after continuing to train during his off-season break, Gregson has turned the corner in his recovery and has joined teammates back out on the training track.
The Cats desperately missed McCarthy's tackling pressure inside forward 50 last season with the dynamic forward undergoing groin surgery in May.
The Cats had hoped the marking small forward would be available by mid-season but the weeks ticked by and after visiting a groin specialist in Canberra in July, it was evident that he had run out of time to be fit in time for the finals push.
Geelong's coaching staff rate McCarthy highly but the 24-year-old's career has been plagued by injuries, with a foot problem forcing him to miss two full seasons in 2013 and 2015.
McCarthy is still on a modified program but is getting ready to step up the intensity of his training before the practice matches begin.
Scarlett said he had noticed a distinct difference in the amount of Cats available this pre-season compared to last.
"Last year we were really battling for numbers out on the turf," Scarlett said.
"In our main drills last year we were only having 15 to 16 players in them.
"We've had high 30s (players in main training) this year so we've really been able to focus on our game styles and get some benefits out of that."