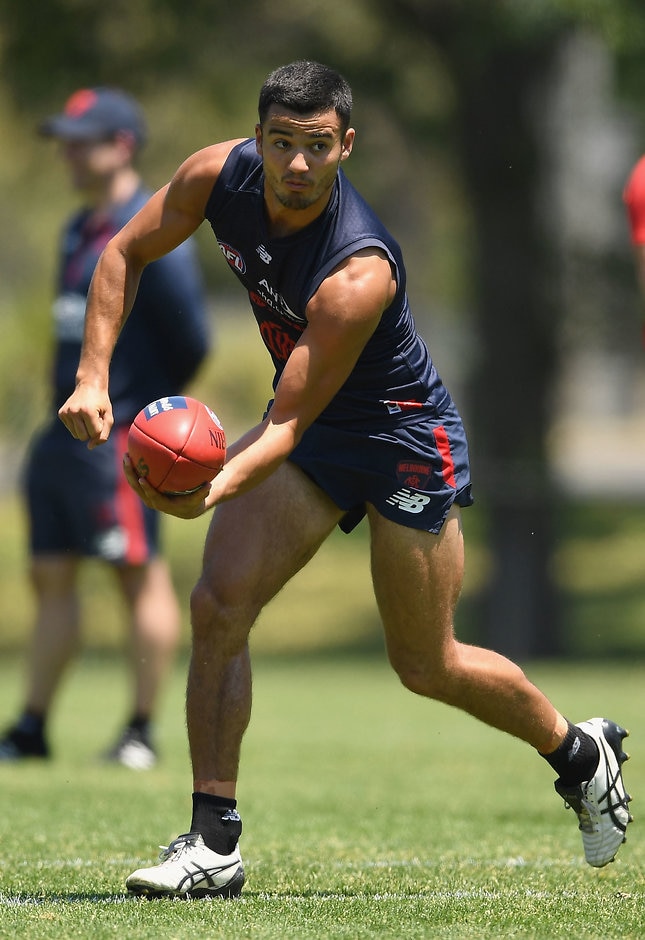 BILLY Stretch's ability to push from end-to-end and transition quickly between attack and defence made him the standout during Melbourne's main training session at Maroochydore Sports Complex on Tuesday afternoon.
Marquee recruit Jake Lever, who pulled up a little tight in the hamstring after Monday's session, was among those on light duties, but he is expected to join in training later in the week, while co-captain Jack Viney continued his rehabilitation from foot surgery at the end of last season.
The rehab group, which also consisted of Jeff Garlett, Joel Smith and James Harmes, trained on an adjacent oval, while Aaron vandenBerg, Sam Weideman, Pat McKenna and Dion Johnstone were others on modified training.
Stretch was influential during match simulation, which took several forms – 11 v 8 on an AFLX-style condensed field and then in 16 v 11 on a more traditional AFL ground, in what was a nearly three-and-a-half-hour session.
At the end of training the leadership group met and determined Stretch as the 'best on track', with experienced leader Tom McDonald agreeing the midfielder, who was in and out of the senior side last year, was the standout.
"Billy isn't one of those guys that gets noticed too much for doing eye-catching or flashy stuff, but today he really stood out going forward and he kicked a couple of goals off intercepts," McDonald said.
Stretch is regarded as one of the most professional young players at the club and he will be looking for more senior game time in 2018 after playing just nine senior matches last season.
It was the intensity the main group trained with, which one assistant coach remarked to AFL.com.au was right up there in terms of all the sessions across the pre-season, that became apparent from the very first drill.
Coach Simon Goodwin was vocal throughout the 11 v 8 and 16 v 11 scrimmages, imploring the players to clear space for each other as the offensive team emphasised speed of ball movement.
The players were broken into three groups during match simulation – a yellow team, a white team and a blue team, with one of the teams rotating in after two or three offensive and defensive trips.
This is where Stretch excelled, he used his running ability to get to contests, while when his team was on offence he linked up and sprinted hard forward to be used on several occasions.
Defender Sam Frost, who has really come on in terms of his positioning this pre-season, competed strongly in defence; Dom Tyson's foot skills were sharp and polished; Christian Petracca won praise for his contested work and Mitch Hannan's speed caught the eye.
.@jackviney7 continues his rehab from foot surgery. The co-captain also did some change of direction work. Hoping to be fit for round one. pic.twitter.com/TABvLFurZI

— Ben Guthrie (@BenGuthrie_) January 30, 2018
McDonald said the players had been raring to get into training under match-like intensity for a few weeks now.
"We made the mistake of going into full ground match play drills too early, but this year we've held back until this time of year," McDonald said.
"Today was a step forward in match-like conditions and Friday and next Monday will be more of the same, but taking it further again."
The coaches barked instructions and, at almost every occasion, urged the players to 'roll' – meaning to turn their heads up-field and move the footy on, while ruckman Max Gawn told his teammates to make early decisions.
At one point in the match practice, young defender Harrison Petty, pick No.37 in last year's NAB AFL Draft, won a crucial one-on-one contested ball against teammate Cam Pedersen and received a lot of praise from assistant coach Ben Mathews and the rest of his teammates.
After the match simulation ended, the players did some full-ground conditioning work, followed by goal-kicking from various spots on the ground and then broke away into forwards, midfielders and defensive groups.
The club will hold their two other main training sessions on Friday and next Monday, before landing back in Melbourne later that afternoon.