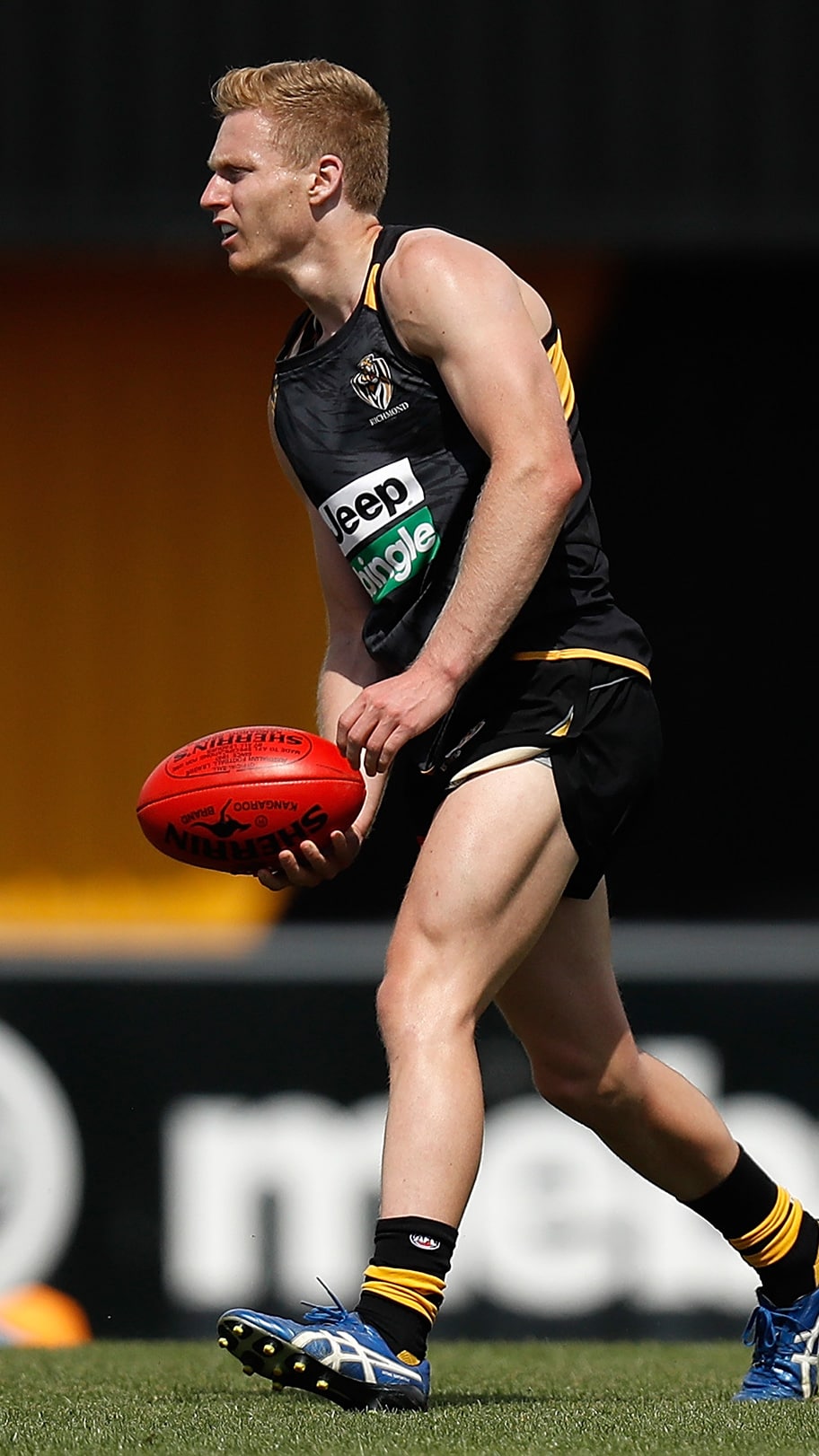 NATHAN Drummond will attempt to restart his career in Richmond's forward line when he returns from a second knee reconstruction this year.
Drummond, 23, has been training with the Tigers' forwards in a bid to hold down a half-forward role, similar to what premiership player Kane Lambert plays.
With an eye on March match simulation and a potential round one return, Drummond has been earmarked to further increase the Tigers' forward line depth when he overcomes the left ACL repair he underwent in April last year.
"We think 'Drummo' can do that sort of role, where he can get up the field and back again," Richmond assistant coach Justin Leppitsch told the club's website.
"You can consider him a bit of a mid, a bit of a forward.
"Obviously, his first thing is to get back from his knee and get confidence in himself and that belief again in his performance, that's first and foremost, but we feel there's a gap there for Drummo to fit into."
Drummond's latest heartbreaking injury happened in a VFL game last season, almost exactly two years after he suffered the same ligament tear in his right knee in his AFL debut.
He has been notably diligent in his second bout of rehabilitation, completing solo running sessions at the club in the lead up to Christmas.
The five-gamer could be joined by other new faces in the forward line as the Tigers look to rejig the set up that isolated Jack Riewoldt as the lone tall and surrounded him with smalls in their premiership-winning year.
"We've got Callum Moore and Mabior Chol that have been around the footy club a couple of years as rookies, and they get their opportunity now to step up and show what they've got," Leppitsch said.
"Both have had really good pre-seasons, so that's exciting.
"We know Jack needs a little bit of help down there in the tall department, so we're hopeful those two boys can fill that task."
Ruckman Toby Nankervis has also been earmarked as a possible partner for Riewoldt, provided Shaun Hampson can manage an on-going back complaint and get back to AFL level after missing all of last year.
Leppitsch said Riewoldt had already been a key contributor to the development of the young Tiger forwards with his leadership skills.
"We're very fortunate that while we're a young group, we've got a guy in Jack who's an on-field leader … he's an on-field coach," he said.
"So, if you've got just that one person who can direct traffic and put young players in their positions, it makes a big difference to the functionality of the forward line.
"Jack's really been the driver of the on-field coaching for us, so he's invaluable for what he does for us on the field, not just in his performance, but how he leads our kids."