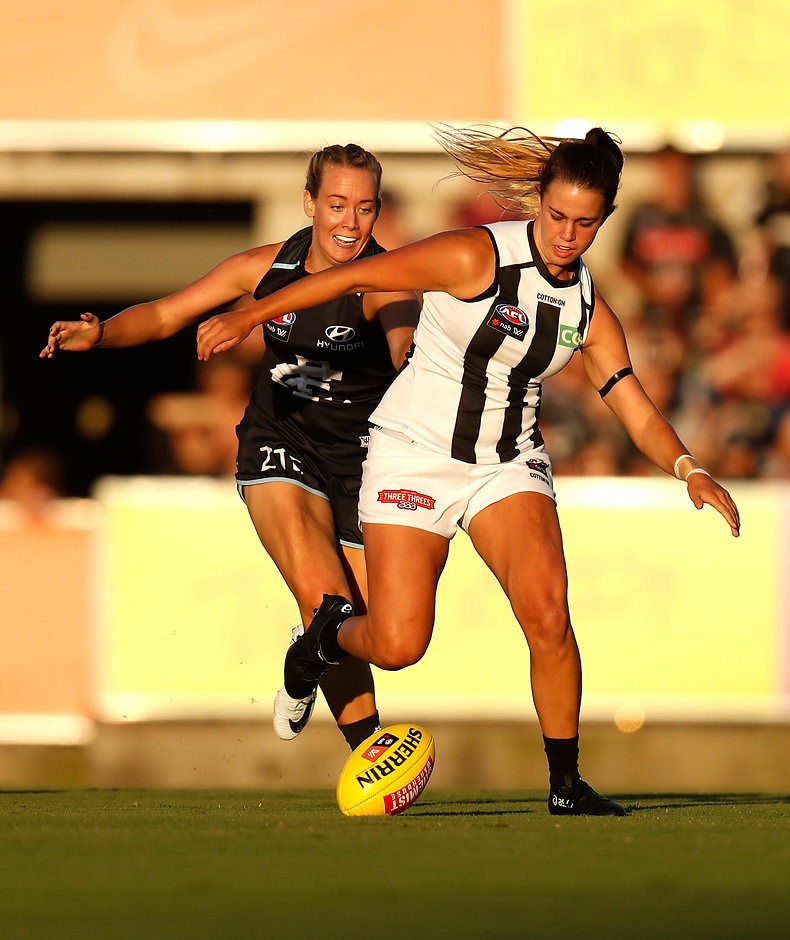 CHLOE Molloy and Rebecca Beeson are the NAB AFL Women's Rising Star nominees for round one.
Collingwood's Molloy, the No.3 pick in last year's NAB AFLW draft, burst onto the AFLW scene on Friday night against Carlton.
Drafted as a forward, the 19-year-old surprised many by lining up in defence but ended up as her team's best player.
Molloy amassed 20 disposals (18 of which were kicks), took the responsibility of kicking in, and was the Magpies' main link out of defensive 50.
She said despite trying to imagine what it would be like to play in front of such a large crowd (19,852), the reality was very different.
"It just all hits you," Molloy told AFL.com.au.
"I had a massive smile on my face, there was so many supporters there, it was amazing to see.
"My first disposal will be really memorable for me. I got a little buzz when I touched the ball for the first time, a bit of heightened excitement, but then just got on with the game."
Molloy said she knew about halfway through pre-season she'd be lining up in defence.
"[Assistant coaches] Lynden Dunn and Chloe McMillan have really taken me under their wing.
"The girls have been great too, there's no such thing as a silly question. I've actually really enjoyed being an attacking defender."
Beeson is in her second season with GWS after playing all seven games last year.
The small forward provided her team with a lot of spark in a difficult 2017, and the Sydney local looks fitter and stronger this season.
Playing slightly higher up the ground than in past games, Beeson had 11 touches, two clearances and two inside 50s in GWS' loss to Melbourne on Saturday afternoon.
The 20-year-old said she was in a team meeting when the announcement was made.
"Al McConnell told the girls and myself and that was the first time I heard it," Beeson told Trail Blazers, AFL.com.au's official AFLW podcast.
"It was very shocking and exciting, and it's very unexpected actually.
"It was a bit disappointing [for the team] fall down in the last couple of minutes [against Melbourne] and giving away that last goal, but there's plenty of positives to take out of it. We were very happy with parts of our performance but we're aware there's a lot of improvement there."
Players qualify for the Rising Star if they were 21 years old or younger on 1 January 2018 and have not previously been nominated.