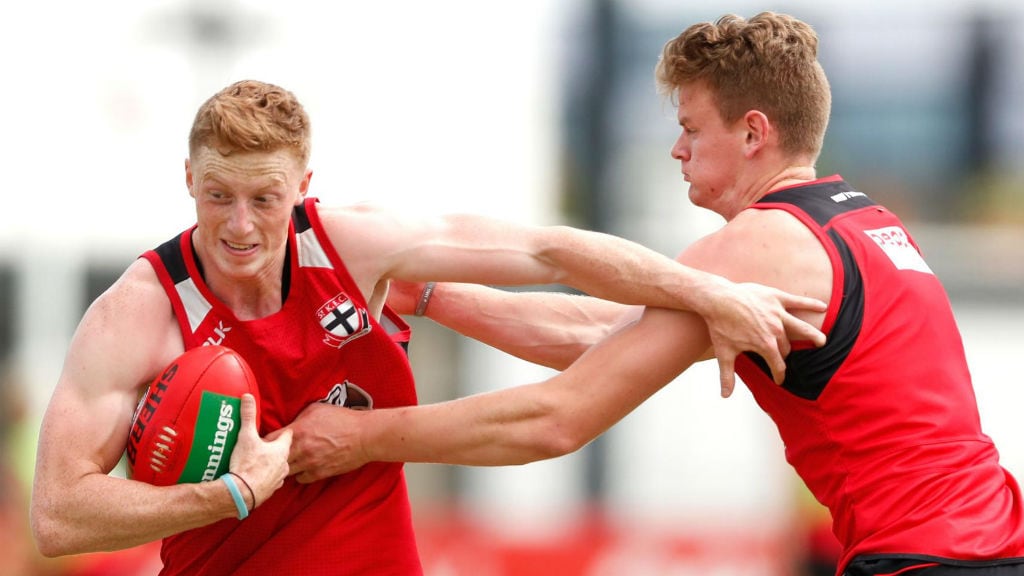 If Ray got a senior debut and I didn't, you'd be happy for him, but also pissed off
Darragh Joyce
AS THEY embark on their second season with St Kilda, Irishmen Darragh Joyce and Ray Connellan aren't lacking in a key attribute required to make it in the AFL – competiveness.
Whether it's trying to match it with opponents who have played the game all their lives or holding their own "against the Aussies" in locker room banter, it's clear the exciting prospects aren't here just to escape the Emerald Isle's often dreary weather.
A friendly rivalry between the great mates is another factor driving them to realise their dream of becoming League footballers.
"If Ray got a senior debut and I didn't, you'd be happy for him, but also pissed off," Joyce told AFL.com.au.
See the AFLX fixture and get your tickets here
"There's definitely that competitiveness between us."
Early last season the 21-year-old tall defender called on that resolve after he was dropped to the VFL reserves while Connellan kept his place in the Sandringham senior side.
The County Kilkenny product was frustrated by his inability to adapt to the game more quickly, but in reflection, the demotion was a turning point in his fledgling career.
"It did sting me getting dropped, but it was the best thing for me at the time because it allowed me to go back to a slightly slower pace and build my form," Joyce admitted.
"I was a defender back home (in Gaelic football), and it was more about attacking the ball than tackling and trying to put a body on your opponent.
"I'm probably that third tall who has the versatility to play on talls and smalls."
Connellan was also battling to keep his spot in the Zebras' senior side, but found inspiration in how his compatriot handled the disappointment.
"You could see he was flat when he went down, but his next game back in the seniors was his best and the confidence came with it," Connellan told AFL.com.au.
"He could see the grit that said, 'You're not going to drop me again'."
While athleticism and strength are Joyce's standout qualities, Connellan possesses explosive pace that the Saints' brains trust tried to exploit in defence before realising he was a natural forward.
Joyce agrees with the change in view, quipping that the Westmeath native has "never defended a day in his life".
A solid pre-season has seen the 24-year-old shed some puppy fat and running better than ever as he eyes a place in Alan Richardson's side with a new defensive mindset.
"You have opportunity to play with natural flair and go out try things as a forward, so that's where I'm going to have to stake my claim for a spot," Connellan said.
"One thing that stood against me last year was I didn't create enough pressure and lay enough tackles, so I've been really working on it this pre-season."
Lindsay Gilbee knows very well the insecurity that can swamp a youngster trying to make his way at the highest level, as he also struggled in the VFL before becoming an All Australian at the Western Bulldogs.
Ray Connellan celebrates a goal for Sandringham. Picture: AFL Photos

As coach of Sandringham last season, Gilbee was central to Joyce's axing, but also a great mentor to a pair he believes have the qualities to be long-term League footballers.
A renowned brilliant kick, Gilbee raves about the Irish pair's foot skills for relative novices, and compares Joyce to former teammate and 200-gamer Ryan Hargrave, while he'd back Connellan to win a match race against ex-Melbourne speedster Aaron Davey.
"The good thing about the Irish guys is that they're really driven, and that makes coaching them enjoyable," Gilbee told AFL.com.au.
"Ray was getting spoken about (in match committee) to play senior footy last year because we lacked some pace in our forward half.
"Getting dropped hurt Darragh, but I told him I played VFL reserves, our captain Jarryn Geary did and so did David Armitage, so he needed to look at the bigger picture.
"I believe he came back a much better player.
"Things might need to go their way, but I'm confident they both could play senior footy and hold their own."
Homesickness has seen many Irishmen give up the chance of becoming a professional footballer, and Connellan and Joyce have both battled the call of home.
But they credit the support of the Saints, the Australian lifestyle and the "craic" (fun) they share with the 12 other Irishmen in the competition for aiding their adventure down under.
Social media has also helped their cause by making it easier for them to keep abreast of how family and friends are in Ireland – and slowly invade the AFL.
"All the Irish players out here are in a WhatsApp group called "the takeover" in honour of (Irish MMA fighter) Conor McGregor, and (Geelong's) Zach Tuohy is definitely the father figure," Joyce joked.
"I think there's five or six of us in Melbourne, so it's great to hear an accent and catch up with the lads – it makes it easier with homesickness."
Now just a month out from competitive football, Connellan feels the past 12 months have conditioned him and Joyce to make the most of the opportunity they feel lucky to have.
"The whole concept of being a professional footballer has well and truly sunk in now, because it's pretty cool to wake up in the morning and be kicking the footy for a living," Connellan said.
"We can now show the boys we deserve to be here, and they can see we can play a little bit."