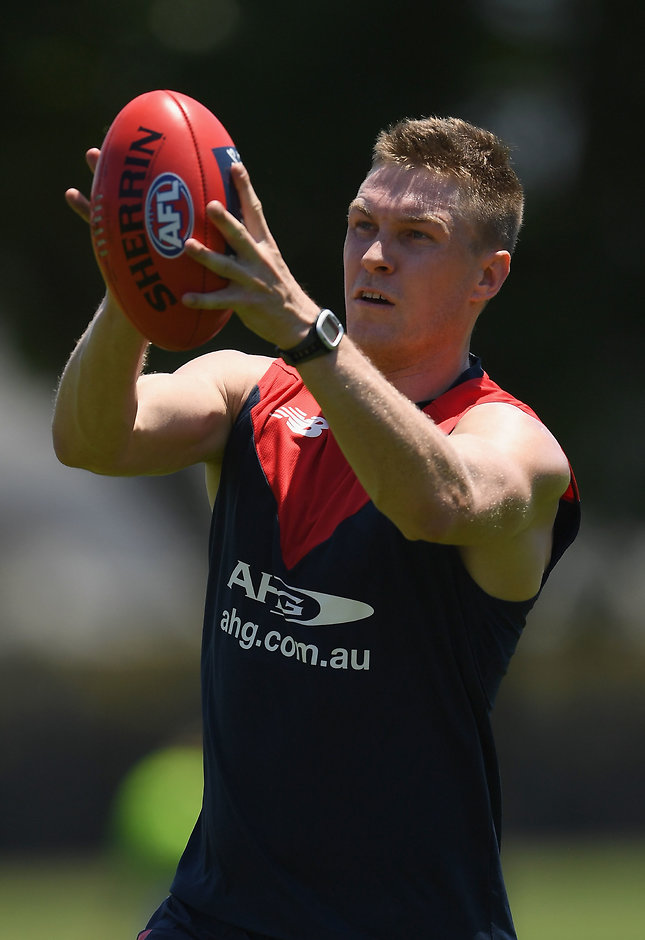 It feels like for me my job is simplified compared to what I was used to as a defender
Tom McDonald
TOM MCDONALD believes a permanent move to the forward line will allow him to play with newfound freedom, with the Melbourne swingman glad to be free of the pressures of defence.
Following surgery on both of ankles at the end of last season, and integrating into main training in the past month, McDonald said he was relishing his time training at the opposite end of the ground for the first time in his career.
"I don't know why but it's taken a bit of the stress away from playing footy," McDonald told AFL.com.au.
AFL Tipping: Pre-registration is open now
"Sometimes as a defender I was so worried about making mistakes. The pressure that comes with being a full back or centre-half back can be overwhelming at times, and I tend to get overly frustrated with myself and it costs me."
Starting his AFL career in a defence that was consistently ranked in the bottom three or four teams in the competition for average points against, did not do McDonald any favours.
As a young tall learning his defensive craft, playing on opponents that outsized him, and slowly coming to grips with what it took to play at the top level in a mediocre team, the perception about McDonald was that he was prone to turnovers.
However, as his career has developed and the Demons have become more competitive, the panicked situations he has found himself in have lessened.
McDonald, now a senior leader at Melbourne and one of its most versatile players, said playing forward would allow him to trust his instincts more.
"It feels like for me my job is simplified compared to what I was used to as a defender," McDonald said.
With key forward Jesse Hogan unavailable for all but 10 games last season and Max Gawn sidelined by a hamstring injury, McDonald was deployed to the forward line and in the ruck at times for a nine-game block where he showed his ability to provide a strong target forward of centre.
McDonald booted 19 goals between rounds 12 and 20, including a career-high five majors against West Coast in the Demons' nail-biting three-point victory in round 14.
McDonald scored a goal 23 per cent of the time he was targeted inside 50 and recorded the second-best shot at goal accuracy of the top-75 goalkickers, according to Champion Data.
After seeing the impact he had in attack in a small sample size last season, the Demons have decided to commit to seeing what the Hogan-McDonald partnership could look like in 2018.
Despite an interrupted season, Hogan booted 20 goals in 10 games last year to underline his potency.
"I think we'll be a really good mix. We've both got good running ability and we can cover the ground quite well, so hopefully that stretches a team that don't have two key defenders who can match it with us," McDonald said.
"I'm excited to work with him and hopefully form a good combination."
The 25-year-old said he was still coming to grips with parts of his role as a forward, while also aiming to quickly develop chemistry with Hogan.
Tom McDonald (left) is keen to dominate the forward line with Jesse Hogan. Picture: AFL Photos

"As a defender you naturally go to the back of the contest in a marking situation, which is a bad habit as a forward because you want to be at the front and launch at the footy," he said. "So that's been one thing that's been hard to break."
Being in rehab up until Christmas, after the club decided surgery was the best way to alleviate the stress of bone spurs which he carried for most of last season, the challenge of learning his role as a forward have been exaggerated.
It took McDonald seven weeks to start running again following the dual surgeries in September, with the 194cm big man demonstrating his power and strength in marking contests in match simulation in recent weeks.
"My set-shot kicking has been OK, but it's practicing left-foot snaps and right-foot snaps from the pocket that I'm actually horrible at, so that's been a work in progress," McDonald said.
"The snaps at goal are a part of the game that I haven't practiced for eight years."
McDonald, a free agent, falls out of contract at the end of this season, having put pen to paper on a two-year deal back in 2016, and looms as a priority signing for the Demons.
"I'd like to get something done soon," he said. The club hasn't come back to me with anything yet, but it'd be nice to have it done earlier rather than later."