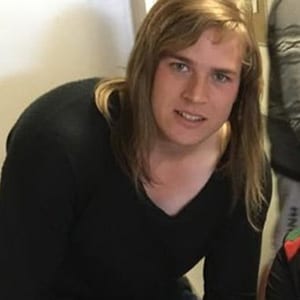 TRANSGENDER footballer Hannah Mouncey will be allowed to play state league football despite being barred from the AFLW this year.
This decision would normally rest with state bodies but in an AFL statement, the League said it "strongly encourages" an inclusive policy among trans players at the community level, with the national body yet to finalise its gender diversity policy.
The AFL executive signed off on the recommendation to allow Mouncey to play, which was made by general counsel Andrew Dillon and inclusion and social policy manager Tanya Hosch.
Mouncey's nomination for last year's AFLW draft was blocked by the League after consultation with Mouncey, her management, the AFL Players' Association, the Australian Sports Commission and Pride in Sport. That decision applies to 2018 only, meaning Mouncey could apply again to play in 2019 AFLW matches.
Hosch reiterated the AFL's desire to be an inclusive competition.
"We are committed to inclusion and want all Australians to be able to play or participate in our game. These are complex issues and we are considering expert opinion, international frameworks and feedback from the communities that are impacted by our decisions," Hosch said.
Mouncey could potentially return to Ainslie, the team she represented eight times last year in the Canberra Women's League, or play in the VFL Women's competition.