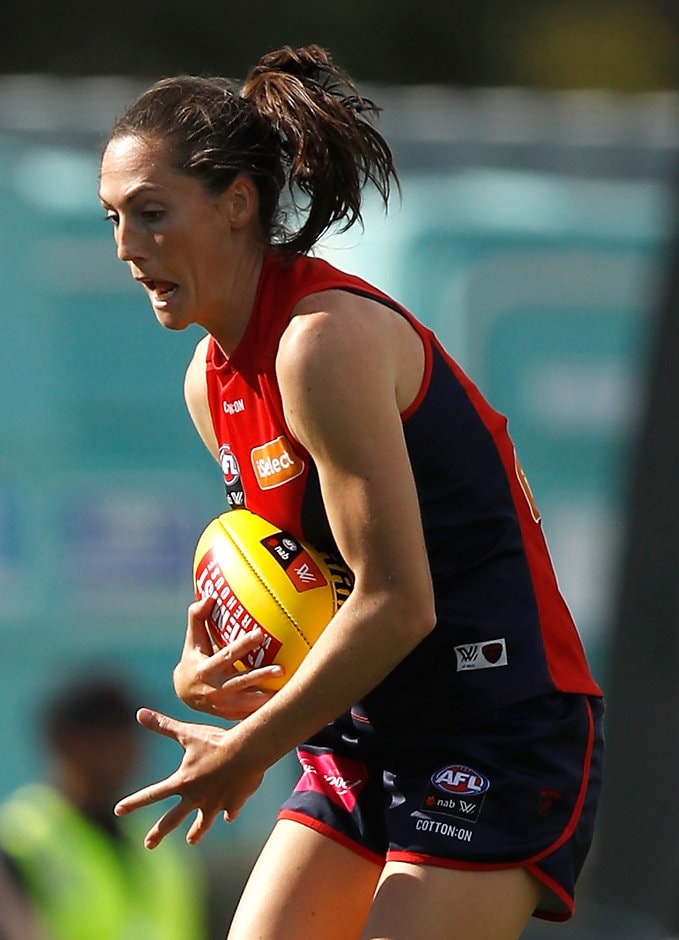 MELBOURNE'S AFL Women's team has embarked on a road-trip of epic proportions.
The side flew to Perth on Saturday ahead of its Sunday afternoon match against Fremantle.
The Demons will stay in Perth for several days, before making the trip to Alice Springs on Wednesday.
They will spend a few days doing community work in the area, before facing Collingwood on Saturday night at TIO Traegar Park. They return to Melbourne the following day, eight days after they left.
Key defender Meg Downie said the trip was something the players had been looking forward to after two games at home (Casey Fields).
"It's an awesome opportunity for us to come together as a group, even more so than we have over the previous months," she told AFL.com.au.
"I'm just really excited to get out in the community in Alice Springs in particular and meet some of the Aboriginal communities out there.
"It sounds like it's a pretty special place and football gives [the communities] a lot of energy and positivity in their lives, so I can't wait to get involved working with the kids over there and playing some footy with them."
Downie, 29, has settled in well to the year after a hamstring injury ended her 2017 NAB AFLW season in round two.
She had jumped to tap the ball to a teammate when she tore her hamstring. But while in the air, Collingwood's Sophie Casey collected her high with a swinging forearm, knocking her out cold.
When Downie came to, she tried to tell the doctors and physios about her hamstring, but they initially thought she was confused because of her concussion.
An MRI scan a few days later confirmed the serious tear, which required surgery and a five-month rehabilitation process.
"Once I did the injury in early February, we knew there'd be no chance I'd get back for the season. So, I was carefully managed over four to five months by the club.
"It was at a slow progression over that time. I remember the first exercise I did was walking up a hill, so it's funny to think that's where I started, [compared] to where I am now."
Downie played seven games for VFLW club St Kilda Sharks in the latter half of the winter competition and was her side's best players in their preliminary final loss to Darebin. She was able to complete a full pre-season.
"I really tried to focus on getting my body right for every training session. It was less about trying to cram in as many skill sessions as possible, and more so about making sure my body was 100 per cent ready to go.
"I also had to look after myself…making sure I wasn't cramming too much into my schedule. That was a big issue last year; I just didn't have time for anything and my body was under too much duress.
"So, I tried to have more of a balanced approach coming into pre-season and I think that's holding me in good stead."
Growing up in Shady Creek with three brothers (Jake, two years older, and Sam and Luke, two and four years younger respectively), Downie played footy from a young age.
She was forced to stop once she was 12 and didn't pick up the sport again until she moved to Melbourne to study business at Deakin University at the age of 19, playing with the East Burwood (now Eastern) Devils in Melbourne's eastern suburbs.
Downie, who works in the banking industry, is one of many AFLW players juggling work with training – and it's far from your average footballer's job.
"I've just got a new job as a 'journey expert' for savers and investors, which is a bit of a strange name. Basically, I help analyse our retail savers' portfolio and optimise that from a revenue perspective," she said.
Melbourne has had a flying start to the season. After missing a Grand Final spot last season by percentage, the Demons are undefeated and third on the ladder.
They are the highest scoring team in the competition, averaging 51 points a game.
It may be round three, but Melbourne is already being talked up as a major flag fancy.
But Downie said the team wasn't getting ahead of itself.
"With such a short season, the competitiveness of it means it can change with the drop of a hat.
"For us, it's really about focusing on the present. We're thinking only about Fremantle at the moment and what we have to do to get the job done there. Then after that, we'll think about Collingwood.
"While it's easy to let your mind wander, we've got our feet on the ground. No one's thinking that far ahead yet."