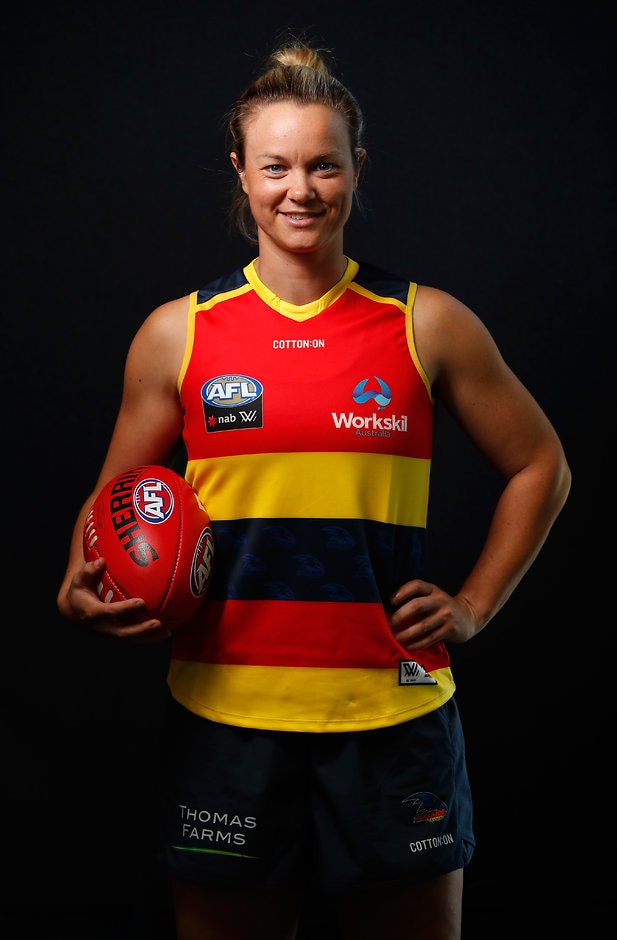 ALL AUSTRALIAN defender Courtney Cramey will line up for her first game of the season when Adelaide takes on Greater Western Sydney on Sunday afternoon.
Cramey had missed the opening three rounds with a hamstring injury.
Teammate Angela Foley will also return for the Crows after missing one game through suspension, replacing the injured Rheanna Lugg and the suspended Dayna Cox.
Carlton has recalled former captain Lauren Arnell to take on the Western Bulldogs on Friday night. The 30-year-old was dropped following a poor round one, and will be tasked with replicating the output of suspended star forward Tayla Harris.
The Blues have made four changes, with midfielders Lauren Brazzale (shoulder), Georgia Gee (rested) and Katie-Jayne Grieve (omitted) joining Harris on the sidelines. Defender Natalie Plane, midfielder Madeline Keryk and recently promoted rookie Courtney Webb will play alongside Arnell.
Western Bulldogs captain Katie Brennan (ankle) won't play this week and will struggle to play again this season in a massive blow to her team. Former Dees Jess Anderson and Deanna Berry have both been omitted after the loss to Adelaide, with forward Kirsten McLeod, defender Laura Bailey and key position rookie Kimberley Rennie to take the field against the Blues.
Collingwood has wasted no time in recalling key forward Sarah D'Arcy, who has missed the last two games through suspension. Nineteen-year-old Sarah Dargan and rookie Holly Whitford also return to play Melbourne, at the expense of key defender Tara Morgan (omitted), running machine Bree White (omitted) and forward Sophie Casey (suspended).
Melbourne has dropped midfielder Emma Humphries and ruck Lauren Pearce, replaced by key forward Alyssa Mifsud and onballer Harriet Cordner.
Round three NAB AFLW Rising Star nominee Sophie Conway won't play for Brisbane this week against Fremantle due to injury, with rookie Gabby Collingwood taking her place. The Dockers will be buoyed by the inclusion of Stacey Barr after she missed last week through suspension. Key position player Gemma Houghton has been omitted.
GWS has one confirmed change to its Sunday squad, with forward Louise Stephenson omitted. Midfielders Melissa Freckelton and Maddy Collier, and untried key forward Philippa Smyth, could line up against the Crows.
Friday, February 23
Western Bulldogs v Carlton at VU Whitten Oval, 7.05pm AEDT
WESTERN BULLDOGS
B: H.Wildes 17, L.Birch 18, N.Callinan 10
HB: H.Scott 22, B.Toogood 28, B.Lochland 1
C: E.Blackburn 2
HF: J.Bruton 35, L.Spark 11, M.Conti 8
F: K.McLeod 6, A.O'Connor 4, N.Ferres 16
Foll: T.Ernst 19, E.Kearney, 5, K.Lamb 27
I/C: A.Gogos 36, K.Rennie 24, B.Hunt 21, A.Utri 23, L.Bailey 13
Emerg: D.Berry 7, E.Mackie 25
In: K.McLeod, K.Rennie, L.Bailey
Out: K.Brennan (ankle), J.Anderson, D.Berry
CARLTON
B: K.Gillespie-Jones 5, D.Hardiman 31, K.Harrington 9
HB: N.Plane 32 N.Stevens 21, C.Webb 17
C: M.Gay 8
HF: K.Shierlaw 25, B.Moody 16, K.Loynes 2
F: T.Lucas-Rodd 18, D.Vescio 3, G.Pound 6
Foll: A.Downie 30, S.Hosking 10, J.Hosking 11
I/C: R.Hicks 24, S.Li 35, L.Arnell 13, M.Keryk 4, S.Audley 26
Emerg: S.Last 7, B.Kennedy 23
In: N.Plane, C.Webb, L.Arnell, M.Keryk
Out: L.Brazzale (shoulder), T.Harris (suspension), G.Gee (rested), K.Grieve
Saturday, February 24
Brisbane v Fremantle at South Pine Sports Complex, 3.35pm AEST
BRISBANE
B: B.Koenen 3, K.Lutkins 13, J.Stanton 17
HB: N.Exon 15, L.Kaslar 11, S.Campbell 20
C: E.Bates 1
HF: K.McCarthy 9, T.Randall 16, E.Zielke 8
F: J.Wuetschner 23, I.Ayre 2, K.Ashmore 10
Foll: S.Frederick-Traub 14, J.Zanchetta 7, A.Anderson 18
I/C: N.Hildebrand 22, A.Clarke 21, S.Webb 4, G.Collingwood 28, B.Gibson 25

Emerg: M.Hunt 6, E.Pittman 29
In: G.Collingwood
Out: S.Conway (injured)
FREMANTLE
B: E.Antonio 12, A.Williams 9, E.Gooch 8
HB: B.Smith 18, C.Davidson 33, S.Cain 20
C: D.Hooker 17
HF: H.Miller 19, S.Barr 10, K.Donnellan 15
F: M.Caulfield 29, E.McGuire 31, A.Atkins 37
Foll: A.Janz 30, G.O'Sullivan 22, L.Webb 16
I/C: L.Mascall 14, A.Lavell 7, A.Sharp 1, J.White 11, L.Filocamo 4

Emerg: T.Haynes 6, T.McAuliffe 25
In: S.Barr
Out: G.Houghton (omitted)
Melbourne v Collingwood at TIO Traeger Park, 5.40pm ACST
MELBOURNE
B: H.Cordner 21, L.Duryea 11, B.Jakobsson 7
HB: K.Smith 13, J.Grierson 19, A.Guest 17
C: E.O'Dea 5
HF: R.Cranston 30, L.Mithen 14, S.Scott 12
F: K.Hore 10, T.Cunningham 1, A.Newman 16
Foll: E.Hoare 46, K.Paxman 4, D.Pearce 6
I/C: M.Hickey 18, A.Teague 40, A.Mifsud 9, M.Downie 2, C.Phillips 35
Emerg: B.Patterson 24, E.Humphries 3
In: H.Cordner, A.Mifsud, A.Teague
Out: E.Humphries (omitted), L.Pearce (omitted), B.Patterson (omitted)
COLLINGWOOD
B: E.Grant 5, R.Schleicher 18, I.Ross 21
HB: C.Molloy 2, C.McIntosh 20, M.Kuys 9
C: A.Barden 38
HF: S.D'Arcy 4, J.Garner 43, S.Chiocci 17
F: M.Hutchins 25, M.Hope 23, C.Bernardi 6
Foll: E.King 60, J.Lambert 13, B.Bonnici 8
I/C: H.Whitford 28, S.Dargan 46, L.Tesoriero 7, J.Duffin 27, C.Edwards 1
Emerg: K.Stratton 41, B.White 33
In: S.D'Arcy, H.Whitford, S.Dargan
Out: T.Morgan, S.Casey (Suspension), B.White
Sunday, February 25
Greater Western Sydney v Adelaide at Blacktown International Sportspark, 4.35pm AEDT
GREATER WESTERN SYDNEY
B: A.Farrugia 18, T.Hetherington 9, R.Forth 27
HB: N.Barr 8, P.Monahan 28, E.Brush 10
C: A.Eva 2
HF: J.Dal Pos 7, P.McWilliams 3 J.Hicks 5
F: J.Barclay 34, C.Staunton 13 R.Beeson 6
Foll: E.McKinnon 23, C.Gum 26 E.Swanson 17
I/C: M.Freckelton 20, M.Collier 14, P.Smyth 15, A.Schmidt 11, E.Bennetts 22, B.Tully 16, P.Randall 21

In: M.Freckelton, M.Collier, P.Smyth
Out: L.Stephenson (Omitted)
ADELAIDE
B: S.Thompson 14, S.Allan 39, M.Rajcic 32
HB: A.Foley 3, J.Hewett 20, C.Cramey 22
C: E.Phillips 13
HF: D.Varnhagen 9, S.Perkins 28, J.McCormick 5
F: R.Wallace 15, J.Allan 25, J.Sedunary 17
Foll: R.Metcalfe 11, C.Randall, 26, E.Marinoff 10
I/C: S.Armitstead 16, A.Holmes 1, E.Jones 2, J.Mules 23, R.Killian 7, A.Hatchard 33, G.Bevan 4

In: A.Foley, C.Cramey, S.Armitstead, A.Hatchard
Out: D.Cox (suspension), R.Lugg (injured)