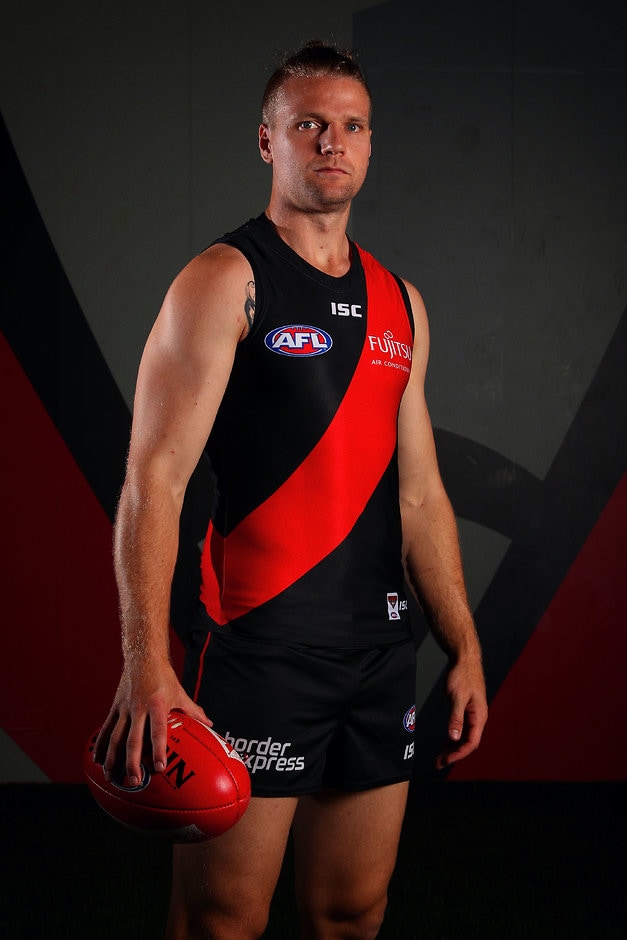 ESSENDON is preparing to unleash its star recruits, with Jake Stringer, Adam Saad and Devon Smith all selected to play against Richmond in Wangaratta on Saturday.
Squads of 30 have been released with four to be cut before game time. Stringer is the only one of that trio to be named on the bench.
For Melbourne, Jake Lever will play for the first time since Adelaide's Grand Final loss last year, in Kingston, Tasmania, against North Melbourne on Saturday. Former Fremantle midfielder Harley Balic has been named on the bench.
Meanwhile, the Crows will show off their prized addition with Bryce Gibbs. The midfielder was traded from Carlton at the end of 2017.
Tom Lynch has been named Adelaide's captain in the absence of Taylor Walker and Rory Sloane.
Tom Rockliff won't line up in Port Adelaide's clash against West Coast in Perth on Sunday afternoon. However, fellow recruits Steven Motlop, Lindsay Thomas, and Jack Watts have been selected.
Robbie Gray has also been picked after making a successful recovery from testicular cancer over the pre-season.
Brendon Ah Chee has been named for his West Coast debut.
Fremantle defender Alex Pearce will take to the field in his first game since round nine, 2016, after suffering a badly broken right leg and then dealing with further complications along the way.
Experienced ruckman Aaron Sandilands, superstar Nathan Fyfe, recruits Nathan Wilson and Brandon Matera and prize draftee Andrew Brayshaw have been named against the Crows in Strathalbyn, South Australia.
Richmond has 19 premiership players in to come up against the Bombers, including Brownlow medallist Dustin Martin. Jack Higgins was the only draftee to make the cut.
The fourth selection from last year's NAB AFL Draft, Luke Davies-Uniacke, has been picked on the bench for North Melbourne after missing AFLX with a back concern. Paul Ahern and Ben Jacobs have been named in the starting 18 after missing 2017 with a knee and foot injury respectively.
Saturday, February 24
North Melbourne v Melbourne at Kingston Twins Oval (Hobart), 2.05pm AEDT
NORTH MELBOURNE
B: M.Williams 2, R.Tarrant 25, R.Clarke 13
HB: J.Macmillan 34, S.Thompson 16, S.Atley 18
C: T.Dumont, 14, B.Cunnington 10, B.Jacobs 5
HF: B.Hartung 39, J.Waite 30, L.McDonald 11
F: N.Hrovat 8, B.Brown 50, K.Turner 28
Foll: T.Goldstein 22, S.Higgins 4, J.Ziebell 7 (c)
I/C: P.Ahern 15, M.Daw 1, L.Davies-Uniacke 9, S.Durdin 24, M.Hibberd 17, N.Larkey 20, B.McKay 23, A.Morgan 21, G.Narrier 41, E.Vickers-Willis 33, J.Williams 36, C.Zurhaar 44
Notable absentees: Mason Wood, Braydon Preuss, Taylor Garner, Jy Simpkin, Sam Wright
MELBOURNE
B: J.Wagner 42, O.McDonald 28, J.Lewis 6
HB: J.Lever 8, M.Hibberd 14, B.Vince 23
C: J.Hunt 29, J.Harmes 4, B.Stretch 15
HF: C.Oliver 13, T.McDonald 25, N.Jones 2 (c)
F: C.Petracca 5, J.Hogan 1, M.Hannan 19
Foll: M.Gawn 11, J.Melksham 18, A.Neal-Bullen 30
I/C: D.Keilty 45, C.Salem 3, H.Balic 27, A.Brayshaw 10, T.Bugg 32, H.Petty 35, B.Fritsch 31, S.Frost 17, J.Kennedy Harris 24, C.Maynard 20, T.Smith 38, C.Pedersen 21
Notable absentees: Neville Jetta, Jack Viney, Dom Tyson
Essendon v Richmond at Norm Minns Oval (Wangaratta), 4.35pm AEDT
ESSENDON
B: A.McGrath 1, M.Brown 28, P.Ambrose 29
HB: A.Saad 42, M.Hartley 36, C.McKenna 45
C: M.Gleeson 8, Z.Merrett 7, D.Parish 3
HF: A.McDonald-Tipungwuti 43, S.Draper 38, D.Zaharakis 11
F: D.Smith 5, J.Daniher 6, S.McKernan 44
Foll: M.Leuenberger 22, J.Begley 16, J.Long 34
I/C: M.Baguley 12, D.Heppell 21 (c), J.Houlahan 24, M.Dea 49, K.Langford 4, M.Guelfi 35, B.Goddard 9, J.Green 15, D.Clarke 37, J.Stringer 25, J.Merrett 20, B.McNiece 41
Notable absentees: Michael Hurley, Tom Bellchambers, Orazio Fantasia, Cale Hooker, Aaron Francis, David Myers
RICHMOND
B: A.Rance 18, D.Astbury 12, D.Grimes 2
HB: N.Vlastuin 1, B.Houli 14, B.Ellis 5
C: S.Grigg 6, S.Edwards 10, T.Cotchin 9 (c)
HF: J.Castagna 11, J.Graham 34, C.Ellis 32
F: J.Riewoldt 8, J.Caddy 22, D.Butler 7
Foll: T.Nankervis 25, K.Lambert 23, D.Martin 4
I/C: R.Conca 30, S.Bolton 29, J.Townsend 21, K.McIntosh 33, J.Short 15, R.Garthwaite 42, J.Higgins 28, M.Chol 41, A.Miles 26, C.Moore 36, S.Lloyd 27, I.Soldo 47
Notable absentees: Dion Prestia, Daniel Rioli, Nathan Broad
Sunday, February 25
Adelaide v Fremantle at Strathalbyn Oval (Strathalbyn), 1.35pm ACDT
ADELAIDE
B: K.Cheney 25, D.Talia 12, J.Kelly 8
HB: R.Laird 29, T.Doedee 39, B.Gibbs 6
C: D.Mackay 14, M.Crouch 5, P.Seedsman 11
HF: T.Lynch 27, M.McGovern 41, M.Signorello 35
F: A.Otten 22, J.Jenkins 4, L.Murphy 44
Foll: S.Jacobs 24, C.Hampton 17, M.Poholke 10
I/C: L.Brown 16, S.Gibson 20, R.O'Brien 43, P.Hunter 37, H.Dear 38, A.Keath 42, C.Ellis-Yolmen 28, R.Atkins 21
Emergencies: P.Wilson 31, E.Himmelberg 34, B.Davis 40, D.Fogarty 32
Notable absentees: Taylor Walker, Brodie Smith, Brad Crouch, Riley Knight
FREMANTLE
B: L.Ryan 38, M.Johnson 37, A.Pearce 25
HB: D.Tucker 18, N.Wilson 14, D.Pearce 6
C: B.Hill 9, D.Mundy 16, C.Sutcliffe 33
F: L.Neale 27, M.Walters 10, M.Taberner 20
HF: H.Ballantyne 1, C.McCarthy 23, B.Matera 3
Foll: A.Sandilands 31, C.Blakely 19, N.Fyfe 7
I/C: B.Banfield 41, B.Cox 36, E.Langdon 26, L.Meek 30, A.Brayshaw 8, S.Giro 42, B.Grey 28, T.Sheridan 11
Emergencies: S.Kersten 22, L.Spurr 34, A.Cerra 5, G.Logue 2
Notable absentees: Sean Darcy, Harley Bennell, Ethan Hughes, Joel Hamling, Stephen Hill
West Coast v Port Adelaide at Leederville Oval (Perth), 3.35pm AWST
WEST COAST
B: S.Hurn 25, T.Barrass 37, B.Sheppard 5
HB: T.Cole 28, J.McGovern 20, L.Duggan 14
C: L.Jetta 23, J.Redden 8, A.Gaff 3
HF: J.Cripps 15, J.Waterman 45, B.Ah Chee 41
F: M.LeCras 2, J.Darling 27, N.Vardy 19
Foll: S.Lycett 29, E.Yeo 6, L.Shuey 13
I/C: L.Ryan 1, D.Sheed 4, D.Venables 18, F.Watson 26, W.Schofield 31, B.Ainsworth 33, M.Hutchings 34, F.McInnes 36
Emergencies: J.Brander 10, L.Partington 24, J.Nelson 30, M.Karpany 39
Notable absentees: Nic Naitanui, Josh Kennedy, Willie Rioli, Eric Mackenzie
PORT ADELAIDE
B: R.Bonner 26, T.Jonas 42, D.Houston 43
HB: D.Byrne-Jones 33, T.Clurey 17, H.Hartlett 8
C: K.Amon 15, O.Wines 16, S.Motlop 6
HF: T.Boak 1, J.Watts 23, J.Neade 3
F: J.Westhoff 39, C.Dixon 22, R.Gray 9
Foll: P.Ryder 4, B.Ebert 7, S.Powell-Pepper 2
I/C: J.Trengove 19, J.Hombsch 36, J.Pittard 29, P.Ladhams 38, J.Atley 30, D.Barry 41, D.Howard 32, L.Thomas 48
Emergencies: T.McKenzie 12, J.Toumpas 18, K.Farrell 24, J.Patmore 37
Notable absentees: Tom Rockliff, Sam Gray, Chad Wingard, Jared Polec, Matthew Broadbent