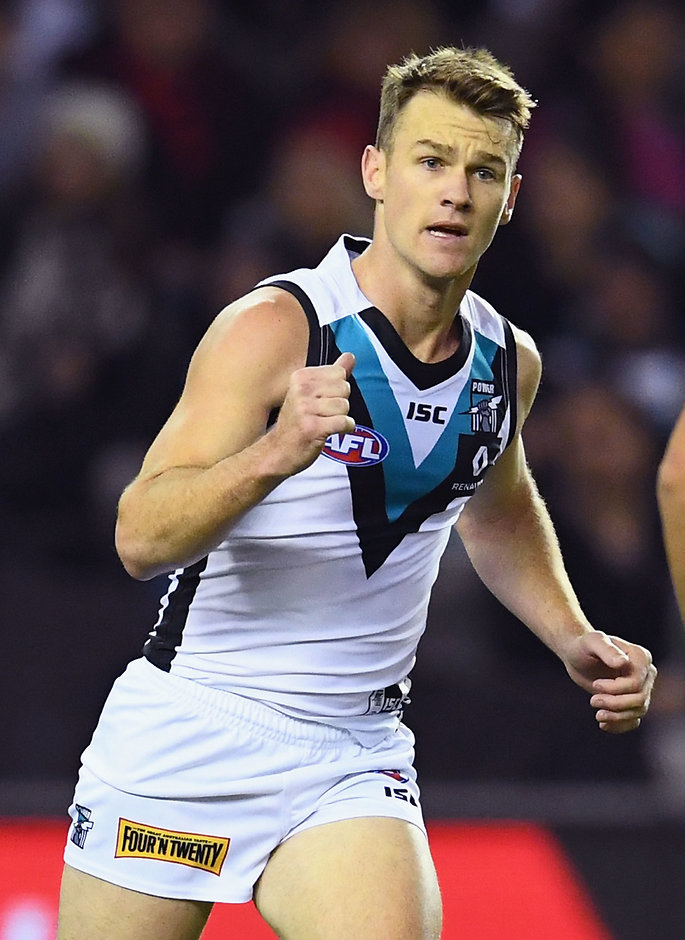 PORT Adelaide's case at the Tribunal on Tuesday night will hinge on Robbie Gray's ability to convince the panel members he was bracing for contact rather than electing to bump when he collided with West Coast's Jeremy McGovern.
Gray will be the first player to challenge match review officer Michael Christian's findings in a case that will contribute to a precedent for high bumps under the new judicial system.
While he cannot hope to overturn the notion that he wasn't contesting the ball, there is an argument to be made that he got himself into a position where he had no alternative but to brace for contact after arriving a split second after McGovern.
It is an argument unlikely to succeed, but it would appear to be the Power's only chance of clearing their star, making him available for the round one clash against Fremantle at Adelaide Oval.
Gray must argue he was making a full-blooded attack on the ball but, once beaten to the contest by McGovern, he had no option other than to brace for contact and protect himself.
Christian made it clear when handing down his findings on Tuesday that Gray would likely have been cleared if he had made an effort to contest the ball legitimately by reaching down to take possession.
The new match review boss also noted that he had watched Gray take his eyes off the ball and onto McGovern as he prepared to make contact. This will be a significant hurdle for the Power on Tuesday night.
The MRP has itself used the 'braced for contact' reasoning in its findings in the past to clear Richmond ruckman Toby Nankervis in 2016 when he was with the Swans, and Sydney defender Zak Jones in 2017.
Melbourne co-captain Jack Viney also used the argument successfully at the AFL Appeals Board in a controversial case in 2014.
In all three cases, however, there are differences that helped to clear those players that Gray will not be able to rely on.
In the cases of Nankervis and Viney, contact was contributed to by their opponents, while Jones was making a legitimate attempt to win the football.
Gray can't rely on an argument that McGovern contributed to contact, given he had his head over the ball collecting possession, and Christian outlined the reasons why he did not believe the Port star was attempting to win the ball as Jones had.
Changes to the judicial system mean the Power can challenge Christian's finding without risking an extra week on the sidelines for their midfield star, and Tuesday's case will be the first of many in 2018.
They will need to outlay $10,000 from within their football department soft cap, however, if their appeal is unsuccessful as expected.