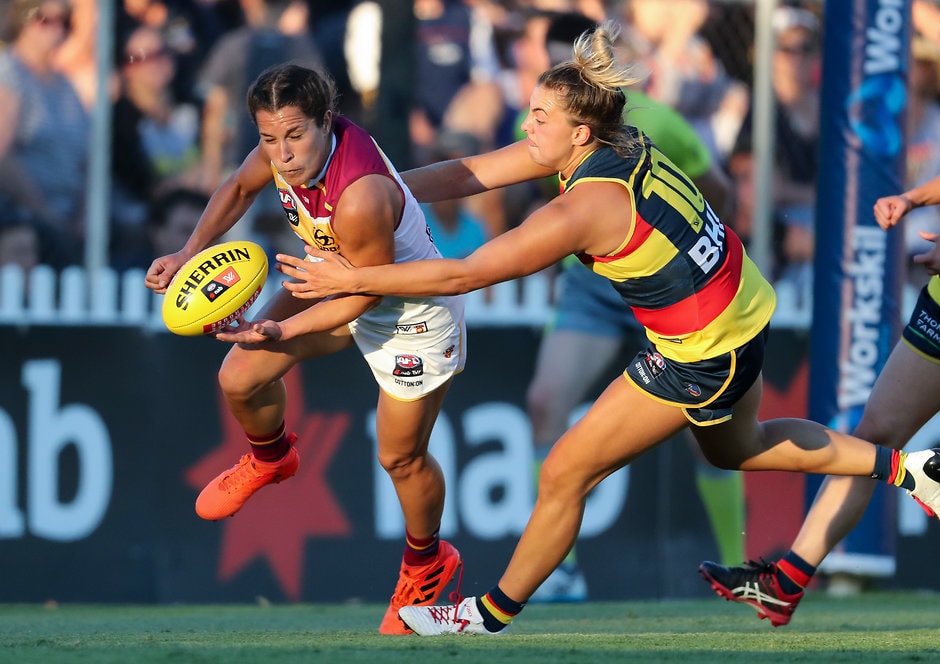 WITH torrential rain and plenty of stoppages at Blacktown last Sunday, Adelaide star Ebony Marinoff said she "just did what she had to" on the way to setting a new mark for tackles – 21 – in a NAB AFL Women's game.
The 20-year-old, who has leadership aspirations, starred in the draw against Greater Western Sydney, with her 21 tackles surpassing the previous best of 16 by Carlton's Sarah Hosking in round two, also against the Giants.
AFLW: Latest news, fixture and results here
"When someone told me I had that many tackles, I didn't think it was right," Marinoff said this week.
"I did an interview [earlier] in the week [before the game], and I'd said I'd try to beat [Hosking's] record, but I'd try get the win first. I beat the record, but unfortunately we drew.
"We were absolutely gutted we couldn't get the job done. It feels like a loss, like a missed opportunity."
Marinoff remains modest about the achievement, pointing to the fact it's a skill that comes naturally.
"My mindset in a game is to get the ball, and tackling is part of my game … I don't really think about it at all. I don't know if it's 21 tackles, or 21 times beaten to the ball [though]. I don't know how you look at it," she said with a laugh.
Known for her physicality and pressure, Marinoff has set the standard from the start. She averaged 10 tackles in the competition's first season (a total of 70 in the home and away matches, 21 more than her nearest rival). Her strong form saw her win the NAB AFLW Rising Star award and finish third in the club's best and fairest award.
Having temporarily given up work and study to focus solely on football, Marinoff said she was aiming to play consistently and recover properly after each match.
And it seems she is on track to beat her 2017 tackle mark, having already laid 52 in four matches, 18 more than this time last season.
Drafted with Adelaide's first pick in the 2017 NAB AFLW Draft, Marinoff has established herself as a vital member of the Adelaide team, rarely playing a quiet game. She has featured in her team's best players in 11 of her 12 AFLW matches.
Adelaide has struggled to consistently perform this season after last year's premiership, with injuries to key players Erin Phillips and defender Courtney Cramey early in the season forcing Marinoff take a greater role in the midfield.
"I've been around footy for a long time, and some of our girls haven't. But I'm only 20 and am still learning," Marinoff said.
"But trying to bring these girls into the game and teach them things … has been different. I've loved the challenge."
Leadership, it seems, is something that Marinoff sees for herself in the future, and she is keen to learn more from the likes of Phillips, Cramey and co-captain Chelsea Randall.
"I'm probably seen to be one of the jokesters of the team, but I'd love to be captain one day," she said.
"[Having to be more of a leader] has probably come a bit early with the injuries. I've had to take that on board and lead from the front."
Despite the up and down start to the season, Marinoff said the Crows were staying positive.
"We've had two losses, one on the road, one at home. We had a great win against Western Bulldogs, who are on top of the ladder, and we have had a draw," she said.
"But [the season] is so unpredictable. Anything can happen."
Marinoff admitted Saturday night's round five clash against Carlton at Norwood Oval was a "do or die" game.
"Carlton haven't had the couple of weeks they would like either. We [both] have to win to stay in it," she said.
She said she was looking forward to taking on fellow tackling machine Hosking.
"It'll be good to go head to head with her. She loves the pressure," Marinoff said.
"I'll give it a crack. I'm not sure where she is playing, but I like playing on physical people."