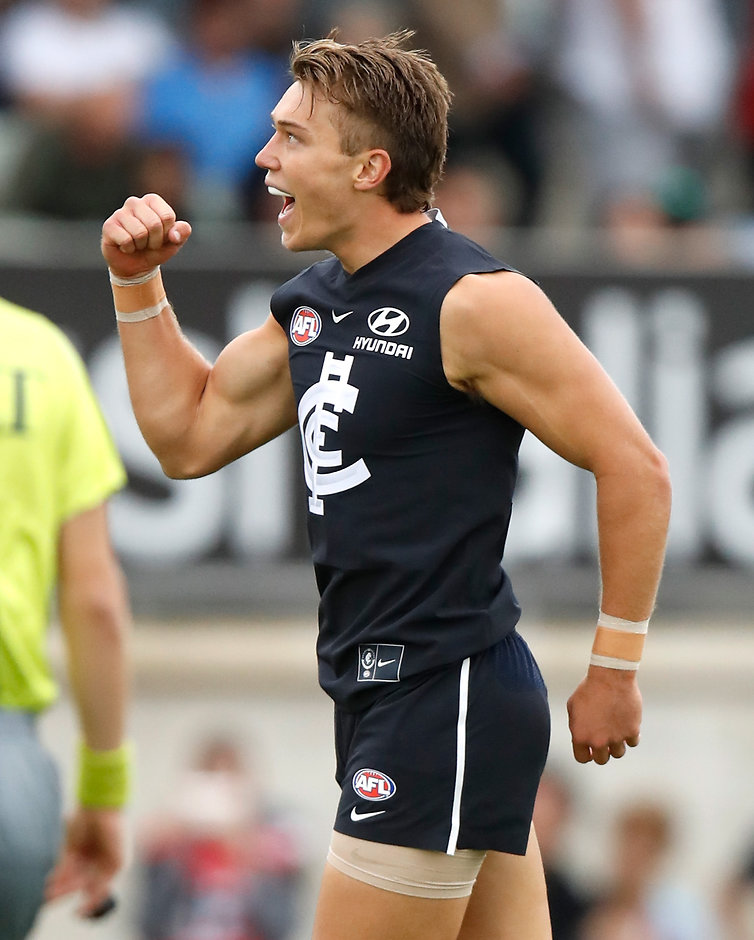 THERE were some impressive performances in round two of the JLT Series and it was refreshing to see so many of the kids putting their hand up for selection.
Each team has now played one pre-season match, giving Fantasy coaches a good handle on those to watch in the final round of games, ahead of the season openers later this month.
Register your AFL Fantasy team now
Carlton v St Kilda
Nick Coffield (DEF/MID, $256,000) confirmed what many researched coaches thought: he is ready to go. The young gun fit in very well across half-back with 20 possessions, five marks and 74 points.
David Armitage (MID, $459,000) If you were considering selecting Armo, then don't hesitate after this performance. Walked straight into the midfield and impressed with 79 points from 24 touches.
Patrick Cripps (MID, $692,000) There has been plenty of hype about Cripps coming off his first full pre-season and he confirmed that something special is on the cards with an effortless 82 points that included two goals.
Paddy Dow (MID, $266,000) had a great debut and looks highly likely to be a round one starter. There was flashes of brilliance in his 13-possession, two-goal performance that leads me to believe he is worth the extra cash.
WATCH: Cripps' first-term double leaves Saints reeling
GWS v Collingwood
Stephen Coniglio (MID, $663,000) is one of the under-priced midfielders who has the potential to average 110. He looked great with 28 touches and five tackles for 97.
Josh Kelly (MID, $795,000) looks set to dominate the competition again after cruising to 106 from 78 percent game time. He is unstoppable.
Jeremy Finlayson (DEF/MID, $170,000) did enough to walk into our teams if he is selected in round one. There are positions available back there and he put his best foot forward with 14 possessions and 55 points.
Taylor Adams (MID, $808,000) looked outstanding once again with 23 possessions as he attacked the game from half-back. In fact, he didn't attend one centre bounce which gets the mind thinking in regard to dual-position status, especially in Draft.
Click here to subscribe on iTunes.
Western Bulldogs v Hawthorn
Aaron Naughton (DEF, $254,000) might be another young defender worth paying up for if he has earned a spot in round one. For a key defender, he is a good ball winner and interceptor so don't be turned off by the label. He disposed of the ball at 92 per cent from his 13 possessions for 51 points.
Marcus Bontempelli (MID, $706,000) is a forgotten man, remarkably owned by fewer than three per cent of coaches. After averaging 100 last year, his effortless 100 from 25 possessions suggest he is poised to take it up another notch.
Tom Mitchell (MID, $896,000) If a Fantasy Pig is ever going to show restraint, it's in the JLT Series. But no, Tom is not even willing to share it around in the pre-season as he dominated in typical fashion with 30 touches and 111 points. Don't forget, it's Magpie stew times two in round one.
Jaeger O'Meara (MID, $438,000) Many coaches said all they needed to see was O'Meara getting through the game. Well, he did that but it will be interesting to see if they stay true to their word after he gathered just 16 possessions and 61 points from 85 per cent game time.
Brisbane v Sydney
Allen Christensen (FWD, $331,000) did more than enough to justify selection at that price after collecting 16 disposals, three tackles and a goal for 62 points in 69 per cent game time, especially given the lopsided nature of the game.
Lance Franklin (FWD, $677,000) We spend all this time discussing forward options and only 20 per cent of coaches are switched on enough to have Buddy locked in. He didn't miss a beat with four goals and 86 points.
Jake Lloyd (DEF, $649,000) enjoyed his time without Jarrad McVeigh in the side with a friendly role that ensured he had plenty of kicks and marks with 20 and nine respectively. It's safe to lock him in for round one.
Robbie Fox (MID, $284,000) played only three games last year and is consequently priced like an inflated rookie. He threw his hat in the ring for a rookie position on the ground after impressing with 24 touches and six marks for 87.
WATCH: Christensen's still got it
Gold Coast v Geelong
Aaron Hall (MID, $690,000) has historically performed well in the absence of Gary Ablett and he did that once again with an impressive 17 possessions, two goals and six tackles for 91 points in just 66 per cent game time.
Nick Holman (MID, $170,000) The former Blue who averaged 26 possessions in the SANFL last year made a great first impression with the Suns after collecting 15 possessions, but more impressively setting the tone with a team-high eight tackles for 80 points.
Tim Kelly (MID, $224,000) showed some great signs before icing up in the fourth quarter and has to be considered a likely round one starter. He collected 13 possessions and laid three tackles in 60 per cent time on ground for 48 points.
Charlie Constable (MID, $200,000) obviously benefited from the big three having the afternoon off but the handball-happy draft slider certainly made the most of his opportunity. He made use of his mature body to collect 16 handballs in his 22 possessions to score 63 from 65 per cent game time.
WATCH: No Gaz, no worries for Hall
Follow @AFLFantasy on Twitter and like us on Facebook to stay up to date this pre-season.