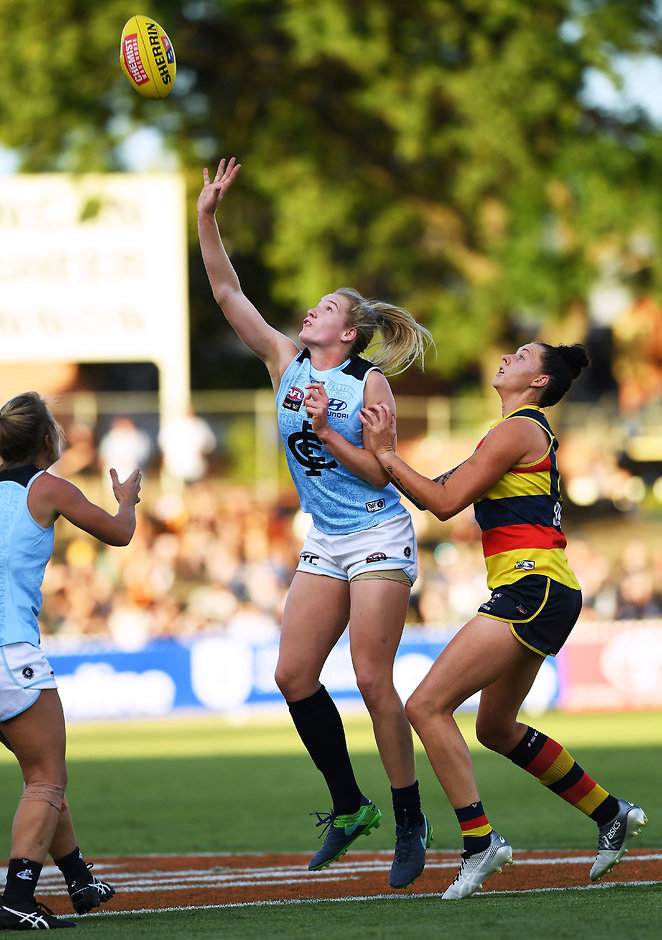 OPPONENTS on Saturday night, Adelaide's Eloise Jones and Carlton's Breann Moody are the NAB AFL Women's Rising Star nominees for round five.
Moody is excelling in the ruck this year; the 21-year-old (who had her birthday on Saturday) looking increasingly comfortable at the top level in her second season.
She said she got a call from coach Damien Keeping on Monday afternoon with the news of her nomination.
"I was actually at uni yesterday (she studies sports science and business management), and I was going between seminar to my prac class, and Damo gave me a call," Moody said.
"I thought he was going to ask me some questions about the weekend, but it was a really nice surprise. He gave me a big congratulations, so it put a bit of a spring into my step for the rest of the day at uni."
AFLW: Latest news, fixture and results here
Fresh off a best-and-fairest with Cranbourne in the VFLW over winter, Moody is averaging eight marks and 19 hit-outs a match, the third-highest in the competition.
"I put a lot of the work I learnt [at Carlton last season] into play at Cranbourne and was able to get on top of the B&F there.
"My kicking and ruck work itself have definitely been the two focus points I've worked on."
Moody held her own against Adelaide's premiership ruck Rhiannon Metcalfe in round five, recording 29 hit-outs to go with her 11 disposals.
She floated back at times and halted several Adelaide forward-50 entries.
"I think one thing that works for me is that it's a natural default. I didn't tell myself too much, 'oh, I have to fill this spot in the backline,', it is sort of how I play my game.
"With [Brianna Davey] being out, it has allowed me to drop back a little bit more and kept telling myself we have to work a bit harder now. I've been really excited to show people I can have an impact in the backline."
Jones has shown flashes of brilliance in her first season but dominated a match for the first time on Saturday night.
The 18-year-old forward kicked two goals in five minutes during the second term, giving her side the lead for the first time. The Crows didn't concede the lead again.
After a strong under-18 football season in 2017, she abandoned plans to go to the US on a college basketball scholarship and was drafted by Adelaide with pick 24.
Players qualify for the Rising Star if they were aged 21 or younger on January 1, 2018 and have not previously been nominated.
2018 Rising Star Nominees:
Chloe Molloy (Collingwood)
Rebecca Beeson (GWS)
Bonnie Toogood (Western Bulldogs)
Libby Birch (Western Bulldogs)
Sophie Conway (Brisbane Lions)
Emily McGuire (Fremantle)
Monique Conti (Western Bulldogs)
Aisling Utri (Western Bulldogs)
Eloise Jones (Adelaide)
Breann Moody (Carlton)