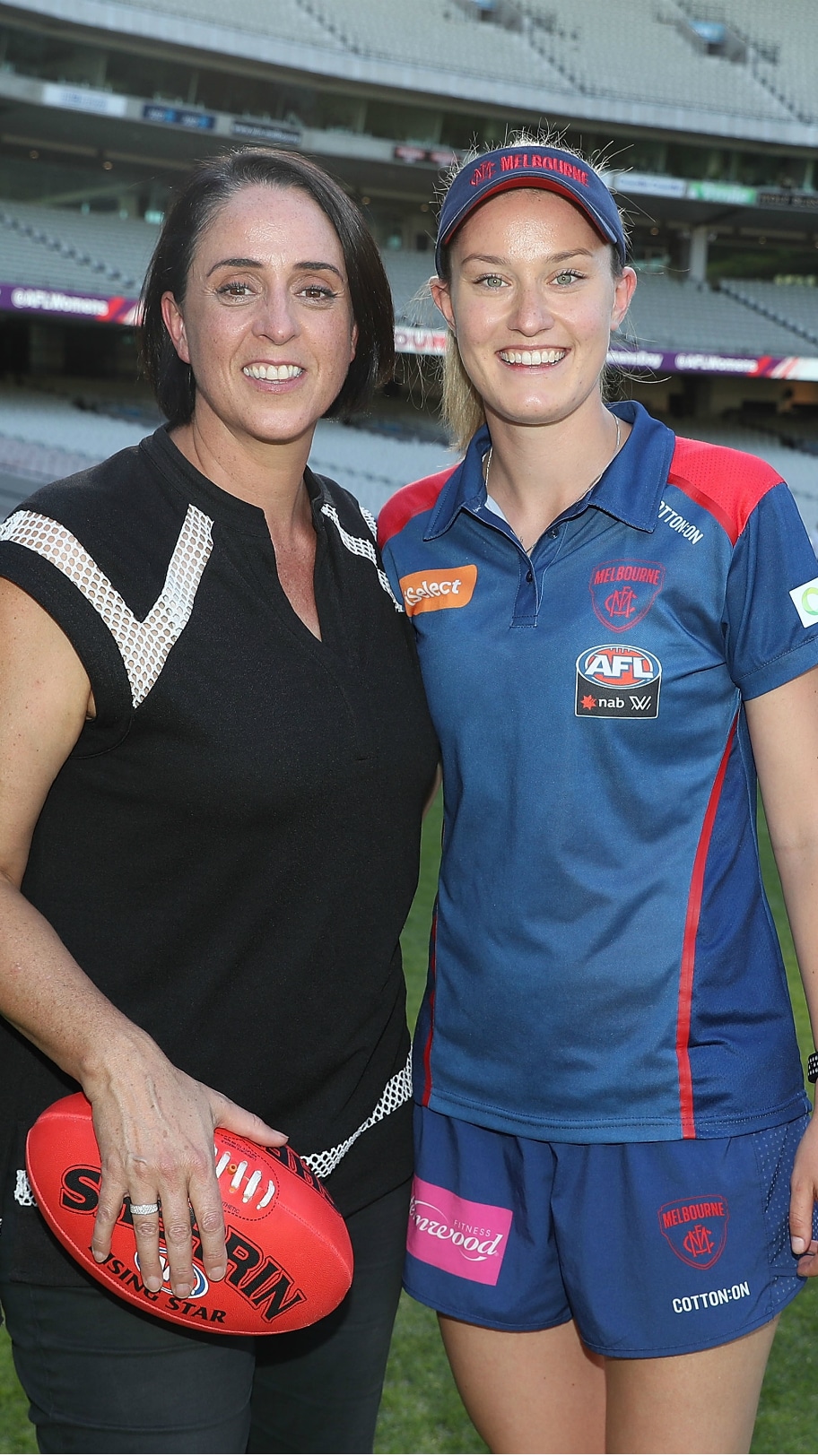 FOR MELBOURNE rookie Maddie Shevlin, stepping onto the MCG surface for the first time on Wednesday afternoon was a memorable experience.
Shevlin was joined by hundreds of fans at a kick-to-kick event at the home of football to mark International Women's Day.
"I've never stepped on the MCG before and [this] is the day. I'm lucky I get to share it with all these people," the Demon said.
The former Australian Oztag (touch football) representative was the 13th pick in the 2017 NAB AFL Women's Rookie Draft, after playing for the Gungahlin Jets in the AFL Canberra competition.
Described by Melbourne coach Mike Stinear as "a really nice kick of the footy", those skills were put to test on the famous ground as Shevlin showed young girls how to kick the oval ball for the first time.
The 20-year-old believes support for the AFLW competition has remained strong in its second season, noting the Demons' round five win against Brisbane at Casey Fields last Friday night as testament to that.
"Getting close to 3000 supporters out to Casey [in Melbourne's outer-south-east] on a Friday night when traffic is a nightmare is unreal."
After two straight losses (to Fremantle in Perth and Collingwood in Alice Springs), Shevlin said her teammates were aware of the criticism from some observers but were simply looking to focus on their own game. The win over the Lions last weekend underlined the team's resilience, she said.
"At times it is tough, but it is how you bounce back and how we cope as a team through adversity that makes us who we are. We believe we have a really good culture at our club."
The MCG kick-to-kick was scheduled on the eve of International Women's Day, which was proposed in 1977 by the United Nations to recognise and celebrate the achievements of women in society.
Across the world, women's sports are progressing, with expanding media coverage, greater pay for athletes, and increased awareness in society.

Maddie Shevlin met many young fans at the MCG on Thursday. Picture: AFL Photos

Each year a theme is assigned to the March 8 celebration, with this year's calling for women to 'Press for Progress'. This is particularly meaningful as the AFL Women's competition continues to emphasise greater opportunities for women on and off the field.
"The competition is expanding in 2019 and 2020…fingers crossed it keeps growing and supporters get around it," Shevlin said.
The AFL's head of women's football Nicole Livingstone was also on hand at the MCG, with the former Olympian suggesting the event presented females of all ages with the chance to walk on what traditionally has been the domain of men.
"It's the kind of story you tell for the rest of your life, the day you went onto the MCG and had a kick with your mum or your dad," she said.