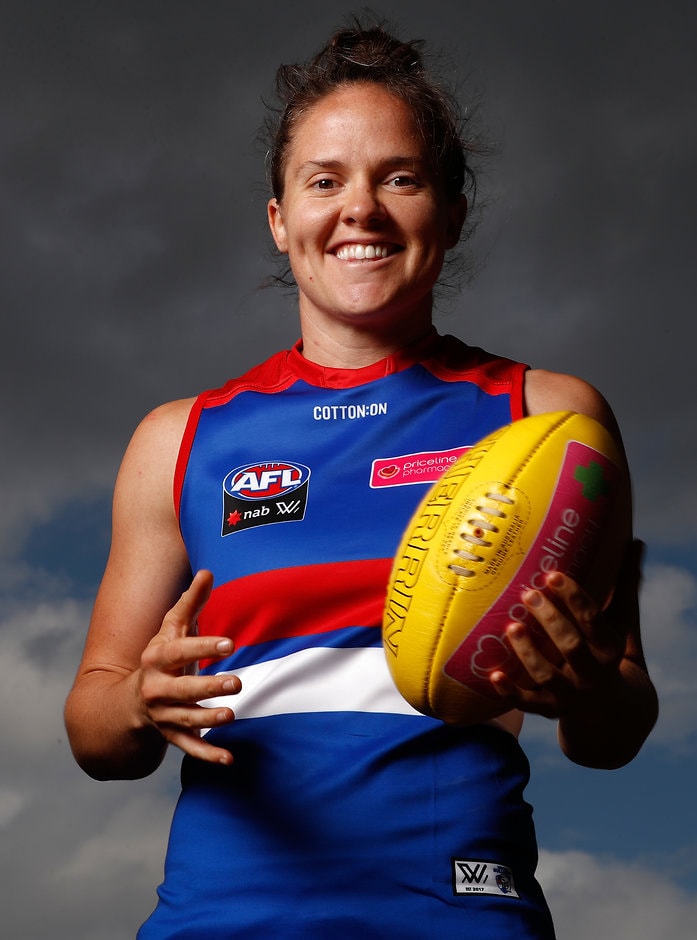 I'm constantly angry on the field
Emma Kearney
EMMA Kearney may suffer from a bit of "white-line fever" but it hasn't held her back in what has been another strong NAB AFL Women's season for her.
The Western Bulldogs midfielder has been in the team's best in all five games this year and is fourth in the AFL Coaches Association AFLW Champion Player of the Year award.
Only Adelaide co-captain Chelsea Randall, teammate Ellie Blackburn and Brisbane Lions defender Kate Lutkins sit ahead of her.
The 28-year-old leads the competition in average disposals (19), is second in average clearances (4.6) and fourth in average marks (4.4). It's even more remarkable when you consider Kearney spent much of the summer bowling for the Melbourne Stars.
Her terrific form has seen some close-checking attention from opponents in the last few weeks, most notably in the Bulldogs' clash against Collingwood last weekend.
Kearney and Britt Bonnici, who is quickly developing a reputation as a fierce tagger, were involved in a scuffle after the Magpie tackled her over the boundary line. The two accepted reprimands from Match Review for the incident.

AFLW squads: All the round six teams
"If you get slung like that, especially into five chairs and a cameraman, you are going to be a little bit fiery," Kearney told AFL.com.au.
"Both myself and Britt have white line fever; I'm constantly angry on the field.
"When that sort of stuff happens, I do get fiery. But that's when I play my best footy – when players agitate me like that."
Although Kearney's raw statistical numbers haven't necessarily improved compared to last year (when she tied for the Bulldogs' best and fairest award with Blackburn), she's having a bigger impact on games.
"I'm a pretty harsh critic of myself, but I looked back at some of my games [last year] and I thought, 'Geez, there's heaps of areas I can improve'.
"We've got a really good development coach, Andrew Shakespeare, and I worked a lot with him over the pre-season and even during the season to keep improving, which I think has really helped."
The Bulldogs are flying at the top of the ladder with a very healthy percentage (176.8) and likely need just the one win from their two remaining matches, against Greater Western Sydney and Melbourne, to qualify for the Grand Final on March 24.
It's a far cry from last season when the Dogs were last coming into the final round. A win over the Giants saw them finish sixth, but they had struggled throughout the season to overcome the loss of injured skipper Katie Brennan.
Brennan is once again sidelined with an ankle injury, as are Daria Bannister and Isabel Huntington (knee reconstructions), meaning the team is without three of its first-choice forwards.
Kearney believes the team's skill development and improved depth is behind the rapid rise up the ladder.

Emma Kearney's never been afraid of a physical contest. Picture: AFL Photos

"You see how we play. Our kicking skills and efficiency have been sensational and that's probably got us to where we are.
"It's not having a reliance on one or two players. We're getting key contributions from all our players across the ground and that's been a major focus for us this season. That's helped us get into the position we're in.
Kearney came under (tongue-in-cheek) fire from teammate Aasta O'Connor on AFL.com.au's AFLW podcast Trail Blazers last week for the notable white scrunchie she wears in games. Kearney said the scrunchie helps her parents spot her on the field and offered some fashion advice for O'Connor.
"I think Aasta's jealous she doesn't have anything exciting like that. I don't know if she could accessorise though, maybe a nice blue, white and red ribbon for her or a butterfly clip?
"That could look good."