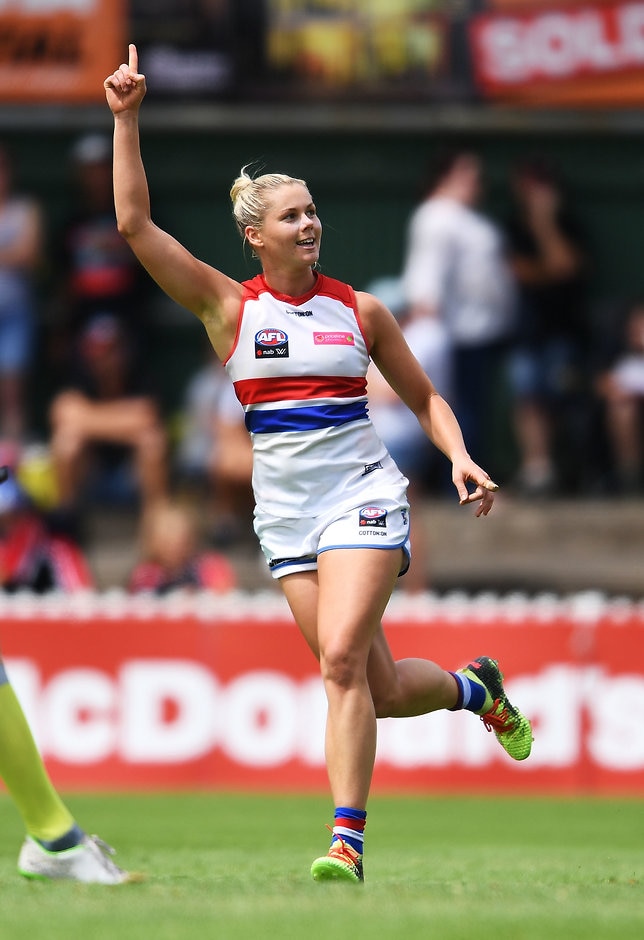 THE WESTERN Bulldogs' quest for a spot in the AFLW Grand Final has been bolstered by the return of captain Katie Brennan from an ankle injury.
Brennan has been sidelined since damaging ligaments in her right ankle in round three.
Aisling Utri joins Brennan for the must-win match against Melbourne on Saturday night, with Kirsten McLeod (injured) and Emma Mackie (omitted) making way for the pair.
AFLW: Latest news, fixture and results here
Melbourne, who also needs a win to make the premiership decider, may have lost star defender Melissa Hickey to a torn ACL but have regained Bianca Jakobbson from a quad injury.
Sarah Lampard comes in for her first game after an injury-interrupted second season, replacing the omitted Cat Phillips.
Star Fremantle recruit Kellie Gibson will play her first game for the club after crossing from Adelaide in the off-season.
The speedster has been sidelined with a hip flexor injury suffered in Fremantle's practice match against Adelaide in January.
She will be joined in the line-up by Ashley Sharp, with rookie Jade De Melo and key forward Stacey Barr omitted.
Fremantle's opponent in the battle for the wooden spoon, Carlton, has made three unforced changes.
Former skipper Lauren Arnell and rookie Katie-Jayne Grieve return, as does Lauren Brazzale, who has been battling a shoulder injury in the past few weeks.
GWS is still a chance for a surprise Grand Final berth, and has made just the one change for its clash against Brisbane, with Renee Forth coming into the side for Aimee Schmidt, who battled an ankle/foot problem in last week's win.
The Lions are unchanged for the Friday night clash.
Adelaide, who also remains in contention for the Grand Final, has brought in premiership player Georgia Bevan for Sunday's clash against Collingwood with Sophie Armistead omitted.
The Magpies made one change with experienced Bree White replacing injured defender Ruby Schleicher out injured.
Friday, March 16
Greater Western Sydney v Brisbane at Blacktown International Sportspark, 7.05pm AEDT
GWS
B: T.Hetherington 9, E.Brush 10, P.Randall 21
HB: N.Barr 8, P.Monahan 28, A.Farrugia 18
C: C.Gum 26
HF: J.Dal Pos 7, P.McWilliams 3, J.Hicks 5
F: J.Barclay 34, C.Staunton 13, R.Beeson 6
Foll: E.McKinnon 23, A.Eva 2, B.Tully 16
I/C: E.Swanson 17, R.Tomkins 1, E.Bennetts 22, M.Collier 14, R.Forth 27
Emerg: L.Stephenson 12, A.Saundry 4
In: R.Forth
Out: A.Schmidt (Injured)
BRISBANE
B: E.Pittman 29, L.Kaslar 11, B.Koenen 3
HB: E.Zielke 8, K.Lutkins 13, K.McCarthy 9
C: N.Exon 15
HF: E.Bates 1, T.Randall 16, M.Hunt 6
F: J.Wuetschner 23, B.Gibson 25, K.Ashmore 10
Foll: S.Frederick-Traub 14, J.Stanton 17, A.Anderson 18
I/C: S.Webb 4, I.Ayre 2, S.Campbell 20, S.Conway 12, A.Clarke 21
Emerg: J.Zanchetta 7, J.Keeffe 27
No changes
Saturday, March 17
Fremantle v Carlton at Fremantle Oval, 5.05pm AWST
FREMANTLE
B: A.Williams 9, T.Bresland 5, E.Gooch 8
HB: M.Caulfield 29, E.Antonio 12, D.Hooker 17
C: K.Donnellan 15
HF: L.Webb 16 , A.Atkins 37, K.Gibson 21
F: S.Cain 20, T.Haynes 6, G.O'Sullivan 22
Foll: A.Janz 30, L.Mascall 14, H.Miller 19
I/C: A.Sharp 1, C.Davidson 33, L.Filocamo 4, A.Lavell 7, T.McAuliffe 25
Emerg: B.Smith 18 G.Houghton 27
In: K.Gibson, A.Sharp
Out: J.de Melo, S.Barr
CARLTON
B: G.Pound 6, D.Hardiman 31, S.Li 35
HB: K.Loynes 2 , K.Gillespie-Jones 5, N.Stevens 21
C: K.Grieve 28
HF: D.Vescio 3, T.Harris 22, G.Gee 19
F: M.Gay 8, B.Moody 16, S.Hosking 10
Foll: A.Downie 30, S.Audley 26, L.Brazzale 12
I/C: L.Arnell 13, T.Lucas-Rodd 18, K.Harrington 9, B.Kennedy 23, J.Hosking 11
Emerg: R.Hicks 24, S.Last 7
In: K.Grieve, L.Brazzale, L.Arnell
Out: L.Attard, T.Cochrane, M.Keryk
Western Bulldogs v Melbourne at VU Whitten Oval, 7.10pm AEDT
WESTERN BULLDOGS
B: L.Birch 18, B.Toogood 28, N.Callinan 10
HB: H.Scott 22, A.O'Connor 4, A.Gogos 36
C: E.Blackburn 2
HF: B.Lochland 1, K.Brennan 3, M.Conti 8
F: J.Bruton 35, L.Spark 11, A.Utri 23
Foll: T.Ernst 19, E.Kearney 5, K.Lamb 27
I/C: N.Ferres 16, B.Hunt 21, H.Wildes 17, K.Rennie 24, D.Berry 7
Emerg: E.Mackie 25, J.Anderson 26
In: K.Brennan, A.Utri
Out: K.McLeod (Injured), E.Mackie
MELBOURNE
B: A.Teague 40, M.Downie 2, A.Guest 17
HB: C.Whitfort 20, H.Cordner 21, B.Jakobsson 7
C: E.O'Dea 5
HF: S.Scott 12, K.Paxman 4, T.Cunningham 1
F: E.Zanker 29, R.Cranston 30, K.Hore 10
Foll: L.Pearce 15, D.Pearce 6, K.Smith 13
I/C: S.Lampard 8, J.Grierson 19, L.Mithen 14, B.Patterson 24, A.Newman 16
Emerg: C.Phillips 35, E.Humphries 3
In: B.Jakobsson, S.Lampard
Out: M.Hickey (knee), C.Phillips
Sunday, March 18
Collingwood v Adelaide at Olympic Park Oval, 2.35pm AEDT
COLLINGWOOD
B: E.Grant 5, J.Duffin 27, A.Brazill 10
HB: C.Molloy 2, C.McIntosh 20, T.Morgan 26
C: A.Barden 38
HF: S.D'Arcy 4, J.Garner 43, C.Bernardi 6
F: M.Kuys 9, M.Hope 23, C.Edwards 1
Foll: E.King 60, J.Lambert 13, B.Bonnici 8
I/C: B.White 33, G.Parker 19, L.Tesoriero 7, K.Stratton 41, M.Hutchins 25,
Emerg: H.Whitford, S.Dargan
In: B.White
Out: R.Schleicher (Injured)
ADELAIDE
B: S.Thompson 14, S.Allan 39, D.Cox 31
HB: C.Cramey 22, J.Hewett 20, A.Foley 3
C: E.Phillips 13
HF: D.Varnhagen 9, A.Hatchard 33, J.Sedunary 17
F: R.Wallace 15, S.Perkins 28 J.McCormick 5
Foll: R.Metcalfe 11, C.Randall 26, E.Marinoff 10
I/C: M.Rajcic 32, R.Lugg 45, E.Jones 2, J.Mules 23, G.Bevan 4
Emerg: S.Armistead, S.Riley
In: G.Bevan
Out: S.Armistead