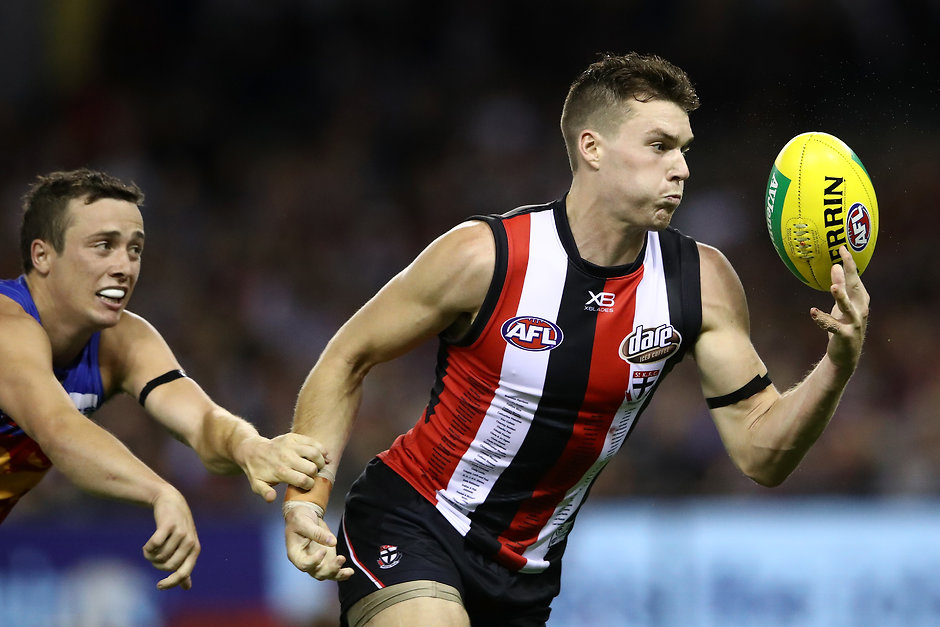 His challenge is to bridge that gap between his best and worst performances
Jarryn Geary on Blake Acres
IT'S TIME for exciting St Kilda midfielder Blake Acres to consistently deliver, his captain Jarryn Geary says, and the skipper believes that will happen in 2018.
Acres began his season with a very impressive performance against Brisbane last Saturday, picking up 30 disposals and booting a goal as the Saints began their season with a 25-point win at Etihad Stadium.
At 190cm and with excellent strength and running power, Acres is one of the most talented players on St Kilda's list but has yet to cement a spot in the senior line-up.
He had two stints in the VFL last season.
Highlights: St Kilda v Brisbane
On Monday when speaking to reporters, Geary backed the 22-year-old to deliver.
"He's a promising player, no doubt. He's got some great tricks, he's a really good size, he's quick enough and he seems to get away with a lot of things that other players can't," Geary said.
"I think he can be a really important player for us going forward.
"His next development is going to be his consistency.
"When he plays really well, he's really good for us, and his challenge is to bridge that gap between his best and worst performances, which I'm confident he's going to be able to do that now that he's (around) that bracket of 50-100 games."
Acres has played 45 matches to date.
Geary was at Arden Street alongside North Melbourne captain Jack Ziebell as the two clubs promoted their upcoming Good Friday clash at Etihad.
After North's list was roundly panned in the pre-season, Ziebell said the match would be a chance to change the public's perception of the team.
"The football world will be watching, as every Friday night game, everyone watches," Ziebell said.
"Good Friday's no different. It's the first game of Easter weekend and we'll look forward to being able to play on the big stage, and a few of our young guys will get a great experience out of that."
The Kangaroos suffered a 16-point loss to Gold Coast in Cairns, with the contest played in torrential rain.
"It was probably the wettest game I've actually played in. The first quarter was almost laughable, the conditions, but I suppose it's same for both sides and we probably didn't handle it as well as Gold Coast did," Ziebell said.
Good Friday football was first played last year, between the Roos and the Western Bulldogs. Geary hopes the Saints will make it their own.
"We're rapt to be part of the day. We don't play in many big games, we haven't over the last couple of years, so we're really excited to be part of the day and hopefully going forward, it's something that us and North can do for a number of years," Geary said.
St Kilda and North Melbourne players will visit the Royal Children's Hospital on Tuesday, with the hospital's appeal telethon a long-standing part of Good Friday in Melbourne.