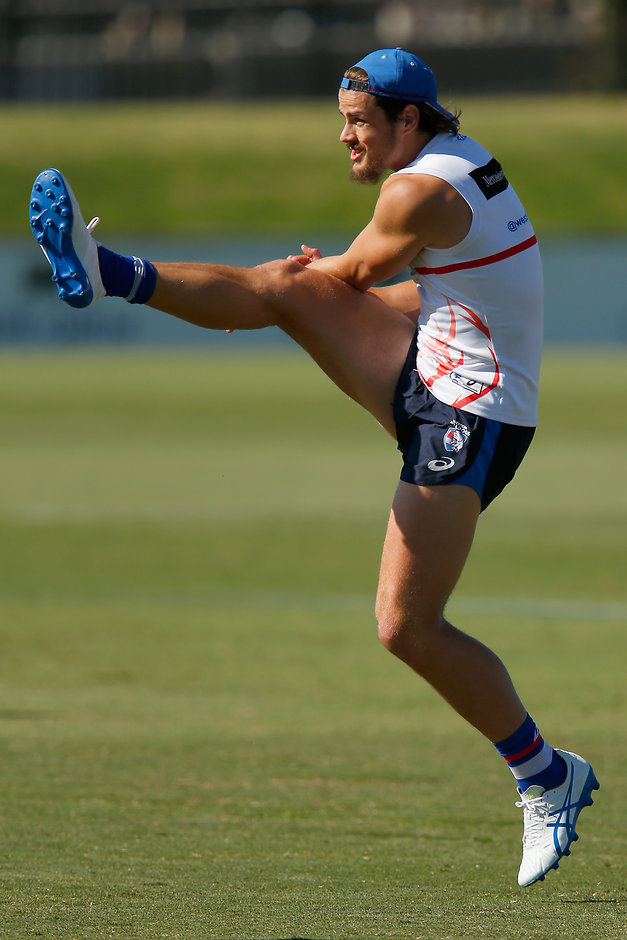 TOM BOYD is psychologically and physically prepared to play his first senior match since taking time away from the game last year to deal with mental health issues, Western Bulldogs coach Luke Beveridge says.
The 22-year-old has made the trip to Perth to face Fremantle at Optus Stadium on Saturday night on the back of a five-goal performance in the VFL last weekend.
Beveridge said a return to form and a sound mindset had the earned the premiership hero his spot back in the senior side.
ALL THE TEAMS: Check them out
The last time Boyd played in the senior side was round 13 last year before he took leave from the club.
"It's been a long time, and he's obviously had some things in his life to deal with and he's fought his way back," Beveridge said.
"Tom's very enthusiastic and never been more determined, and that's a great sign when you're coming from a fair way back from a mental health point of view.
"He had a really strong pre-season, but it's just taken him a little bit of time to find the footy and produce some good form, so it's great, it's fantastic.
"Forward of the ball is the most difficult area to play, and he had a really good combination last week.
"I'm not expecting him to kick five (goals) again and have 30 possessions, but hopefully he can play his role and help us get the win."
While Boyd makes his long-awaited return, fellow premiership star Shane Biggs has been dropped for the second time this season.
The defensive playmaker has struggled to recapture the stellar form that made him a key player in the 2016 flag side, but Beveridge rebuffed suggestions the 26-year-old's career was at the crossroads.
Out of contract at season's end, Biggs was dropped twice during the club's underwhelming premiership defence in 2017.
"I wouldn't say (Shane's career is) at the crossroads, not at all," Beveridge said.
"Shane over recent history has been a really important part of our back end, and when he's at his best Shane, he's in our (best) 22, there's no doubt about it.
"But there's parts of his game we're asking him to work on and until we get that (improvement), he's probably going to find himself out of the team because there's a lot of competition for back end spots.
"With the new boys coming through and Dale (Morris) and Marcus Adams aren't far away (from injury) either."
One of those youngsters putting pressure on Biggs is third-year Bulldog Bailey Williams, but the intercepting defender won't be making the trip to Perth due to an inner-ear infection.
Beveridge said the ailment left him unable to fly and the club would "err on the side of caution" with the 20-year-old.
Jack Redpath was also a forced out, with the hulking key forward suffering soreness in the knee he had reconstructed in 2016.
"Jack just got a little bit of irritation in his knee and it was best for him to have a spell," Beveridge said.
"It's hard to forecast (his return), it could extend beyond this week, but I wouldn't imagine it's longer than three (weeks), it may be that."
Draftee Callum Porter will be the Dogs' travelling emergency for the clash with the Dockers after the tough midfielder impressed in the VFL in recent weeks.
GET THE QUIZ EVERY FRIDAY Subscribe for free with the AFL on Messenger