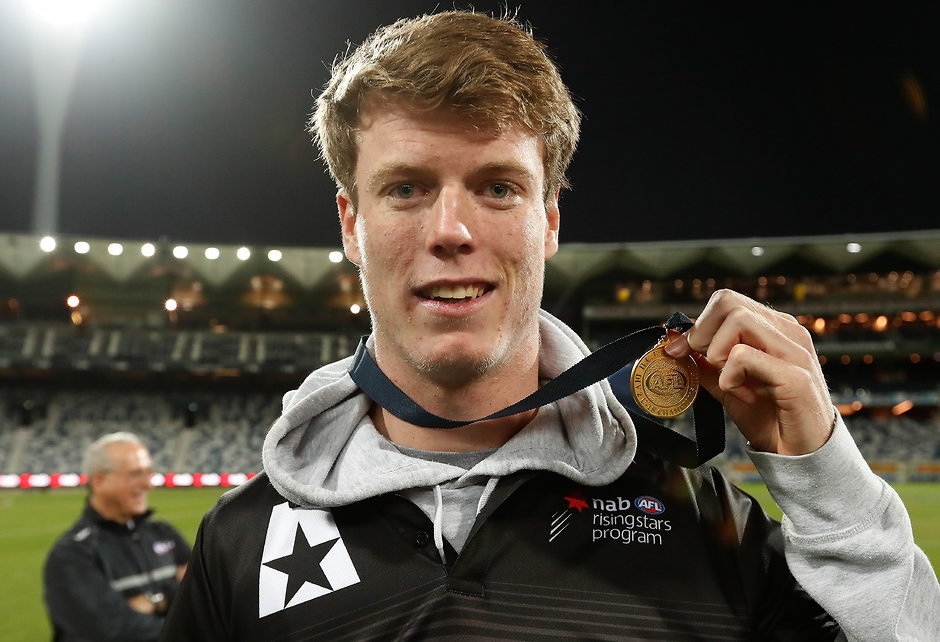 THE U18 ACADEMY series continued across the weekend, with Sydney Academy and Brisbane Academy both recording round two wins.
Sydney Academy v Greater Western Sydney Academy
In-demand Nick Blakey kicked seven goals as Sydney Academy coasted to a 22-point win over GWS Academy.
The versatile Blakey is eligible to be selected by Sydney through its academy, as well as North Melbourne and Brisbane via a father-son selection, with father John playing for both the Kangaroos and Fitzroy.
Blakey also found plenty of the ball, amassing 20 disposals (19 kicks, one handball), while Josh Stern and Sam Wicks both collected 18.
Ed Perryman (brother of senior-listed Giant Harry) was a shining light for GWS, with three goals and 15 touches.
Sydney Academy 6.4 8.6 9.8 12.13 (85)
Greater Western Sydney Academy 1.4 4.9 7.11 8.15 (63)
GOALS
Sydney Academy: Blakey 7, Barkley 2, Stern, Bartholomaeus
Greater Western Sydney Academy: Perryman 3, Briggs 2, Budd, Corbett, Kelly
BEST
Sydney Academy: Blakey, Stern, Wicks, McKellar, Reinhard
Greater Western Sydney Academy: Perryman, Green, Beaumont, Rowston, Kelly
Brisbane Academy v Gold Coast Academy
Jesse Quint was best afield in Brisbane Academy's 12-point win over Gold Coast Academy.
The speedy midfielder put together a brilliant all-round game, with 20 disposals (15 kicks, five handballs), eight marks, four tackles, seven inside 50s and a goal.
Caleb Franks was also superb for Brisbane, the inside midfielder gathering 37 touches (23 kicks, 14 handballs), to go with eight marks, eight tackles, nine clearances and two goals.
And Thomas Griffiths (25 possessions), who was among Brisbane's best in their round one loss to Sydney, was again rock-solid across half-back.
Cooper Portelli gathered a team-high 25 disposals (16 kicks, nine handballs) for Gold Coast, as well as eight marks, three rebound 50s and one goal), while Robert Scott's son Bailey – who could end up at Geelong, North Melbourne or Gold Coast – was also busy with 19 disposals, eight marks and two goals.
Brisbane Academy 7.1 9.5 10.10 12.11 (83)
Gold Coast Academy 0.0 5.3 7.4 11.5 (71)
GOALS
Brisbane Academy: Franks, McFadyen, Tomkinson 2, Pettigrove, Quint, Matthews, Jeffrey, Smith, Ansell
Gold Coast Academy: Smith 3, Scott 2, Portelli, Katsiris, Haua, Wingrove, Burke, Miles
BEST
Brisbane Academy: Quint, Tomkinson, Franks, Stackelberg, Matthews, Pettigrove
Gold Coast Academy: Portelli, Smith, Scott, Gore, Stone
Tasmania Academy v Northern Territory Academy
An inspired final quarter from Tarryn Thomas helped Tasmania see off Northern Territory.
Part of North Melbourne's Next Generation Academy program, Thomas kicked three goals when pushed forward as Tasmania won by 15 points.
Others to impress for Tasmania were Mitchel Anderton, Nicholas Baker, Baxter Norton and Ryhan Mansell.
For Northern Territory, Stephen Cumming dominated in the ruck, while brother Matthew was very good at centre half-back.
Rodney Baird was gallant in defence and Jeffrey Simon was lively in the forward line.
Tasmania 2.4 5.7 6.9 9.13 (67)
Northern Territory 0.3 2.4 5.7 7.10 (52)
GOALS
Tasmania: Thomas 3, Mundy 2, Rubock, Turner, Auton, Lane
Northern Territory: Stevens, Ferreira 2, Schwarze, Mummery, S Cumming
BEST
Tasmania: Thomas, Anderton, Baker, Wright, Norton, Mansell
Northern Territory: S Cumming, M Cumming, Baird, Simon