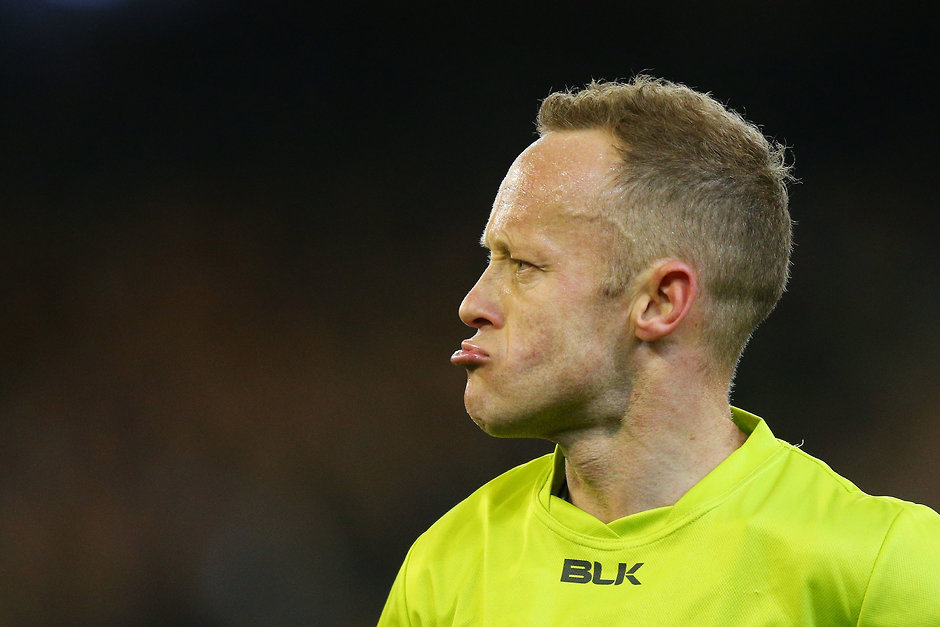 Obviously I stay well aware from social media, the hate club is not for me
Ray Chamberlain
HE IS one of the most polarising figures in modern-day football.
But whatever the footy public's view on controversial umpire 'Razor' Ray Chamberlain, his dedication and contribution to the game can't be questioned.
On Anzac Day, the 41-year-old will officiate his 300th AFL game, earning him life membership.
Chamberlain admits the milestone has crept up on him. It wasn't until a phone call early last week from head umpires coach Hayden Kennedy that he realised it had arrived.
"I actually thought I was in trouble when Hayden rang. I thought, what have I done now?" Chamberlain joked.
Chamberlain made his AFL debut back in 2004 after earning his stripes in the VFL, and over the last 14 years he's carved out a colourful and successful career to become one of the most high-profile umpires the League has ever seen.
However, it hasn't been without sacrifice, and challenges.
"I never thought I'd be afforded the opportunity to be on an AFL umpire list," Chamberlain told AFL.com.au.
"I had always hoped if I would get that opportunity I'd be able to adapt – 300, a life membership is really cool and something I never anticipated achieving.
" I remember my father's 60th birthday, I was the only person in the family that wasn't there because I was umpiring Port Adelaide and Collingwood, and you travel as directed.
"I think it's all those things along the way that you forgo to pursue something that you love. I think it marks all of that and puts that into perspective that provides the most joy."
In 2013, he fractured his knee cap, the serious injury keeping him on the sidelines for 18 months.
Ray Chamberlain with fellow 2010 Grand Final umpires Brett Rosebury and Shaun Ryan. Picture: AFL Photos


Doctors told him he might never be able to return to the footy field, but he persisted, and his dogged determination paid off.
The challenges, though, haven't just been physical.
Like all umpires, Chamberlain has had to find a way to deal with the constant scrutiny and criticism that the whistleblowers receive on a weekly basis.
And while he has had to develop a thick skin, his family has often struggled with the vicious taunts directed his way.
So much so that his wife Monique stopped attending AFL games. She will, however, be there on Wednesday for his milestone.
"I have no doubt my confidence will be fine, but for your mum or your wife, or daughter, they are affected," Chamberlain admitted.
"They care about you, they're concerned that this is weighing on me. For me, I see it with them more so, but personally I'm pretty comfortable with it all.
"You learn some pretty harsh lessons. It might not be through anything other than exuberance, but you can come off in a certain way sometimes in just trying to do your job the best you can. Over time I'd like to think I've mellowed a little bit and learned some things.
"Obviously I stay well aware from social media, the hate club is not for me. I think it's really valuable, too, for me to try to explain social media and what happens online to my daughter, and use that as an example for her. I try and use it and turn it into a positive."
As for the nickname 'Razor', it originated when Chamberlain was playing cricket for MCC, and using a Gray Nicolls razor-brand cricket bat.
But it's still a mystery to Chamberlain how and why football commentator Brian Taylor started running with the nickname on air.
In any case, it's stuck. But while he might be 'Razor' on the field, at home, he's just Ray.
"Over the years I've learned to understand that generally speaking, people who make reference to 'Razor' I've never had the privilege to meet them, they haven't met me."
"They just know whoever this umpiring persona is and so I've learned to compartmentalise it, the good and the not so good. When I come home, I'm just dad, or 'Oi, take the bins out' and then when I go to the footy, I put up with whatever that is. I wouldn't change any of it."