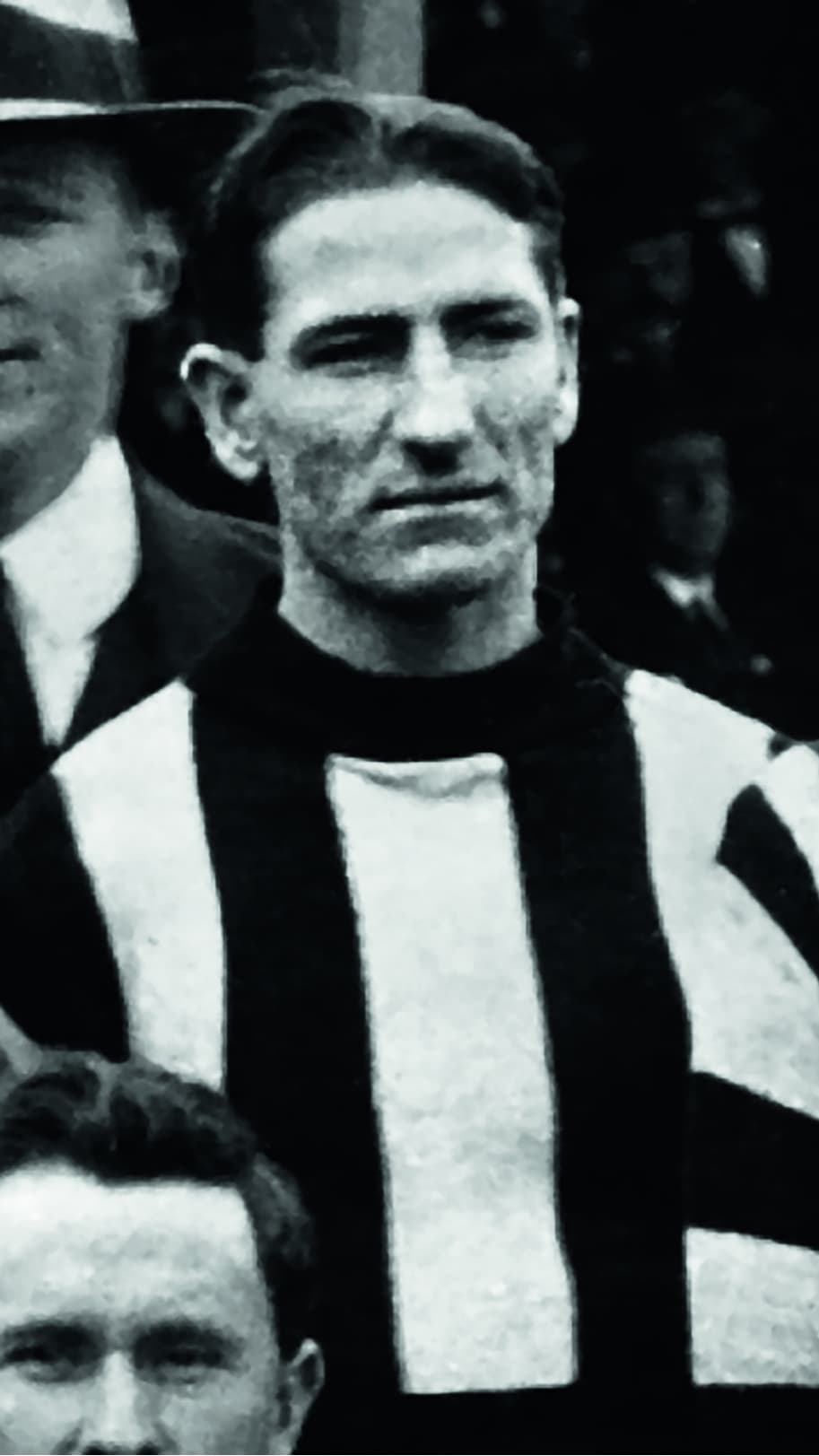 ON ANZAC Day, Collingwood will pay tribute to its former players who served in World War I, and among those whose images will adorn the Magpies' guernsey is Fred Keays. This is fitting in more ways than one, given Keays' outlook on life tended to be very black and white.
However, this footballer/soldier's eventful life also featured more than a few shades of grey.
This was probably bound to be the case considering the bare facts of Keays' existence: never knowing his biological father; growing up on the mean streets of inner-Melbourne; serving in both world wars (fibbing about his age in both instances), being wounded twice in World War I and losing a son in World War II; playing briefly with two League clubs (Fitzroy and Collingwood); running in the Stawell Gift and later training runners himself; and being a long-term trainer at Fitzroy.
Keays, who died in 1983, also helped raise a large family that has since produced two more League players – grandson Terry Keays played for Collingwood and Richmond, while great-grandson Ben Keays is a promising youngster with the Brisbane Lions.
Speak to Keays' descendants and you get a picture of a tough, hard man who was very much a product of his environment.
Perhaps some of this character forming can be traced back to his mysterious origins, which were revealed to the AFL Record by Keays' two youngest offspring: sons Mick, 78, and Terry snr, 76. (Elder sister Kathleen Gann is the only other survivor among 11 siblings.)
"There are some skeletons in the closet," said Mick Keays.
They tell the complex story of how their father, Frederick William (born July 12, 1898) and his sister Mary Agnes or 'Claire' (June 27, 1896) were born out of wedlock to teenager Euphemia Keays (born in 1881) and father(s) unknown.
'Effie' Keays later married, but her husband refused to accommodate her so-called illegitimate children, so her father Thomas Keays – the children's grandfather – raised them as though they were his own.
And old Tom did it largely on his own given that his wife Jane had died in 1899, aged 42.
It remained such a closely guarded secret that Fred Keays' children didn't realise their 'Aunty Effie' was actually their grandmother.
Young Fred naturally developed a dislike for his mother's husband, but he idolised his god-fearing grandfather, following him into the boot-making trade. The youngster also delivered repaired boots to customers' homes.
Growing up in an era littered by vicious street gangs also taught Keays to keep his wits about him.
Terry snr said: "The old man often talked about the likes of (infamous gangster) 'Squizzy' Taylor and how tough they were."
Fred further honed his street smarts during three years of service in World War I. In fact, an act of cunning got him there in the first place.
The armed forces wouldn't accept anyone under the age of 18, so when he enlisted in the Australian Imperial Force (AIF) on November 8, 1915, fresh-faced Keays claimed to be aged 18 years and six months, when he was only 17 and four months.
Prospective soldiers under the age of 21 also required approval from their parents.
Old Tom Keays must have been in on it because he wrote a note for Fred to hand to the recruiting officer at Melbourne Town Hall, confirming: "This is to certify that the bearer, my son Frederick William, has my consent to enlist for active service."
In his service papers, Keays recorded his father as "Thomas Keays" and his mother as "deceased".
In reality, Effie was actually on her way to having four more children (all daughters) and lived until 1965 and the ripe old age of 84.
Keays' papers also note his fair hair, blue eyes and "fresh" complexion. He stood just 166cm (he would eventually grow to 178cm) and 57kg.
So why was Keays so keen to fight for his country?
Terry snr said: "It wasn't about patriotism or anything like that. Like a lot of them, he just wanted to get away on an overseas trip. It was a big adventure. He went away a boy and came back a man."
Private Fred Keays' time with the 8th Battalion got off to a rocky start when, while at sea in April 1916, he was given 28 days' detention for "using threatening language to an officer".
However, his courage wouldn't be questioned. The speedy Keays – who'd shown great running prowess at St Joseph's Primary School in Abbotsford – took on the vital, though perilous job of message runner. (Like Mel Gibson's character in Peter Weir's classic 1981 film Gallipoli.)

Fred Keays (centre) and son Gerald (left) in New Guinea during World War II. Picture: Keays family collection


Mick Keays said: "He ran from line to line. One time they thought he got shot but he'd only dived into a bomb crater for safety. But he got up and delivered the message. He had a few close scrapes like that."
Another such instance took place in France in August 1916 when he suffered a shrapnel wound to his upper lip, just under his nose. It left a small scar for life, but it could have been much worse.
Little over a year later, Keays was wounded again, this time from a gunshot to the right ankle. The injury was deemed "severe", and for the rest of his days it occasionally became swollen and gave him grief.
Then 19, Keays was shipped to England to recover.
While in hospital, the young Catholic broke protocol by eating while waiting to receive communion, prompting the English priest to sneer, "Typical Australian – no respect for God."
Keays erupted: "If I only could get out of this bed I'd show you some respect all right!"
Keays endured some further ill health and, during the final throes of World War I late in 1918, he was disciplined for going AWOL for a few days from the barracks near the English village of Sutton Veny.
The end of the war mercifully allowed Keays to finally pursue his love of football and he made a rapid rise through the ranks.
Soon after returning to civilian life in Melbourne in March 1919, Keays started out with the local Fitzroy District team.
That July, a fortnight after his 21st birthday, he made his debut for Fitzroy in a narrow loss to Essendon at East Melbourne.
The Argus incorrectly referred to him as "Keys" but observed that he was "particularly noticeable in Fitzroy colours" and was "a big player with weight and go" who "made a fine start" to his League career.
However, the wingman/flanker played just four more games for Fitzroy over the next season and a bit as he struggled to hold his spot in a strong team.
Off the field, Keays experienced mixed emotions in 1920. On one hand he mourned the death of his grandfather Tom, but on the other he celebrated his marriage to Bernice Hingston, one year his junior. Two years earlier, Keays' sister had married one of Bernice's brothers.
Mick and Terry Keays snr described their mother as a lovely little lady of considerable intelligence – a welcome contrast to their less-forgiving father.
In 1922, Keays was recruited by Collingwood but again found it difficult to break into a team that won the minor premiership. Injury didn't help either.
He played just three games in his only season under supercoach Jock McHale but told his sons, "At Collingwood you were lucky just to get a jumper, let alone get a game."
However, he had fond memories of being a member of winning Magpie teams and finding a reward of half-a-dozen bottles of beer in his bag.
There remains a lasting memento of Keays' brief time at Victoria Park – a photograph of the 1922 Collingwood team, with Keays standing between the legendary McHale and young legend-to-be Gordon Coventry.
The club has a copy of the photo that was printed on a postcard, and Keays' sons recalled it graced the wall of a Collingwood hotel for many years.
They also recalled some weird and wonderful footy advice their father tried to impart.
"The old man said, 'If you ever play on a redhead, be very wary, because every redhead I played on was good and tough,'" Terry snr said.
Mick added: "He also said, 'If you're playing in the backline on a right-footer, stand on his right side, and vice versa if he's a left-footer, so that he has to turn in towards you and you'll have a better chance of getting him."
Keays made the last of his eight sporadic League appearances soon after his 24th birthday and then threw himself into running.
The professional sprinting circuit was rife with gambling and race-fixing, and Keays certainly wasn't an innocent party.
Keays was a leading contender for the Jubilee (50th) Stawell Gift in 1927, but was adamant the handicapper had been too generous to Queensland runner Tom Miles, telling race officials beforehand, "It's a waste of our time – Tommy Miles will be having a shower before we even leave the blocks."
Miles, known as 'The Bundaberg Flyer', won the 120m race and the next year became the world champion.
But Keays wasn't bitter. "He knew that was just the way it works," Terry snr said.
When a champion American sprinter was in town, Keays playfully challenged him to a race at training.
When the American won as expected, he told Keays, "Man, you can really run." But Keayes knew better, quipping, "You weren't even trying, mate."
Keays also trained sprinters who would often go to the Keays house for rubdowns, when he would use the healing hands and treatment methods that served him well as a trainer at Fitzroy from 1925-40. At the time, they lived a short walk from Fitzroy's home ground, the Brunswick St Oval.

Collingwood's 1922 Grand Final team, with Fred Keays circled. Picture: Collingwood Football Club archives

Keays also trained some of his children at the Collingwood athletics track and encouraged them to pursue running.
"He'd always tell us, 'You need pace (for football). Take up foot running.' And he'd try to teach you how to run – up on your toes; lean forward; arm action," Terry snr said.
Among the 11 Keays children, there were some tragic stories.
In 1932, Bernice gave birth to twin girls, one of which was stillborn and the other died just three years later.
There was more heartache to come.
The Keays certainly did their duty for King and country, with five members of the immediate family volunteering for service – Fred, sons Gerald and 'Jack' (Desmond), daughter 'Peggy' (Margaret) and virtual adopted son Kevin Couchman, a local orphan who became their 12th child.
Fred's uncle Archie Keays – just five years his senior – also served in both wars, having originally been rejected for World War I service for being too short.
Fred and sons Gerald and Jack enlisted in the Australian Field Ambulance. Fred and Gerald were serving together in New Guinea, where a remarkable photograph was taken of them and two other soldiers in the jungle during a less stressful time.
For the second time, Keays had told an honourable lie at enlistment, trimming two years off his age, claiming he was 39 and 11 months – and therefore under the maximum enlistment age of 40.
To reveal this discrepancy, all the authorities would have had to do was check his World War I service papers. But Keays was fit (just 73kg), keen, competent and experienced, so no questions were asked … although the military eventually concluded his old gunshot injury to his ankle was a disability.
Keays' foster son Kevin Couchman became a Prisoner of War at Changi, but eventually returned home, along with Fred and Gerald.
Jack Keays, a talented footballer, suffered a far worse fate.
"The old man said Jack would've made League football. He trained at Fitzroy when he was 16 and they told him to come back the next year," Terry snr said.
"The old man knew Shane McGrath from Melbourne and he said, 'When Jack gets back, bring him to Melbourne.' But Jack never came back."
In the meantime, Jack played in a team that was dubbed 'Champions of Malaya', under the captaincy of Melbourne star Harold Ball, who also did not return.
Taken prisoner by the Japanese, Jack, 22, was among 2345 Allied POWs to die in 1945 during the abominable Sandakan Death Marches in Borneo.
He is remembered at the Labuan Memorial, and was remembered fiercely back home.
Mick (born in 1940) and Terry snr (1941) never met their big brother Jack, but say they would've loved to have known him as more than just a treasured photo on the wall.
News of Jack's death devastated the family.
"They said, 'We're not going to church any more. There is no god,'" Terry snr said.
It seems Keays never got over the loss of his second-eldest son. Many Anzac Days, he would just lock himself away to drink alone and grieve.
Mick and Terry snr were without their father for their early years and all they really knew was a hard-bitten man with a chip on his shoulder.
People called him 'Bronco' (the origin of which is unclear) or 'Digger'. They had respect for a man who'd been in the trenches and taken lead and shrapnel for the cause.
"He'd been through a lot – two wars, the Depression, the death of a son. He was a very hard man. Not the type to give you a cuddle. He was a survivor," Mick said.
Bernice Keays died in 1966, aged 67. Fred hung on until 1983, just short of his 85th birthday.