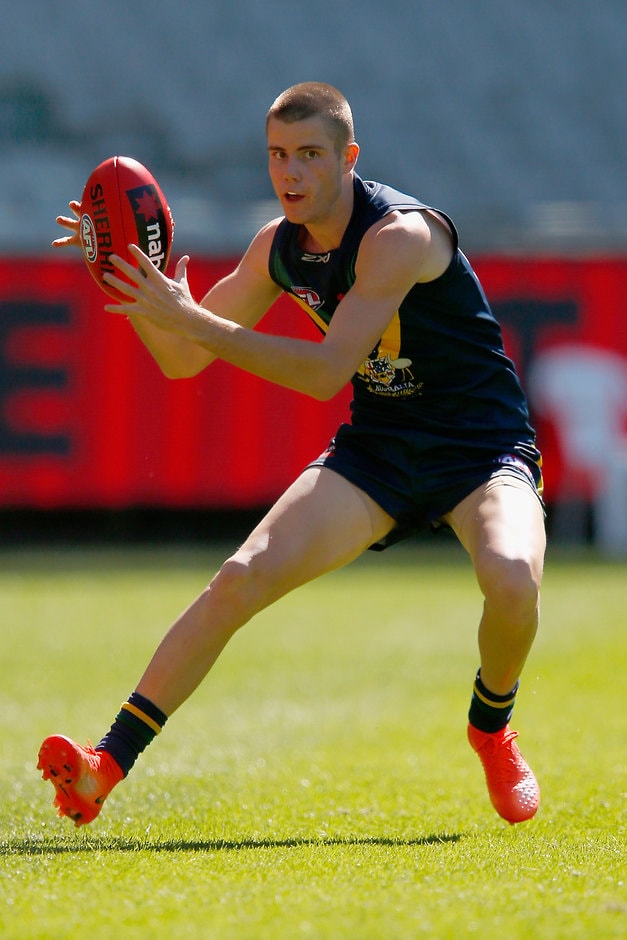 THE U18 ACADEMY series continued on the weekend at Broadbeach on the Gold Coast where Tasmania and Gold Coast posted wins and in Alice Springs, where Sydney emerged victorious.
Northern Territory Academy v Sydney Academy
Highly sought after young gun Nick Blakey (son of former Kangaroos and Fitzroy player) was rested, but it mattered little, as Sydney Academy proved too good for the Northern Territory in Alice Springs.
Joey Reinhard, who can play forward or back, continued his fine form in the competition with two goals and was named best afield.
Following two goals in their round two win over Greater Western Sydney Academy, Rory Barkley bagged three majors, while Lachlan Swaney kicked two.
Luke Parkes, Josh Stern, Cooper Kilpatrick and Sam Wicks were other solid contributors for Sydney.
The Cumming brothers - Matthew (three goals) and Stephen (one goal) - were again influential for the home side, while Michael Mummery and Jeffrey Simon caught the eye.
Northern Territory 1.4 1.7 5.10 8.13 (61)
Sydney Academy 6.1 8.4 11.5 14.6 (90)
GOALS
Northern Territory: M.Cumming 3, S.Cumming, Wyatt, Forbes, Mummery, Ferreira
Sydney Academy: Barkley 3, Swaney 2, Reinhard 2, Thorne, Stein, Maguire, Wicks, Van Huisstede, Carroll, Barling
BEST
Northern Territory: Mummery, M.Cumming, Simon, Green, S.Cumming, Hutt
Sydney Academy: Reinhard, Parkes, Stern, Kilpatrick, Wicks, Brewer
Gold Coast Academy v Greater Western Sydney Academy
Father-son prospect Bailey Scott's value continues to increase after another quality effort in the midfield in Gold Coast's 20-point win over Greater Western Sydney.
Scott, the son of former Geelong and North Melbourne rover Robert Scott, collected a team-high 22 possessions, four clearances and a goal.
The Suns were also particularly well served in defence by intercept player Ryan Gilmore (19 disposals and eight marks) and Kirk Koenen (14 and six marks), the latter being consistently good over three games.
Speedsters Connor Budarick (15), Timakoi Bowie (three goals) and Hewago Paul-Oea were also eyecatchers.
For the Giants, bullocking ruck-forward Kieren Briggs had 15 possessions, nine tackles and 28 hit-outs, helping midfielder Jeromy Lucas to a game-high 29 touches.
Gold Coast Academy 3.3 7.4 8.4 11.8 (74)
GWS Academy 0.5 2.8 5.10 7.12 (54)
GOALS
Gold Coast Academy: Bowie 3, Buckland 2, Graham 2, Greenwool 2, Scott, Gore
GWS Academy: Perryman 2, Delahunty 2, Lucas, Driscoll, Corbett
BEST
Gold Coast Academy: Gilmore, Bowie, Scott, Koenen, Budarick, Greenwool
GWS Giants Academy: Briggs, Peatling, Richardson, Lucas
Brisbane Academy v Tasmania
Livewire small forward Blair Rubock bagged six goals, including three of his team's first four majors, as Tasmania hammered Brisbane by 106 points.
Rubock, who stands just 179cm, was the beneficiary of the dominance of Tassie's running brigade featuring the likes of rangy Matthew McGuiness (18 possessions and 3.3), Nick Baker (18) and Ryan Banks-Smith (19 and two goals).
Draft prospect Tarryn Thomas wasn't a standout but still managed to 18 possessions and two goals.
Brisbane Academy 1.0 1.0 2.1 2.2 (14)
Tasmania 4.2 8.6 13.7 17.8 (110)
GOALS
Brisbane Academy: McFadyen, Tozer
Tasmania: Rubock 6, McGuinness 3, Thomas 2, Mundy 2, Banks-Smith 2, Jackson, Chaplin
BEST
Brisbane Academy: Marango, Currie, Cowan, McFadyen, Marsh
Tasmania: Anderton, O'Neill, Mansell, Rubock, McGuinness, Norton