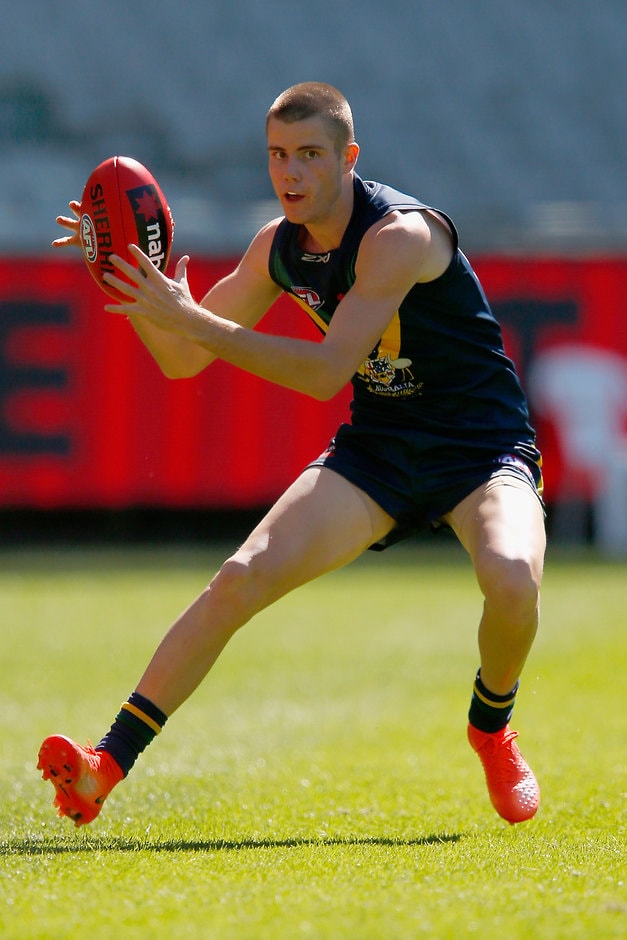 ROUND four of the U18 Academy series was held across the weekend, with Tasmania, Brisbane Academy and Gold Coast Academy all recording comfortable wins.
Brisbane Academy v Greater Western Sydney Academy
Tom Matthews, Kiedean Coleman and Toara Marango were formidable in defence for Brisbane Academy, as they disposed of Greater Western Sydney Academy by 88 points.
Matthews collected a team-high 26 disposals (15 kicks, 11 handballs), as well as four clearances, three inside 50s and two rebound 50s.
Coleman's 14 touches (nine kicks, five handballs), four marks, two tackles and three inside 50s weren't a true reflection of his impact.
Marango, who captained the AFL U16 World Team in 2015, had 15 possessions (10 kicks, five handballs), six marks and four rebound 50s.
Connor McFadyen (20 disposals and two goals), Caleb Franks (24 touches, eight inside 50s and a goal) and Darcy Marsh (22 possessions, four tackles, six marks, four tackles and a goal) were strong contributors for the winners.
Thomas Green (28 disposals, nine clearances) was a lone hand in the midfield for Greater Western Sydney Academy, while Kieren Briggs (17 touches, five marks, 11 hit outs) played his part as a forward/back-up ruck.
Brisbane Academy 4.2 6.8 9.11 14.16 (100)
GWS Academy 0.2 0.3 0.4 1.6 (12)
GOALS
Brisbane Academy: Ansell 3, McFadyen, Tomkinson, Tozer 2, Currie, Franks, Kennedy, Marsh, Townson
GWS Academy: McGrory
BEST
Brisbane Academy: Coleman, Marango, McFadyen, Matthews, Franks, Marsh
GWS Academy: Green, Briggs, McGrory, Budd
Northern Territory v Gold Coast Academy
Bailey Scott produced another stellar display for Gold Coast Academy in their big win over Northern Territory.
The midfield gun is the son of Robert, who played 245 games for Geelong and North Melbourne.
Scott, who could end up at Geelong, North Melbourne or Gold Coast, had 29 disposals (18 kicks, 11 handballs), four clearances and kicked a goal.
Connor Budarick was just as dominant, the speedy onballer with 30 touches (13 kicks, 17 handballs), five tackles, four inside 50s and a goal.
Scott and Budarick gave their forwards plenty of opportunities, and Caleb Graham (six goals and 22 possessions) and Joshua Gore (five goals and 18 touches) capitalised.
Ashton Crossley - the younger brother of Brayden, who made his AFL debut for the Suns against the Bulldogs on Saturday – had 26 possessions (nine kicks, 17 handballs), six clearances and seven inside 50s.
Beau Schwarz (23 possessions, six tackles), Rodney Baird (21 touches, seven marks) and Liam Holt-Fitz (13 disposals, four marks, three tackles) competed hard all day for Northern Territory.
Northern Territory 0.2 1.3 1.3 4.3 (27)
Gold Coast Academy 4.4 6.4 13.6 18.8 (116)
GOALS
Northern Territory: Box, S Cumming, Simon, Valastro
Gold Coast Academy: Graham 6, Gore 5, Lowah 2, Baru, Buckland, Budarick, Greenwool, Scott
BEST
Northern Territory: Schwarze, Baird, Holt-Fitz
Gold Coast Academy: Scott, Budarick, Crossley, Graham, Gore
Tasmania v Sydney
Yet another sparkling performance by North Melbourne-bound young star Tarryn Thomas led Tasmania to a 32-point victory against the Sydney Academy in Glenorchy, Tasmania, on Saturday.
Thomas starred from the start of the game, when his side set up the win, booting two brilliant first-half goals and showing his clean hands and classy disposal through the midfield.
He is set to become a Roo as a member of North's Next Generation Academy program.
Thomas was well supported by bottom-age onballer Jared Dakin, while Nick Baker impressed with his aerial abilities and run out of defence.
Swans-bound forward Nick Blakey slotted three goals in the opening half to keep his side in the contest and took a brilliant speccy.
Joshua Stern contributed well across half-forward and through the midfield for Sydney, which had Josh Rayner and Luke Parks stand up in defence.
Tasmania is the only unbeaten side left in the Academy series after beating the Sydney Academy 18.5 (113) to 12.9 (81) in a positive sign for the state after it has produced just one AFL draftee over the past two years (Hugh Dixon to Fremantle).
Tasmania 6.2 9.3 14.3 18.5 (113)
Sydney 1.2 5.5 8.7 12.9 (81)
GOALS
Tasmania: Mundy 3, Dakin 2, Rubock 2, McGuinness 2, Thomas 2, Jones, Mansell, Jackson, Turner, Donnelly, Burrows-Cheng, O'Neill
Sydney: Blakey 3, Barling 2, Stewart 2, Parker 2, Stern, Thorne, Loone
BEST
Tasmania: Thomas, Dakin, Jackson, Baker, Mundy, Jones
Sydney: Stern, Parks, Thorne, Rayner, Blakey, Brewer