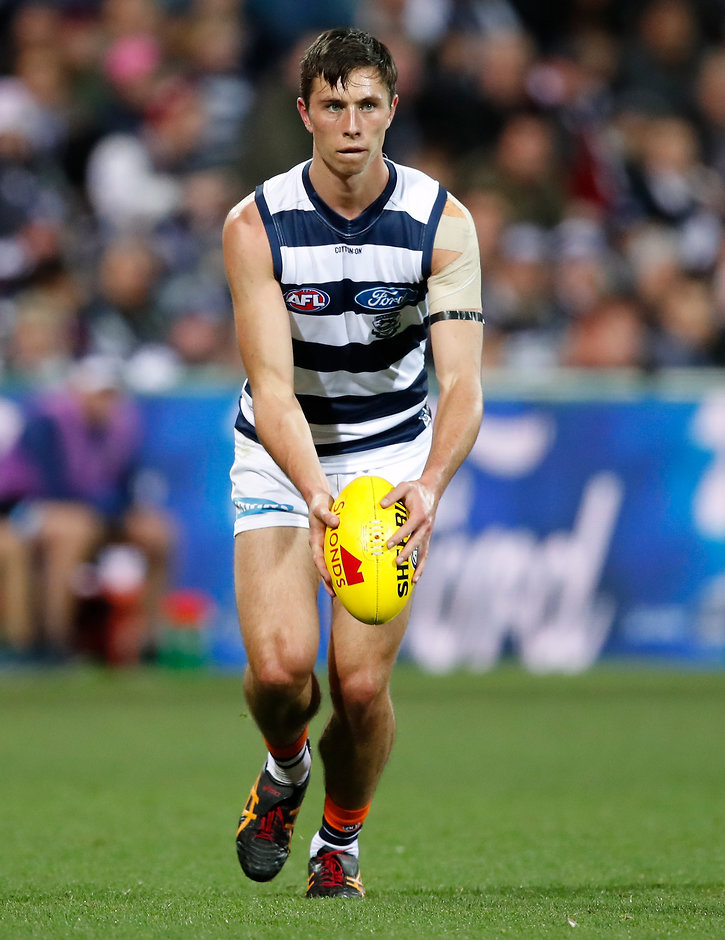 THE JACK Henry who amassed double-digit intercepts on Friday night was not the same "raw" kid who walked into Kardinia Park as an AFL footballer for the first time.
The 19-year-old, from the outside, appears to have slotted seamlessly into the Geelong defence this year in a time of great need, with stars Harry Taylor and Lachie Henderson on the sidelines.
Henry delivered the best performance of his six-game career – an 18-disposal, 11-mark effort – in the Cats' win over the Giants to earn himself the round seven NAB AFL Rising Star nomination.
But the man Henry credits as having the biggest influence on him since becoming a Geelong footballer two years ago revealed he had to deliver him some early home truths.
"Jack was drafted with a late rookie pick and didn't know what the demands of AFL were," Geelong's VFL coach Shane O'Bree told AFL.com.au.
"I basically told him early days that he'd have to do a lot more work, and he took it on the chin, was very diligent and he's reaping all the rewards at the minute.
"He's the ideal footy student."
Henry grew up idolising the Cats during their golden era and was in the MCG stands to watch them win the 2007, 2009 and 2011 premierships.
He lives with his parents and two brothers within walking distance of Geelong headquarters, and still owns a book full of player signatures gathered at the gym across the road that his mum works at.
Jimmy Bartel remains his favourite Cats footballer, narrowly ahead of now-teammate Joel Selwood, possibly because of the letter he sent a young Henry many years ago.
"It is pretty crazy just going into the club and seeing some of the guys I've grown up watching, and now I'm working with them," Henry told AFL.com.au, before a barely-believing laugh.
"I'm lucky how everything's panned out; being picked up by Geelong and living down the road. It's a dream come true.
"But I've been here for the best part of a year-and-a-half now, so it's worn off a little now – I'm not as star struck, anyway."
Henry used to live for the Cats' clashes with the Hawks, so it was fitting he made his debut on Easter Monday against the brown and gold.
Unfortunately, his afternoon ended because of a concussion in the second quarter.
But Henry has kept his spot and flourished, using the athletic attributes that helped him win a bronze medal at national junior level in the decathlon only three years ago.
That's partly why he was tried in multiple positions in the VFL last year, from the wing, defence and as a high half-forward, the role he played for the Geelong Falcons in the TAC Cup.
"They see me as someone who can be versatile, like a swingman, who can go down back or in the middle or down forward," he said.
"There hasn't really been a big thing in changing me into a defender.
"I've just been learning as much as I can in each area to be able to have that flexibility to play in different spots, but one of my main focuses over the pre-season was being that intercept player."
O'Bree confirmed that appetite for learning.
Where many players nod regardless of whether they understand an instruction or not, Henry is the type who keeps asking questions until he grasps a concept.
Henry's whole family are athletically gifted, with his father Brendan a former state-level decathlete, his mother was once a sprinter who now completes regular 15km runs and his older brother Tom represented Australia in high jump at junior level.
Up next is the St Mary's product's younger brother, Ollie, who is in the under-16 Vic Country squad and set to contest trial games for the national championships.
"Mum's still a spin (class) teacher at the gym, does a lot of fitness and is really fit and healthy, so she never lets us slack off," Henry said.
"My younger brother has tried every sport there is, but he's more of a footballer and is coming through now, so it'll be interesting to see how he goes in the next few years."