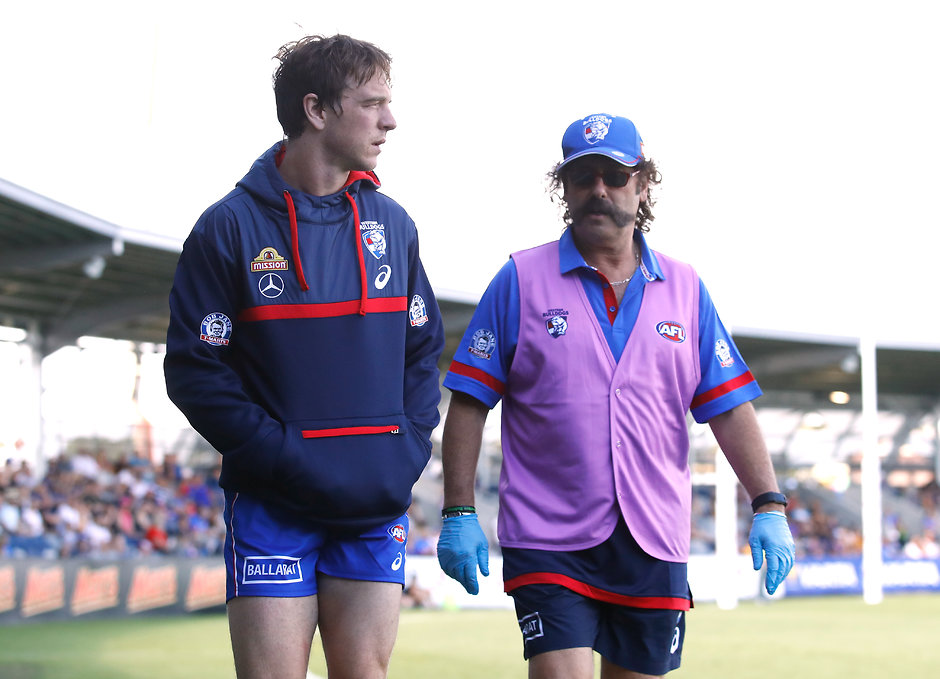 WESTERN Bulldogs veteran Liam Picken has opened up on the "lonely and dark" experience of recovering from post-concussion syndrome, revealing a timeline on his future remains unclear.
Picken hasn't featured for the Dogs since suffering his second concussion in the space of a year, with the latest incident occurring in a nasty clash during the JLT Community Series in early March.
He was subsequently ruled out for an indefinite period by the club, with Bulldogs coach Luke Beveridge suggesting in April that there was "every chance" he could miss the entire season.
In a Twitter thread posted on Tuesday, the highly respected 31-year-old opened up on the scary list of symptoms he has suffered from since being diagnosed with post-concussion syndrome and the emotional toll not knowing when he will play again has taken on him.
"Some of the symptoms that have impacted me have been light and noise sensitivity, noise ringing in my ears, vision, headaches, migraines, mental wellness, memory function and impaired balance," Picken said.
"Some of these I still have and others I've fully recovered from. I'm hoping it's any day now.
"But one of the hardest aspects of post-concussion syndrome is not knowing when you'll get better. People still ask what's going on with me or why I'm not playing yet. And although it's been made clear to me that I'm on the road to full health, the timeline is unclear.
"I've been so lucky that I've been guided through my experience by the best club, doctors and world-leading experts. Knowing I'm in extremely qualified hands has made this journey less daunting and has accelerated my recovery.
"I just want to encourage anyone that may have been hit, suffered concussion and doesn't feel 100 per cent to speak up and seek help. And hopefully my transparency has helped others that may be feeling alone in their journey."
Picken suffered a heavy concussion in Round 3 last year after an incident in his side's clash with Fremantle. However, he missed no footy and played the next week.
Yet he revealed that he knew his latest concussion, which came in a pre-season fixture against Hawthorn in Ballarat, was different.
"Concussion is an extremely complex injury with so many unknowns. It's also an injury that not many people understand," Picken said.
"And because it's an injury with symptoms less visible to others, unlike breaking a leg, it's hard for others to understand what you're going through. In fact, it can be a lonely and dark road to travel.
"Then a small minority don't recover from concussion as quickly and have a longer road to recovery. Those people are usually diagnosed with post-concussion syndrome, like me.
"Symptoms of concussion can range significantly, not only from person to person, but from one person's separate concussions. I've had a number of hits and concussions, but I knew from the outset that this time was different."