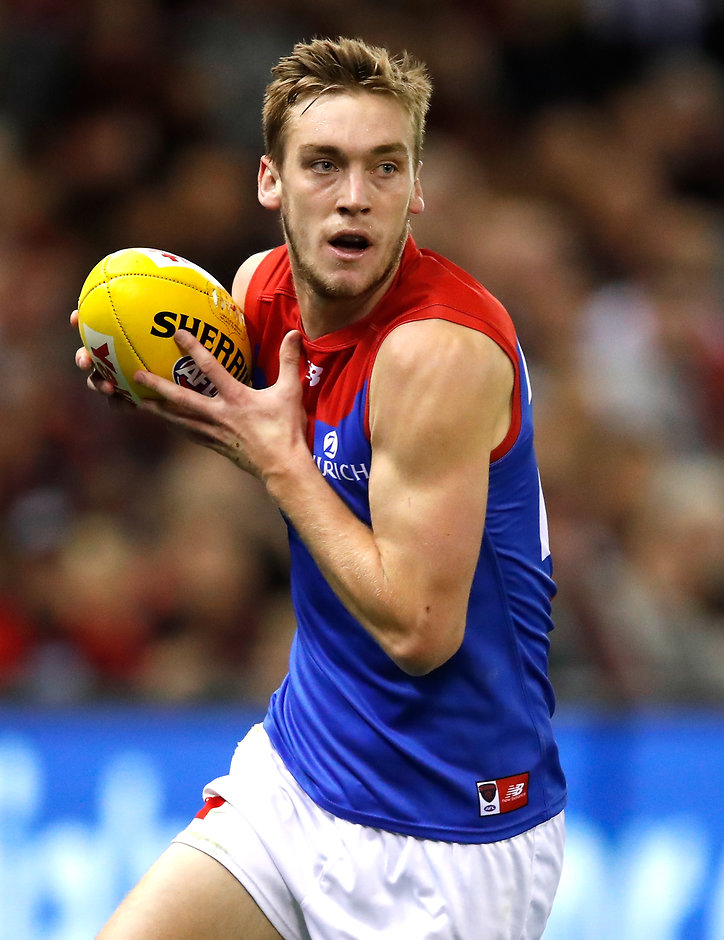 MELBOURNE defender Oscar McDonald knows he's got his work cut out for him, with a looming match-up against Port Adelaide key forward Charlie Dixon vital to the result of Friday night's clash at Adelaide Oval.
McDonald hopes he can call upon all the added experience and knowledge he has built up over this year against a number of AFL "gorilla" forwards and keep Dixon in check.
"He's one of the gorillas in the forward line. I've watched a bit of vision on him and you don't want to get in a wrestling match with him, because he'll out-body me most of the time," McDonald told AFL.com.au.
"I've got to be smart with how I use my body and the timing of my hits and spoils."
The younger McDonald's development as Melbourne's No.1 key defender has been central to the Demons' improvement this season, with brother Tom (following an injury-affected start to the season) shifting to the forward line.
Oscar McDonald said he is enjoying the new-found responsibility placed on him as the key man in defence and without Tom there as a security blanket, as was the case in his first few seasons at the club.
Matchups against Geelong's Tom Hawkins and North Melbourne's Ben Brown in the first three rounds of the season highlighted the Demons' faith in the 22-year-old defender.
"Having a bit more responsibility and being the last in line in terms of the defence you can start communicating and organising everyone else on the field so I've really relished that," McDonald said.
"Tom was always the No.1 man and he took the No.1 forward. I felt like I was a key back and all key backs want to play on the best key forwards.
"I was eager to do that. But I knew in my first couple of years that I didn't have the body or the size."
McDonald, selected by the Demons with pick No.53 in the 2014 NAB AFL Draft, was just 82kg in his first season at the Demons. Now, at 196cm and 100kg, he is far better equipped to face off against some of the AFL's biggest forwards.
McDonald, who is set to play his 50th AFL match against the Power, said he had learned plenty from being thrust into the role of playing on the opposition's most dangerous key forward each week.
"You kind of work out a few things along the way. Probably early on in the season I only played the one way and now I'm trying to work out different ways to beat my opponent in different situations," McDonald said.
"That only comes with experience and more and the more games I get under my belt. The more we train it, the more we do little craft, skills drills, the more proficient in that area I can become."
The Demons have also been forced to adjust their defensive setup on the fly with Jake Lever going down with a season-ending knee injury.
"It was a big hole to fill, there's no escaping that," McDonald said.
"Do we wish Jake was back out there? Definitely. But these things happen and good teams will find ways to get past that and get through it, and I'm sure we will."
Brother Tom recommitted to Melbourne for a further four seasons earlier this month and Oscar, who is out of contract himself at year's end, is not too far away from inking a new deal.
"We're in talks at the moment. I don't know how far along it will be until I sign but I'm really confident that I'll sign with the club," McDonald said.
"I'd definitely love to be a one-club player at Melbourne."