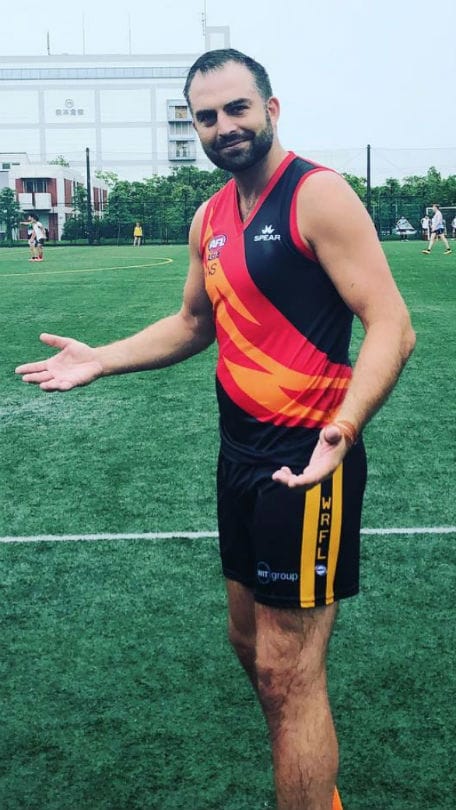 TRIPLE premiership defender Brian Lake remains detained in Japanese custody as his bid to win a release approaches a sixth day.
Lake's legal representatives and Australian agent continue to work with authorities after he was locked up following an alcohol-fuelled altercation in the early hours of Sunday morning.
The former Hawk and Bulldog had been out celebrating after playing for the Indonesian Volcanoes in an AFL Asia tournament in Osaka over the weekend.
After flying to Osaka on Wednesday evening, Lake's manager Marty Pask of i50 management said he was attempting to reach a speedy resolution.
"The process to get Brian home to Australia is progressing, however, no final outcomes have yet been achieved and no release date set," Pask said on Thursday.
"I am currently in Osaka working directly with the consulate and Brian's legal representatives to expedite this process, while respecting the relevant Japanese laws and customs.
"My priority is with Brian's wellbeing and getting him home to his wife and kids, who are understandably distressed."
Previous cases of a similar nature to Lake's have taken up to 23 days to be resolved through the Japanese legal process.
Former Essendon premiership player and coach of AFL Asia team Bali Geckoes, Ricky Olarenshaw, said he held hope Lake would have charges dropped inside 24 hours.
"I think they were going to mediate yesterday and perhaps catch up, discuss the incident, perhaps an apology would be given," Olarenshaw told 3AW on Thursday morning.
"They were hopeful Brian would be released by the latest Friday."
Olarenshaw departed for Tokyo on Sunday after coaching in the same tournament Lake played in, holding no knowledge of the incident until an inadvertent meeting the following day.
"The last someone saw of Brian was at a bar at 3am, and the next day we just thought Brian was sleeping off his hangover," he said.
"We had no idea he had been locked up. It was just a chance meeting with a guy on a train that was with us the night before that told me Brian had gotten (into) some sort of incident."
The Department of Foreign Affairs confirmed to AFL.com.au it was providing consular assistance to an Australian male detained in Japan.
Lake has spent recent months abroad in Fiji, taking part in reality TV series Australian Survivor.