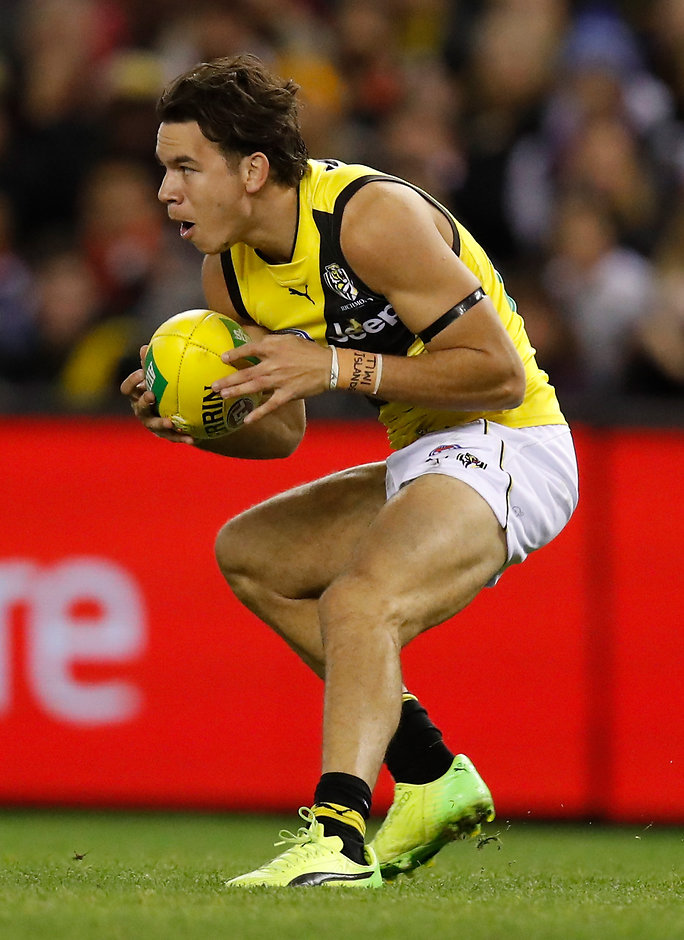 (Cyril Rioli) gave me a little bit of advice about how to go out there and just play footy
Daniel Rioli
SHOULD the Tigers line up in the Grand Final, there's something Daniel Rioli will make sure he repeats from last year's pre-match routine ahead of the decider.
He'll find a quiet moment in the hours before the game and make a phone call to his cousin, four-time premiership Hawk Cyril, to help settle his nerves.
In 2017 their chat centered around how Rioli, then aged 20 and on the cusp of just his 43rd game, should approach the biggest moment in his short career.
And it helped, with a calm and centered Rioli bringing his famous run-and-chase pressure to the Tigers' historic win before he suffered a broken foot late in the game.
"I was in the locker room and just gave Cyril a quick call," Rioli told AFL.com.au this week, as he prepared for his 50th AFL game.
"He gave me a little bit of advice about how to go out there and just play footy, play your normal role and really just have fun."
It made sense for Rioli to consult his talented cousin, who played in five Grand Finals before his surprise retirement in July this year.
Likewise, there'll be no one better to offer further tips on how to approach a potential back-to-back scenario this year, given Cyril played in consecutive flags between 2013-15.
"For sure, I'll definitely call him again if that does happen and it'll be a dream come true if it does happen back to back," Daniel Rioli said.
"He's been there and done that, so I'll definitely give him a call."

A foot injury saw Daniel Rioli chaired around the ground on captain Trent Cotchin's shoulders. Picture: AFL Photos

Cyril's decision was tough on Rioli, but he said he knew it was the right one for the 189-game Hawk and his family to move back to Darwin.
The young Tiger said he hoped the game wouldn't be entirely lost on the 29-year-old and that he'd continue playing at some level.
"We hope so, we'd love that and all the AFL fanatics would love that," he said.
"Even if it's not the AFL, it could be back home on the Tiwi Islands or in Darwin for [NTFL] club St Mary's."
Rioli, who is fast gathering a highlights reel of his own in his career to date, said he hoped he – and other Riolis – could continue to uphold the family's legacy within the game.
"I'm certainly going to miss him and all the magic he provided," he said.
"The MCG isn't going to be the same without him on weekends but I'm hoping myself, Willie Rioli at West Coast and down the track hopefully Maurice Junior [who can be drafted in 2020] coming along will make him and our family proud."
Rioli's first milestone match would have come a lot quicker had he not missed half of this season with the foot he broke late in last year's Grand Final.
It happened when Adelaide defender Luke Brown accidentally trod on it as the two ran along the boundary in the final quarter.
Rioli wasn't sure what he'd done so he hobbled to the bench, but he didn't expect to later be told he'd actually done some serious damage.
"One of the coaches told me to go back on for the last five minutes or so and I tried getting up off the bench … I knew something was wrong because I couldn't walk," he recalled.
He needed surgery in the week after the game and spent the Tigers' premiership celebrations on crutches.
After the operation, he went home to the Tiwi Islands to recuperate and quietly soak up the reality of the team's achievement.
"To win a Grand Final and know you've achieved something you wanted to achieve as a kid, took away the pain a little bit," he said.
"I went back home to the nice, warm weather and enjoyed it with my family and friends.
"Knowing you're a premiership player and to go back home, you feel good about yourself and just enjoy life, really."
It's been a somewhat unexpected long road back from that summer. Throughout pre-season, Rioli initially thought he'd play in round one.
But, he had another operation in early 2018 to remove plates and didn't start running until January.
To avoid piling unnecessary pressure on the talented youngster, no fixed return date was set and Rioli went from week to week with the simple direction to focus on his recovery.
His patience could have been tested when he was kept in the VFL for four games from late May, but rewarded when his AFL return in round 13 saw him bounce straight back to his best with an impressive goal Damien Hardwick described as "an incredible piece of Richmond footy".
"I was hungry to be back out there, I just wanted to play again," he said.
"You just have to let the injury process heal itself.
"I was lucky enough to not miss the whole season with that injury, so to be back finally playing halfway through the season is pretty special.
"Now it's like a normal foot and I'm running around and enjoying my footy … I'm still taping it but there's nothing wrong with it and I'm enjoying playing again."
"I'm enjoying getting a win on the board as well, and it's now my 50th game so hopefully we'll get a win for that."
Right place, right time for Dan Rioli! #AFLTigersPies pic.twitter.com/ALIumeUOe8

— AFL (@AFL) July 28, 2018