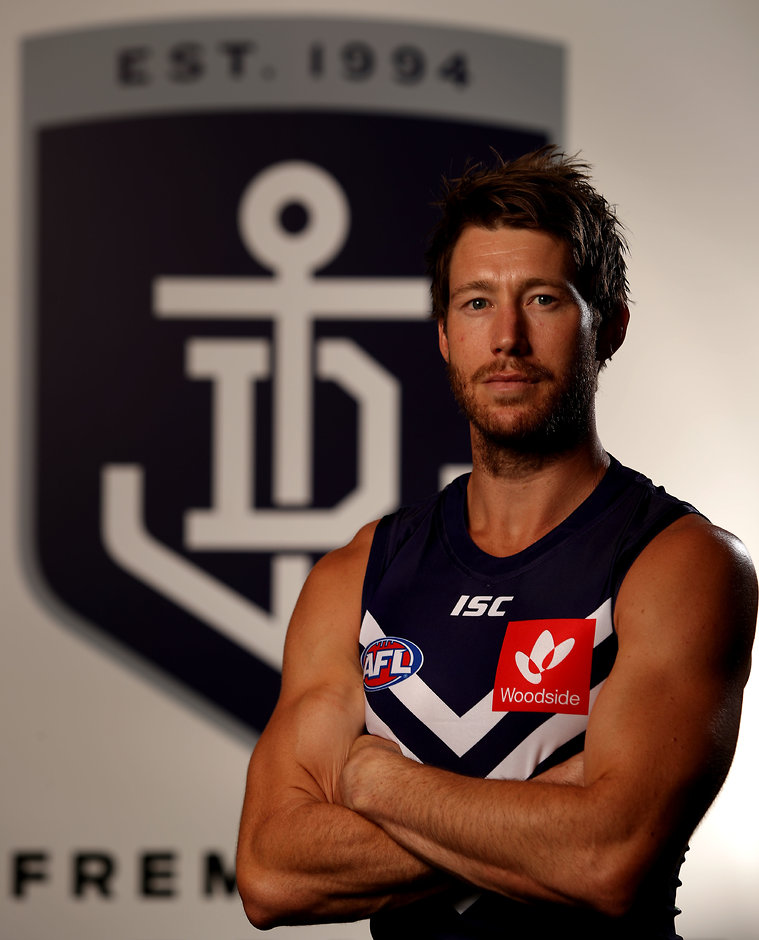 A VETERAN Docker has hung up the boots, with defender Lee Spurr announcing his retirement.
The 31-year-old has struggled with a knee injury for the whole of 2018 and has been unable to add to his 120-game tally this year.
WHO'S OUT? See all 2018's retirements and delistings
"After seven years I've come to the decision, with my wife Olivia, that it's time for me to retire," Spurr told fremantlefc.com.au.
"My body sort of let me down a little bit this year. I've had some issues and it was a hard decision.
"I've loved my time at the club. It's really hard to say goodbye and I wish I could play on, but for me, my knee is telling me it's time for me to go, and I've been battling with that all year.
"The hardest thing has been that I've been really close to getting back to playing three or four times this year, but my knee hasn't been able to hold up to the load."
Spurr, who was a member of the club's leadership group from 2014 to 2017, was drafted as a rookie at age 24 with pick eight in the 2011 rookie draft.
The half-back played in nine finals, including Fremantle's losing Grand Final team in 2013.
Spurr's story was a tale of persistence.
The hard-nosed Queenslander tried to impress recruiters at five draft combines without being picked up.
He considered throwing in the towel, but moved to South Australia, played in two flags for Central Districts and was finally handed an opportunity.
"Mum and Dad said to me, if you've still got the passion go back and try again, and I'm glad I did," Spurr said.
"I'll be forever grateful to Fremantle, for Chris Bond, Brad Lloyd and Ross Lyon for taking a punt on me and giving me a rookie spot.
"I was 24 when I got picked and I didn't play my first game until I was about to turn 25, and I felt lucky to play one game let alone to play over 100.
"I feel very privileged to be a part of that Fremantle era where we played in a Grand Final.
"We got very close, we were minor premiers in 2015 and I have some fantastic memories with the players.
"Even the lows, putting it all on the line and failing, I look back on that fondly.
"I don't have any regrets as we did everything we could and I'm proud and passionate to be a part of that."
In an entertaining press conference, Spurr was grateful for former teammate Michael Barlow's success as a mature-age draftee, which boosted his belief.
"I almost gave it away when I was 20 years old and Mick Barlow got picked up and he sort of put mature-age players back as the flavour of the month," he said.
"It inspired me a little bit to keep going.
"I spoke to (list manager) Brad Lloyd just before on the phone and he said I was pretty close, I was on their list a few years and they finally picked me.
"I said to Lloydy, 'you probably cost me a house mate, but that's alright, don't worry about it'."
While Spurr wouldn't be drawn into commenting on whether fellow veterans Aaron Sandilands and Hayden Ballantyne should play on, he was confident in the direction of Freo's rebuild.
"Anything's possible. I spoke candidly with Ross and Bondy and I felt this year was very similar to 2012 when we got going late in the year and were very close," he said.

"In 2012 we had a few more senior players and that's probably what pushed us over the edge and got us really going.

"But the foundations are really strong and I think this group can achieve anything in the next couple of years."
- with Sarah Black