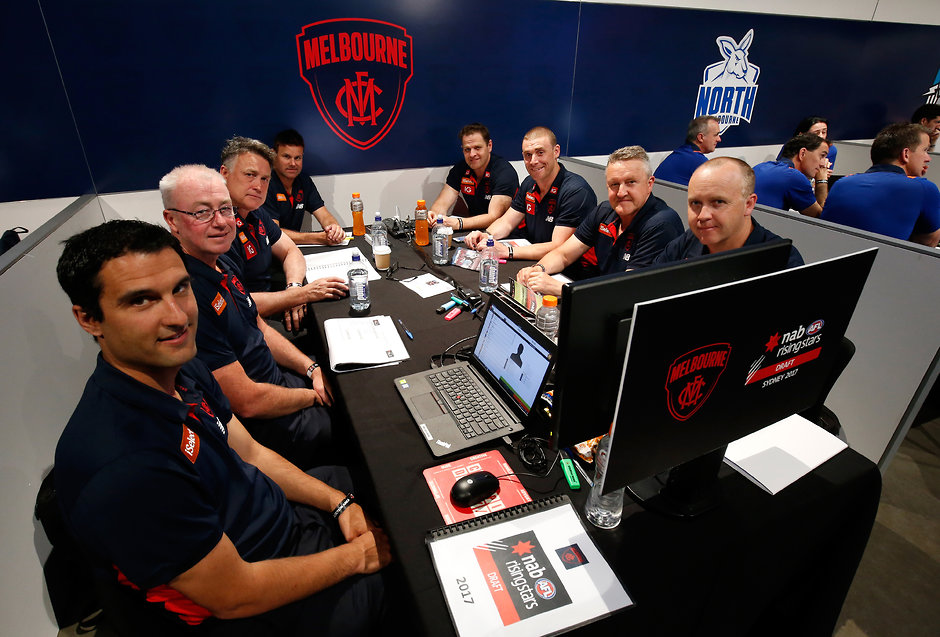 THE AFL announced this week that live trading will be introduced for the first time in the 2018 NAB AFL Draft.
Already used in a number of sports around the globe, particularly in the United States, live trading will enable clubs more flexibility on draft night by allowing them to shift picks as the draft happens.
AFL.com.au spoke to a number of industry sources, who outlined a series of hypothetical live trading situations that could realistically unfold during this year's NAB AFL Draft.
DESPERATE DEES MOVE UP
Melbourne is waiting impatiently.
The draft is up to pick No.24, but the Demons – who don't draft until pick No.33 – have a player high on their board that remains unrecruited.
Greater Western Sydney is on the clock, and Melbourne begins its attempt to move up the order by offering its next two selections – picks No.33 and No.43 – for the Giants' pick.
It's rejected. However, GWS takes a different player to the prospect Melbourne had in mind.
With its man still available, Melbourne tries its luck again. Carlton is on the clock, and the Dees put forward the exact same offer – picks No.33 and No.43 for the very next selection.
The Blues are in a different mindset to the Giants. Without another selection until pick No.64, they would like a pair of earlier picks in order to nab players high on their board.
Carlton knows picks No.33 and No.43 are worth 941 points on the Draft Value Index (DVI).
Compared to its current selection – pick No.25, which is worth 756 points on the DVI – the trade represents good value for the Blues and they are happy to negotiate.
While the Demons may be paying overs to move up in the draft order, according to the DVI, they are keen to broker a deal as it means they will get the prospect they value highly.
Both clubs understandably walk away happy.
What will the Blues do at this year's draft? Picture: AFL Photos
TRADING OUT FOR MORE VALUE
Port Adelaide is happy with its draft haul.
The Power have recruited three very good players with their first three picks and don't see much left on their draft board that excites them.
However, they now have picks No.45 and No.48 coming up. Despite not seeing much value on their draft board, they see value in trading away those selections for future benefits.
Port Adelaide has a highly rated Next Generation Academy member that it believes will be one of the first players chosen in the 2019 NAB AFL Draft. They start forward-planning.
That's where Fremantle enters the equation. The Dockers arrive at this year's draft with only two picks – No.6 and No.78 – and desperately need to top up their list with young talent.
Fremantle offers a future second-round selection in order to secure picks No.45 and No.48.
It's exactly the type of bid Port Adelaide was holding out for, with the Power able to use that pick in order to stockpile DVI points to match a bid for their academy member next year.
Again, both clubs walk away with their needs satisfied.
'So, how do we get this deal done?' Picture: AFL Photos
KANGAS CUT A DEAL
North Melbourne holds pick No.9 at this year's NAB AFL Draft.
A month earlier, during the trade period, the Kangaroos secured a number of late draft picks that would enable them to match an early bid for academy prospect Tarryn Thomas.
However, the club is desperate to get another early player in before it is forced to match a bid on the classy Tasmanian midfielder – maximising their draft return.
All of the talk in the week leading up to the draft is that Essendon – who holds pick No.8 – is red hot on hard-working midfielder Bailey Smith. However, when he's recruited to the Western Bulldogs with the fifth pick, the Dons turn their attentions to Thomas.
All of a sudden, Essendon could force North Melbourne's hand. When pick No.8 eventually rolls around, Bombers look poised to bid on Thomas. It means the Roos have to act first.
Once an academy or father-son player is bid on, that player will essentially count as being 'drafted'. It means a club can't attempt to jump in front of a rival team by swapping draft picks after their academy or father-son prospect has already been bid on.
Therefore, North Melbourne offers to swap picks with Essendon before it bids on Thomas.
Obviously, that won't be enough by itself. So, the Kangaroos decide to throw in their second selection – pick No.27 – in an effort to get the deal done.
Picks No.9 and No.27 are worth a combined 2172 points on the DVI.
Pick No.8 by itself is worth just 1551 points. Therefore, later picks may need to be swapped in order for the AFL to give the trade the green light.
But, eventually, a fair deal is accepted. North Melbourne lands pick No.8, taking another quality early prospect, before matching a bid for Thomas with their very next pick.
The Bombers also benefit. Despite selecting one pick later than they originally planned, they end up with an additional second-round draft pick to complement their earlier selections.
*All hypotheticals are using clubs' current draft picks as of Round 20.
Podcast: Are the King twins the answer for Gold Coast?
Find Road to the Draft on iTunes, Audioboom, Acast, Mixcloud or RSS.