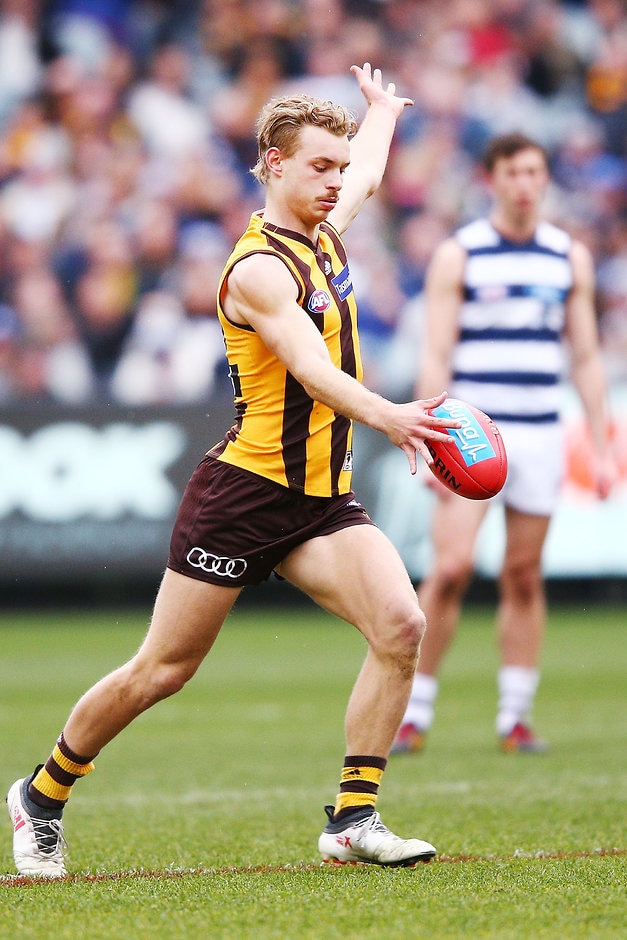 JAMES Worpel's older brother Thomas understood more than anyone else what Joel Selwood was going through on Saturday.
The Geelong captain had just watched a 19-year-old, in his seventh game, blow past him to snatch the loose Sherrin then deliver a left-handed handball that eventually set up a Jack Gunston goal.
It was the hardest of hardball-gets and still the talk of the AFL world two days after it happened.
How did this fearless Hawthorn rookie, the round 21 NAB AFL Rising Star nominee, upstage a six-time All Australian and four-time competition most courageous player in those circumstances?
HAWKS HANG ON Full match coverage and stats
None of it came as a surprise to Thomas, whose backyard dominance over his kid brother – five years his junior – ended abruptly when Worpel hit 13 years of age.
They used to go to football war in front of one set of goals at their Bannockburn home, a one-on-one contest that inevitably descended into wrestling matches.
Thomas, then 18, used to let his sibling catch up in their games – they are two of nine children ranging in age from 31 to 17, to parents Bev and Mick – but received a reality check one afternoon after school.
"Jim started beating me and I was asking myself, 'Was I trying then? Surely, I wasn't trying', but sure enough I was trying my heart out and he was legitimately beating me," he told AFL.com.au.
"He'd beat me on the ground, then dance around me and beat me.
"We shared a bedroom for a while and constantly battled each other and he'd just laugh and wasn't scared. He'd never cry and he'd give it back to me – he actually liked to get beat up."
The relationship's impact on Worpel's AFL career runs even deeper.
Thomas, who plays at Modewarre alongside ex-AFL footballers Nathan Ablett and John Meesen, put a footy in his brother's hands from the time he could walk, and even bought him his first gym membership.
Worpel's strong physique has helped him make a swift transition to AFL ranks, but those early gym sessions weren't so effective for Thomas, who weighs in at about 75kg "wringing wet".
That physical prowess was the first thing Hawthorn premiership defender James Frawley noted about Worpel on the club's New Zealand training camp in December.
Frawley joked at the time that he must have been "hitting the gym" since he was 10 and eating protein bars since he was two.
"Thomas, through my whole sporting career, has been so good to me and has been one of the biggest role models to my life to this point," Worpel told AFL.com.au.
"We are really close, and he was obviously a very good footballer as well and taught me everything I know, so I'm just super happy to have in my life."
Worpel's impressive performance against Geelong at the weekend went beyond that Selwood effort and included 23 disposals, eight tackles and four clearances.
But on that Selwood clash: "I was running towards the ball and saw him coming and thought, 'One of us is going to get smashed here and hopefully it's not me'. I did (know it was Selwood) – I had a look – which was why I was a bit more nervous, but luckily it went my way."
The Worpedo attacked it with ferocity and set up Jack Gunston! #AFLHawksCats pic.twitter.com/siU47lXbYH

— AFL (@AFL) August 11, 2018
It followed a week after last year's Geelong Falcons co-captain kicked the match sealer for Hawthorn against Essendon, after keeping his feet in a contest with dual All Australian Michael Hurley.
Worpel returned to AFL ranks two weeks beforehand with 32 possessions at Carlton's expense, after he looked a tad off the pace in his first three games earlier in the season.
"Even if they've played 10 games or 100, you always have those little doubts (about whether you're good enough)," he said.
"It's how you respond and deal with it. I went away and knew some things I had to work on and did them through some training.
"I felt like I'd had a taste of it already, had gone back to the VFL and that desire to play up a level again was driving me a bit more – and the form I was in in the VFL helped as well."
Worpel's Rising Star recognition delivered the Hawks back-to-back nominations for the first time after Harry Morrison was the round 20 recipient.