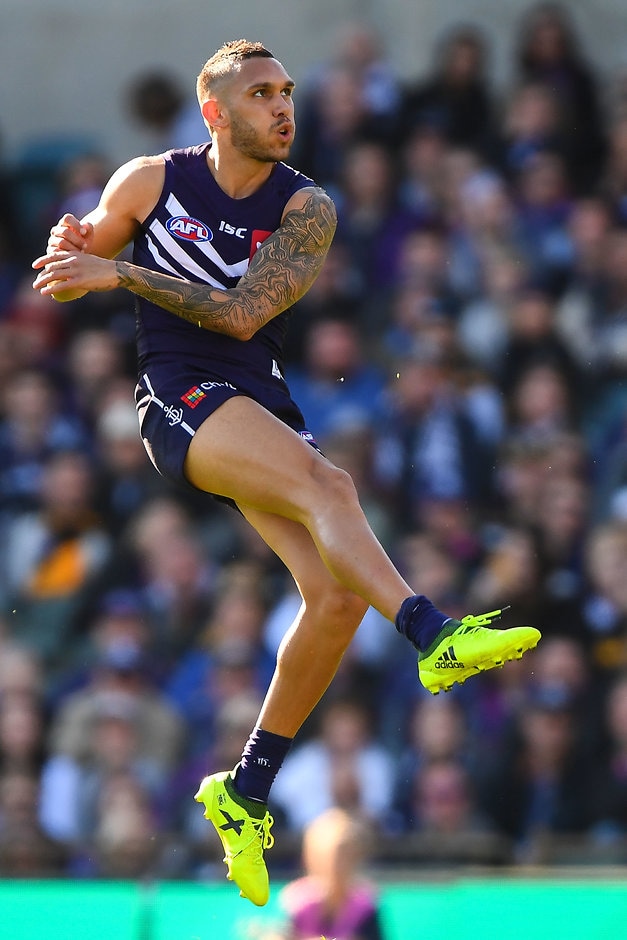 Harley's been good, but going forward ... we're all looking for some 'ROI' on the investment
Ross Lyon
NEXT season will be "make and break" for Harley Bennell to kick-start his stalled Fremantle career, Ross Lyon says.
The Dockers coach has been a staunch supporter of Bennell, who will receive a contract extension for 2019, but declared the time is coming for the former Gold Coast star to deliver better return on investment.
Bennell has played only two games in nearly three full seasons at the Dockers and has had several off-field dramas on top of his calf issues.

GEELONG V FREMANTLE Can Freo upset Cats' chances?
"Once the season finishes for Harley, he's obviously in a bit of a different situation to guys that have played all year and trained all year," Lyon said.
"So that diligence to keep himself going, keep the strength in his calf, build his body and then come back to pre-season (is important).
"I think it's an eight-week gap, so he'll have to be super-diligent compared to probably the norm and give himself a real opportunity to get going.

"Because the club's been really supportive and Harley's been good, but going forward, you would think, going into that fourth year, we're all looking for some 'ROI' on the investment – as is Harley.

"It would be, next year, a make and break year, I would think."
Bennell was on the cusp of a Western Derby comeback in round 20 before suffering his most recent calf hiccup in the final term of a glittering WAFL performance three weeks ago.
He is set to return for Peel at Claremont on Saturday for his 11th appearance at the Thunder this year.
If he gets through unscathed, Lyon didn't rule out the 25-year-old being considered for the Dockers' season-ending home game against Collingwood.
"It would be exciting, it would be huge, but how much emotion can you use to pick a team?" Lyon said.
"He needs to go down and perform, but either way he's played a lot more football this year.
"But still obviously not where we want him to be and where he wants to be, but we're possibility mindset if we can keep working and keep building on this foundation."
With Bennell's re-signing a formality and evergreen veteran David Mundy putting pen to paper, the spotlight is shining on Aaron Sandilands and Hayden Ballantyne's futures.
Freo CEO Steve Rosich has taken over negotiations with the duo's manager Colin Young after list boss Brad Lloyd announced he was joining Carlton as head of football.
Small forward Ballantyne is expected to be offered a one-year deal after booting 17 goals in 15 games.
Sandilands has reportedly agreed to go on for a 17th season in a playing and coaching role, but Lyon deflected questions about the 35-year-old's future on Thursday.
"It's not something I can give you an affirmative to," he said.
Podcast: Brayshaw reveals Gaff's apologetic visit
Find AFL Exchange on iTunes, Audioboom, Acast, Mixcloud or RSS.