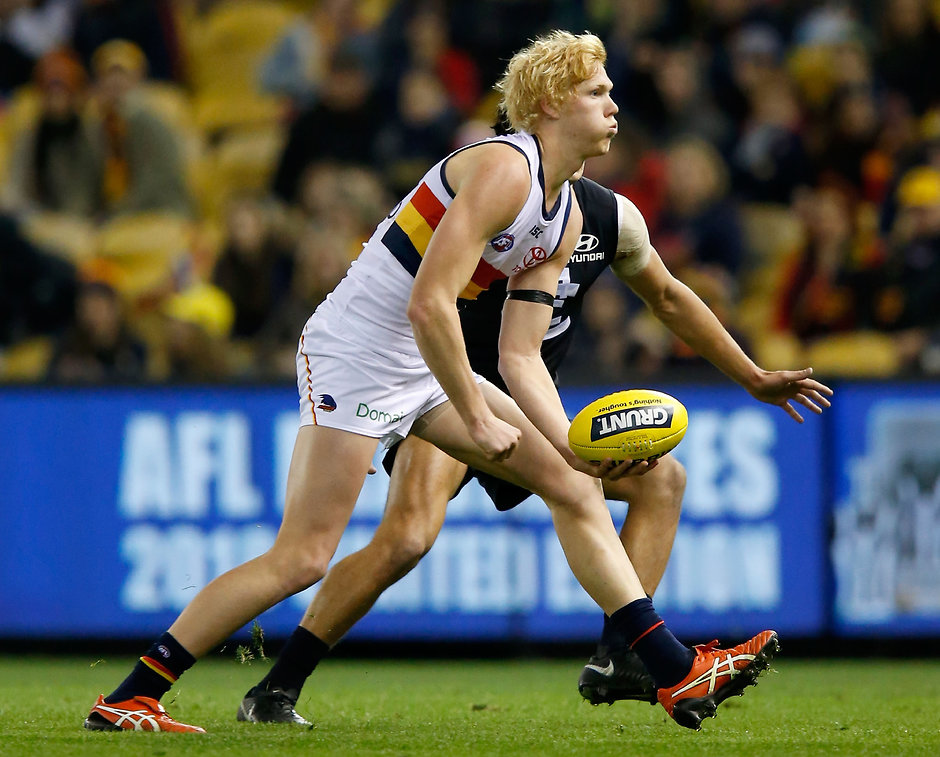 THERE'S kicking a stock-standard set-shot goal in your first match, then there's breaking a tackle, spinning 360 degrees, taking a bounce and kicking a banana in your first match.
Adelaide key forward Elliott Himmelberg, all 198cm of him, chose to do the latter on Saturday night in the Crows' 104-point demolition of Carlton.
"I don't really know what happened," Himmelberg told AFL.com.au post-match.
"I thought [Carlton defender Sam Rowe] had me, then as soon as I felt him fall off me, I started taking it towards the goal-square.
"I looked at Tommy (Lynch) and he was covered off, so I just thought I'd have a crack."
Welcome to the AFL - Elliott Himmelberg!

What a way to kick your first goal at the highest level! #AFLBluesCrows pic.twitter.com/leibxEJgzg

— AFL (@AFL) August 25, 2018
The 20-year-old has been on the list for two years now after being taken at pick 51 by Adelaide in 2016.
He said playing a night game at Etihad Stadium was a far cry from his last few years of footy, playing for the Crows' SANFL side.
"It was pretty weird running out onto the field for the first time. Usually when I'm playing, it's 2 o'clock in the afternoon and there's a bit of sun and you're working out which way the wind is going. It was nice to see the lights and the roof, I didn't mind it," he said.
"The week leading up to tonight I was pretty excited more than nervous. Then as soon as the day came around, it crept into nervousness."
Himmelberg said older brother Harry, who plays for GWS (also as a key forward), had a few words of advice.
"He didn't have much to say, just to back myself. He was more pumped for me than anything, he told me to just 'play footy', and that's what I tried to do," he said.
"Mum and Dad came down from Queensland to watch, and I had a few family members come down from Wagga Wagga – where I initially grew up – as well. It's more support than I usually get in Adelaide," he said with a laugh.
Coach Don Pyke was pleased with Himmelberg's 13-disposal, five-mark game.
"It was good to give him a taste as well. It's always good to expose a young player to the game, so he gets a feel for it," he said.
"He's performed really well and didn't look out of place at all."