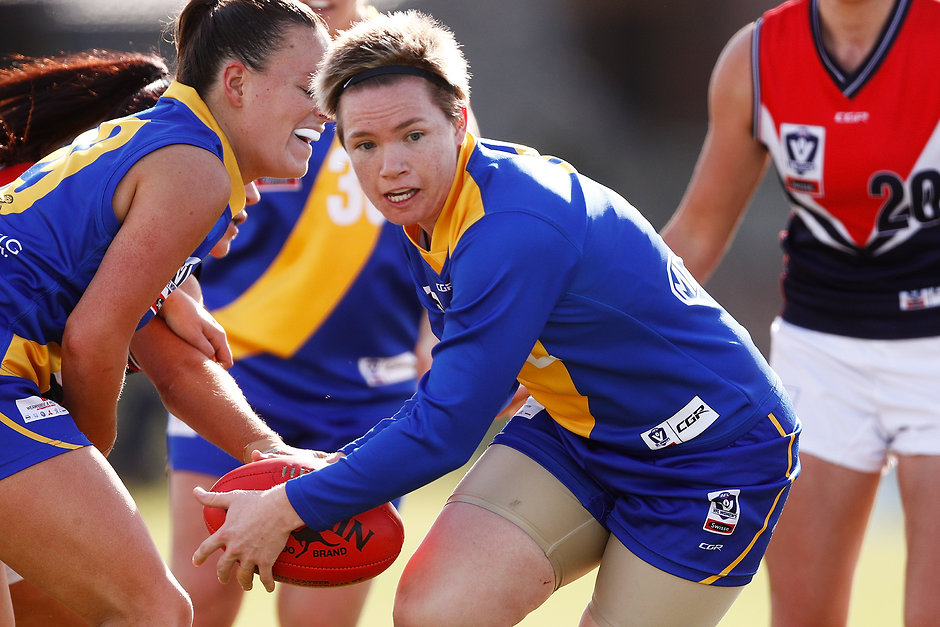 DESPITE winning the Lambert-Pearce medal as the VFL Women's competition best and fairest and being named captain of the team of the year, Jess Duffin doesn't feel like a leader.
Duffin played for Collingwood in the AFL Women's competition in 2017 and 2018 and decided to play for Williamstown's inaugural VFLW side this winter due to a family connection to the club.
Her previous VFLW team, Diamond Creek, didn't have a licence for 2018, and she was also in the process of joining new AFLW side North Melbourne.
The 29-year-old was one of the most experienced players in the Seagulls' side, which finished third last despite winning its final three games.
"I don't think about [being a leader] when I'm playing. It's more off the field that I have to remind myself I'm a leader," Duffin said.
"Sometimes I get a bit 'white-line feverish' and have to pull myself back in, but I didn't really think about it when I was playing.
"I'm definitely surprised [being named captain]. My leadership skills are good, but they're not great – from my point of view anyway. I guess other people see it differently."
Duffin's versatility was on show this year. Normally a forward, she played her AFLW games in defence with Collingwood, but was named in the centre in the VFLW team of the year after spending most of her time in the midfield.
She had the most disposals in the league and averaged 25 touches in her 13 games. The utility also averaged a competition-high 5.5 marks a match and four rebound-50s.
"I'm happy playing anywhere, to be honest. I did enjoy being in the middle of the ground and being in our centre group," she said.
"But I can see why Collingwood put me back last season and why North Melbourne will probably do the same thing."
She didn't rate her VFLW season as highly as others, despite five best-on-ground performances.
"I just tried to do my bit for the team. With Williamstown being a new club it was more about trying to develop younger players who were coming through, and I'm just fortunate that something like this happened."
Even though it was the first season Duffin had represented the Seagulls, it was a homecoming of sorts.
"I've got a big family history at Williamstown. My aunty Kath, who recently passed away, was a massive volunteer there and has a stats box named after her. My sister (Andrea Cameron) also plays there and it's pretty much my family club.
"It was easy once Amy (Catterall, Williamstown coach) said they'd have me down, and it's 20 minutes from my house, so that was even better," she said with a laugh.
Duffin will again combine her AFLW pre-season with cricket commitments, playing for Queensland in the Women's National Championship League (a 50-over competition) before the batter pads up for the Melbourne Renegades over the Christmas-New Year period in the Women's Big Bash League.
"The WNCL season starts in two weeks, so I'll prepare myself up in Brisbane then fly in and out till Big Bash, then I'll play with the Renegades.
"It'll be similar to last year, just with this WNCL chunk that I haven't played before. I'm looking forward to it, but it'll certainly be busy."
She's looking forward to lining up for the Kangaroos next season, joining a star-studded line-up of recruits.
"I'm looking forward to playing them, but Kaitlyn Ashmore especially. She's elite. Emma Kearney is someone I've had a history with through cricket, and I've had to play against her in football and sometimes that's not nice, so I'm happy to play with her."