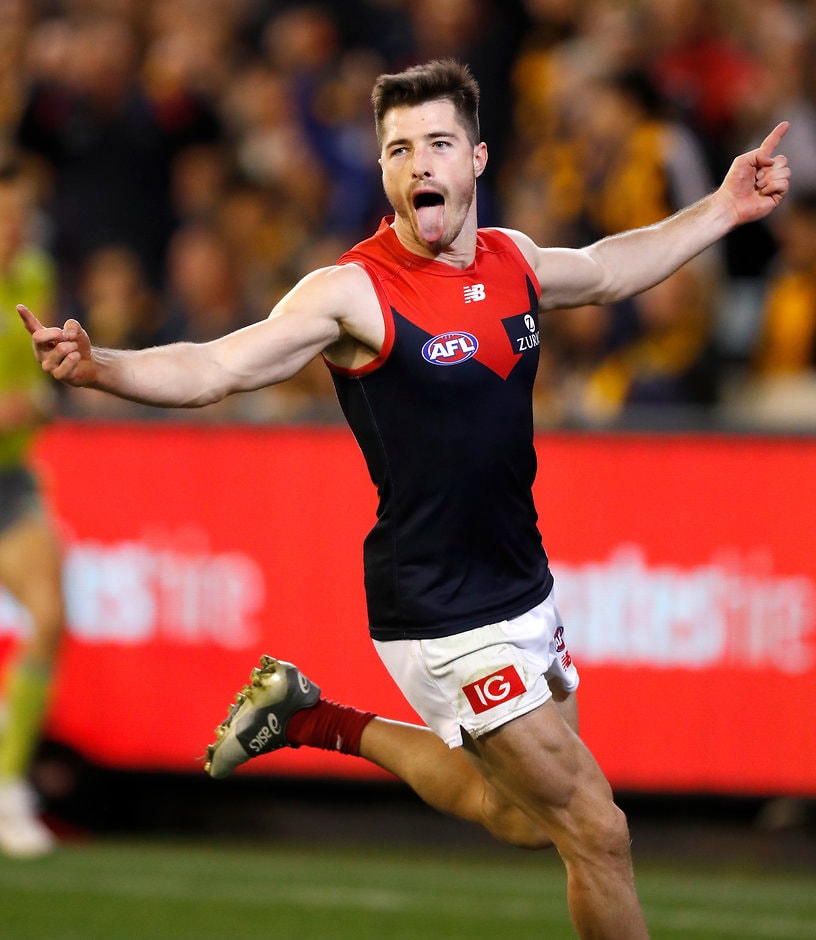 A SENSE of pride filled Alex Neal-Bullen as he absorbed the scenes unfolding in front of him in the Melbourne-dominated terraces of the MCC on Friday night.
At just 22 years of age, Neal-Bullen knows he's fortunate to be playing before crowds of more than 90,000 people in blockbuster finals matches deep into September already.
GET TO THE GAME All your finals ticketing info
If the look on the faces of celebrating Melbourne fans wasn't enough to remind him of how special it is to be here, a glance at teammates like Nathan Jones and Neville Jetta does.
They have been through the bad times. Now, they're living the good. Friday night's 33-point victory over Hawthorn took Melbourne into its first preliminary final in 18 years.
DEMONS' DREAM CONTINUES Full match coverage and stats
For Neal-Bullen, just 57 games and barely four years into his promising Demons career, being in this position already is incredibly significant.
"Coming off the ground, seeing all of the Melbourne supporters, it makes you proud to be a Melbourne player," Neal-Bullen told AFL.com.au after Friday night's match.
"You've heard a lot about the history, especially since I've been here. We've always been around the mark, but we haven't quite been able to get the success we wanted.
"The last few weeks, it's what you play for and what you train for. To see the reward on all of the supporters' faces, it just reminds you why you love playing footy and the sacrifices you make for it. I'm just proud to be a Melbourne footballer."
WHO WAS BEST? Every Demon rated out of 10
Melbourne plummeted to arguably the worst position in the club's history in its 12 years between finals campaigns. Now, each win brings with it a steely sense of satisfaction.
Although Neal-Bullen wasn't there for much of the club's dark days between 2006 and 2018, he's acutely aware of its history – as well as how much this September means to the fans.
THE MOMENT How Gunston's howler stopped the Hawk charge
"The history that's built up over time is something that you make the most of," Neal-Bullen said.
"Seeing the older boys … those boys who have been around here for so long and haven't had too much success over time. You look at their faces and it reminds you how hard they've worked for it.
"We're fortunate. I've only been in this system for four years and I'm getting to play in finals, where someone like 'Jonesy' had been in this system for over 10 years and hadn't played in one final.
"It's one of those things. You've got to take it while you've got it, but understand that hard work gets you in the position you're in."
The Western Bulldogs and Richmond have created huge waves of momentum throughout September over the last two years, both winning premierships from unlikely positions.
Melbourne now has a chance at doing similar, though Neal-Bullen believes the Dees' young group will attempt to create their own history in an entirely unique way.
"We do feel like we have a bit of momentum," Neal-Bullen said.
"Every week, we've got to reset. We understand there's no lives in this game now. Every week, we have to go to another level and that's what we want to focus on.
"We can't get caught up. Yeah, we've played good footy. And yeah, other teams have done it in previous years. But we're creating our own history here and if we want it, we're going to have to work hard for it."